Program Description
Intercultural Studies Major
Students who major in intercultural studies must earn the Bachelor of Arts degree. The major includes 30 semester hours of coursework.
Students who major in intercultural studies are required to take a minor. A minor in any area of the arts, humanities, or sciences is recommended (i.e., philosophy, history, English, communication, theatre, Spanish, mathematics, biology, chemistry).
To fulfill language requirements, the student may elect any one of the following options: 1) 12 hours of Greek, 2) 12 hours of Hebrew, 3) six hours of Greek and six hours of Hebrew, or 4) 12 hours in a modern language (i.e., Spanish). Also, in fulfilling core curriculum requirements, students must take PHI 201 (introduction to philosophy), one psychology course, one course from sociology, political science, or economics, and six hours of literature with an ENG prefix (i.e., ENG 211-212).
Standards for Admission
Freshmen Complete the application for undergraduate admissions
Send in your $40 application fee
Send in your official ACT or SAT scores
Send in your official high school transcript
Send in proof of measles, mumps, rubella (MMR) immunizations (must have had one MMR shot in the last ten years or two MMR shots in your lifetime.)
If you have taken college classes during high school, call the college and ask them to mail us an official and final college transcript.
Last updated Feb 2018
About the School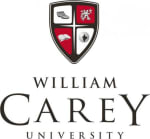 William Carey University is a community of learners which seeks to blend faith and learning with living. Within this unique nurturing and challenging environment students prepare to fulfill their div ... Read More
William Carey University is a community of learners which seeks to blend faith and learning with living. Within this unique nurturing and challenging environment students prepare to fulfill their diverse
Read less