Bachelor in Human Resource Management
Program Description
The Human Resource Management program at MCM will equip students with the ability to examine how companies operate as well as the importance of human resource management and how it relates to the effectiveness within an organization.
No matter what field our graduates enter, studying human resource management prepares students for a wide range of jobs and positions. Effective leadership of human resources requires an understanding of strategy, law, and procedures, as well as an understanding of appropriate reactions to individual values, personality, experiences, perceptions, emotions, and attitudes. It also requires an understanding of the potential dilemmas likely to arise during policy formation and implementation and during times of organizational change.
Program Goals
Develop Critical Thinking: Develop the student's ability to think critically and analyze opportunities to improve organizational performance through human resources management.
Refine Techniques: Enable the graduates to apply techniques in talent management, recruitment and compensation planning.
Develop Ethical Code: Develop the student's ability to make ethical decisions based on human resource professional standards and practices that are in the best interest of the organization.
Apply Analytical Skills Effectively: Provide the student with analytical skills to utilize Human Resources metrics and technological applications to enhance the effectiveness of recruitment, training, development, and retention of human resources.
Enhance Understanding: Strengthen the student's understanding of how the alignment of human resources strategy with the organization as a whole.
Reinforce Teamwork and Leadership: Strengthen the student's abilities to work in and lead teams that culturally and geographically diverse.
Career Prospects
Careers in human resource, labor relations, and organizational development, management, and teaching are among the opportunities for graduates. Graduates in HRM are able to contribute to a number of more complex functions supporting organizational effectiveness, including applying principles of financial analysis and control, collaborating in the design of an organization's human resources plan and the preparation of an organization's business plan.
Who the graduates could be
Careers Adviser
Recruitment Consultant
Human Resource Officer
Office Manager
Occupational Psychologist
Business Adviser
Management Consultant
Where they could work
Business Consulting companies
Insurance companies
Work and Family programs
Law firms
Government departments/ agencies and regulatory authorities
HRM Program Outcomes
After successfully completing this program, graduates should be able to:
Effectively manage and plan key human resource functions within organizations.
Examine current issues, trends, practices, and processes in HRM.
Contribute to employee performance management and organizational effectiveness.
Solve human resource challenges.
Develop employability skills for the UAE workplace.
Communicate effectively orally and in writing.
Program Structure
Teaching institution: MENA College of Management
Final Qualification: Bachelor in Human Resource Management
Number of credits: Minimum of 126 credit hours
Levels: 1, 2, 3 and 4 Levels (Freshman, Sophomore, Junior, and Senior)
MENA College offers a four-year program with an additional preliminary year for students who need more preparation. During this preliminary year, the College provides intensive training in English, the courses medium of instruction. It also provides computer skills that are essential to introduce students to the technological revolution that continually produces fresh information, and help them monitor such breakthroughs.
The degree is awarded upon successful completion of the HRM program comprising 126 credit hours, normally completed in four academic years (8 semesters).
The program is divided into study units called courses. Each course on average awards 3 credit hours. Courses are designated at levels 1, 2, 3 and 4 (Freshman, Sophomore, Junior, and Senior) indicating progressively more advanced studies. A system of prerequisites is used to ensure that a student taking a course has undertaken the necessary preparatory work.
The Bachelor in Human Resource Management degree is granted to students who successfully complete 126 credit hours/ 42 courses divided as follows:
30 credit hours of General Education requirements
33 credit hours of College requirements- Management Core
18 credit hours of Department Requirements
9 credit hours of Elective requirements
36 credit hours of Major requirements
To graduate with a Bachelor's degree from MCM, students have to:
Complete successfully the 126 credit hours specified in their program
Complete the requirements in no less than three years or no more than 7 years
Attain a minimum GPA of 2 or above
Complete a minimum of 50% of the credit hours towards the degree at MCM
Academic Road Map for BHRM 4 year program
42 Courses: 126 Credits
Admission Requirements
The Admission Department is looking forward to offering distinguished services to the students who are applying for it over the four semesters (Fall, Spring, Summer I, and Summer II) in the academic year.
Admission Types
Regular admission: This admission applies to students who have a minimum score of 60% in the UAE Secondary School Certificate or its equivalent.
Conditional admission: This admission applies to applicants who are required to complete the English language certificate during the first semester in which he/she was accepted, with an academic load no more than 5 courses (15 credits).
Transferred Students: This is relevant to students who moved from other educational institutions and meet the admission conditions operative in MCM, (official certified transcript and course syllabi from other institutions are needed for credit transfer in MCM).
Admission in the Foundation Program: This admission applies to students who have achieved a score of less than 60% in the secondary School Certificate.
Admission Requirements
Students need to apply to the College using the form provided on the website and in the office of the Admission and Registration Unit. The complete application form must be delivered in person to the Admission and Registration Unit together with:
Certified or original copy of the Secondary School Transcripts.
Passport Copy
Emirates ID
Personal Photo.
Registration fees.
English language certificate.
The following English Language proficiency tests are accepted by MCM:
TOEFL PBT: The minimum TOEFL PBT score required by MCM is 500 or above (The TOEFL PBT can be taken at any of the accredited higher education institutions in UAE.)
TOEFL IBT: The minimum TOEFL IBT score required by MCM is 61 or above.
IELTS Academic: The minimum IELTS Academic score required by MCM is 5.0 or above.
The Cambridge Test of advanced English: The minimum score required by MCM is 154 or above.
The City & Guilds International Test of English for Speakers of Other Languages ESOL (IESOL): The minimum score required by MCM is B1 or above.
The Pearson Test of English Academic (PTE Academic): The minimum score required by MCM is 44 or above.
EmSAT test: the minimum score required by MCM is 1100 or above.
Admission Procedures
Students fill completely and accurately the admission application form and submit it to the Admission Office along with the required documents.
The admission office checks the application for completeness.
If the student meets all the admission requirements, he/she will be admitted.
The student will be directed to the Accounting Office to pay the required fees.
The student, then, receives the Admission letter.
Registration Procedures
The student meets the academic advisor to help him/her select courses that are appropriate to his/ her major and academic level.
The academic advisor must sign the form before the student goes to the Accounting Office.
Once in the Accounting Office, the student pays the required tuition fees and the form must be signed and stamped by the accounting officer.
The student may register online or take the form to the registrar to complete the registration process.
Online Applications
Applicants can now proceed with the full MCM application (including fees payment) from their home or from any other location.
An Applicant needs to create an MCM account in order to fill the online application form according to the fields shown.
Fees & Scholarships
| | | |
| --- | --- | --- |
| Fees | Amount | Payment Frequency |
| Admission fees | AED 1,500 | One time fee |
| Registration fees | AED 600 | Per semester |
| Internet fees | AED 350 | Per semester |
| ID Card fees | AED 50 | Per year |
| | | |
| --- | --- | --- |
| Undergraduate Degrees | Estimated course fee (12-18 Credit Hours) | Total course fee per program (126 Credit Hours) |
| Bachelor in Human Resource Management | AED 14,400 - 21,600 | AED 151, 200 |
| Bachelor in Hospitality Management | AED 13,200 - 19,800 | AED 138, 600 |
| Bachelor in Healthcare Management | AED 13,200 - 19,800 | AED 138, 600 |
| Bachelor in Health Informatics | AED 13,200 - 19,800 | AED 138, 600 |
12 credit hours are the minimum requirement per regular semester
126 credit hours are the total number required for the entire program
All fees mentioned are exclusive of VAT
Students applying for MENA College of Management programs can receive a scholarship if they meet the criteria mentioned in the College's policy. The following types of scholarships are available:
Merit Scholarships:
10% - With achievements in extracurricular activities for Foundation Admissions
10% - For students progressing from Foundation
10% - Merit scholarship for progressing students (to be confirmed with Admissions/Academics)
15% - With the result of 70-79% in Tawjihi/equivalent in other curricula
20% - With the result of 80-89%
25% - With the result of 90-94%
30% - 35% - With the result of 95% and above
Strategic Partners Scholarships:
25% - Fazaa card holders
25% - Esaad card holders
25% - Homat al Wataan (Homeland Protectors) employees
30% - Dubai Corporation for Ambulance Services employees
Professional Employees Scholarships:
20% - Aviation Professionals Club employees
20% - For working professionals from other industries
25% - For working professionals with significant industry experience
Social Scholarships:
10% - MENA Citizens
10% - Citizens of Dubai
10% - Sibling discount
5% additional- Early Bird discount (to be confirmed with Admissionsaccording to Academic Calendar)
*Only one type of scholarship is available per student.
**All scholarships are applicable for the first year only, except for strategic partners.
Last updated Nov 2019
About the School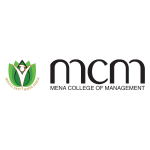 MENA College of Management is a young, inclusive Higher Education Institution, which aims to produce outstanding and brilliant graduates by offering 4 Bachelor degree programs. By considering employme ... Read More
MENA College of Management is a young, inclusive Higher Education Institution, which aims to produce outstanding and brilliant graduates by offering 4 Bachelor degree programs. By considering employment opportunities and market needs, MCM covers a large scope of managerial, business and industry requirements. MCM new campus-based in Jumeriah, often known as the heart of Dubai, offers an exceptional learning and development environment. The campus is equipped with more than 13 classrooms and labs, social and workshop spaces and has a student capacity of over 1,300; from faculty to fellow students every person benefits from the diversity and inclusivity of the college.
Read less