Bachelor in Hotel and Event Management (BA)
Home ›
BA ›
Bachelor in Hotel and Event Management (BA)
Program Description
The next online open day will be on May 6th.
You can find more info at https://www.tio.nl/en/open-days/
Welcome to the world of top-class hotels, star restaurants, festivals, and sports events. The hospitality sector is looking for you! After completing the Hotel and Event Management bachelor's degree, you will be able to create the perfect experience for your guests, even online. You will turn any stay and event into a success.
You can work as e.g. a hotel manager, event manager, food & beverage manager, marketing or communication manager or you can start your own business.
Is this bachelor program right for you?
Tio's Hotel and Event Management bachelor program offers you the best of two worlds: a traditional hotel management degree combined with aspects of event management. Do you recognize yourself in the following description? Are you:
Hospitable?
Is hospitality in your blood and are you always looking to offer your guests the best possible experience? This bachelor's degree is perfect for you. During the program, you learn all about hospitable entrepreneurship, and you will work in hotels and restaurants and during events.
Interested in the hotel industry?
Have you always been drawn to the hotel industry? Never a dull moment! You can work as a front-office manager and be the face of the hotel. Or perhaps revenue management is more your thing. You determine the best room prices based on expectations and historical data.
An organizational talent?
Are you in control and excellent at motivating others? Become a talent for organizing events. From festivals and sports events to conventions and trade shows. You might also work in the hotel industry and host events as part of the banqueting department. Hosting events is something you learn in practice: during the event week, you take part in the event game and work as part of a team to develop a new event concept for a business.
Curious?
Do you have a sharp eye for detail, are you always up to date and eager to learn? Would you like to go behind the scenes of events? The researcher in you will get everything they want. During the study program, you attend events and get a chance to go behind the scenes. This gives you the perfect opportunity to take in every bit of information about the organization of the event.
Entrepreneurial?
Do you see opportunities wherever you go? Would you like to start up your own business? Together with your fellow students, you run your own hotel and are responsible for the organization of events. You can also choose the Entrepreneurship minor, during which you and your team members set up a company together.
Interested in other cultures?
The world is your playing field when working in the hospitality industry. Even during your studies, you will come into contact with different cultures during the study trip, your international internship or while studying abroad for six months or a year.
Curious about food concepts?
Would you like to develop a new food concept? In the cooking studio, you will master various preparation techniques. The F&B management and menu development & design courses teach you everything about food concepts, composing menus and menu engineering and design.
A team player?
Running a hotel and organizing events are team efforts. You need a team around you to make the impossible possible. By working together well, you can continue to surpass your guests' and visitors' expectations!
Do you recognize yourself by these descriptions? Take a look at the curriculum for more information about this bachelor program or attend an open day to experience the atmosphere and meet students and lecturers.
Hotel management or event management?
Is the Hotel and Event Management bachelor a hotel management program or an event management program? It is both! Hotel management and event management are a golden combination, which is why Tio has combined both aspects into its Hotel and Event Management bachelor's degree: the traditional hotel management degree combined with aspects of event management.
Why do students choose Hotel and Event Management?
Tio offers the option of accelerated studying: complete a bachelor's degree in just three years.
The hotel and catering industry has a need for well-trained managers.
Event management and the hotel industry are closely related. That is why Tio offers the golden combination of a hotel management degree with event management.
You study at the Netherlands' best (private) hotel management program. Six years running, as elected by the Higher Education Guide.
The events and hotel sector is in the top ten of sectors with the highest share of online spending in the Netherlands. E-commerce is, therefore, an important aspect of the Hotel and Event Management program.
You will have many career opportunities available to you after completing this bachelor's degree.
At Tio, you are not a number; there is a strong focus on personal development and supervision.
Study Program
Practical is the keyword: learning by doing! Circa 60% of the Hotel and Event Management bachelor's degree has a practical focus. The curriculum was designed in collaboration with branch associations and networking organizations HotelloTOP, IDEA, the Fellowship for Event Managers, Thuiswinkel.org and the Royal Dutch Hotel and Catering Association and experts from the field. This ensures the study program ties in well with the sector's needs and the latest trends.
Curriculum
The curriculum is divided into four components: hotel management, event management, entrepreneurship & e-commerce and internship & final thesis.
Given the importance of having international experience, you complete at least one component of your study program abroad (e.g. an internship, graduation project or an international exchange program).
Hotel management
Hotel practice and technical skills are the focus of the first year, hospitality at its foundation. You learn all about hotel and restaurant formulas and experiment with different preparation techniques in the cooking studio. You visit a variety of hotels, such as the Okura, Librije's Hotel or the Hilton, during your third-year study trip for example.
Event management
Event management is a recurring theme throughout the study program. You learn all about organizing events and event management is part of subjects such as event marketing, MICE and communication. During the Event week, you take part in the event game which has you working in a team to come up with a concept for a business or charity. You take a look behind the scenes of events and corporations and take part in a variety of workshops. You visit a festival, a concert or a sports match and report on the organization.
Entrepreneurship & e-commerce
You train your communication and management skills with the ultimate goal of working together with your fellow students to run a hotel for a full week during the Hotel and event week. Together, you will be responsible for F&B, rooms division, the website, online sales, the organization of events and more. Guest lectures from heads of industry, knowledge of e-commerce and knowing how to draw up a business plan all serve to make you a clever entrepreneur.
Internship & final thesis
During the two (international) internships, you will apply what you have learned into practice. Everything comes together in your final thesis.
Optional
There are also optional subjects and courses. An exception is an Introduction to Finance & Accounting course, which is mandatory for students whose prior education does not include Management & Organization.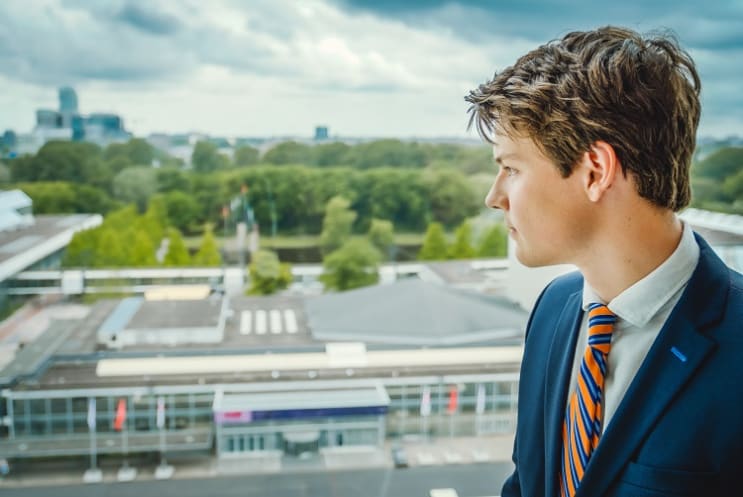 Admission
Below, you will find an overview of the admission requirements for the bachelor program Hotel and Event Management, with which you can determine whether you can start this unique bachelor program.
Admission requirements
Havo, vwo (any profile), mbo4-diploma.
Comparable diploma, e.g.: German Fachhochschulreife or Abitur (algemeine Hochschulreife), British GCE A-levels, French Baccalaureat, American High School (incl. a college preparatory program) or secondary hotel school education.
CEFR: ≥ B2. TOEFL: iBT ≥ 75-80 points (Institutional TOEFL code Tio: 4764). IELTS Academic: ≥ 6.0. Cambridge exam: ≥ 160 points / Cambridge First Certificate.
For students who have not previously studied Management & Organization, the preparation course Introduction to finance & accounting (FA) is mandatory.
If your prior education did not include a second modern foreign language, you may choose either German 1 or Spanish 1.
Admission process
After we receive your registration, Tio will send you a written confirmation of your admission (provided that you meet the pre-education requirements and there is no waiting list). If your pre-education is insufficient for the program you wish to take, we will schedule an interview and an assessment. The assessment costs € 80. The admissions committee will decide whether you can be admitted to the program.
Register on time
Tio's programs are popular and the number of available positions is limited. Every year, this leads to waiting lists. If you are sure about your choice, you should enroll as soon as possible. Positions are assigned in the order in which students register.
Selection and draw
Tio's selection process is based on whether students meet their prior education requirements and timely registration. Tio does not select students through lots.
Introductory interview
You will be invited to an introductory interview with your study coach before the start of your education at Tio.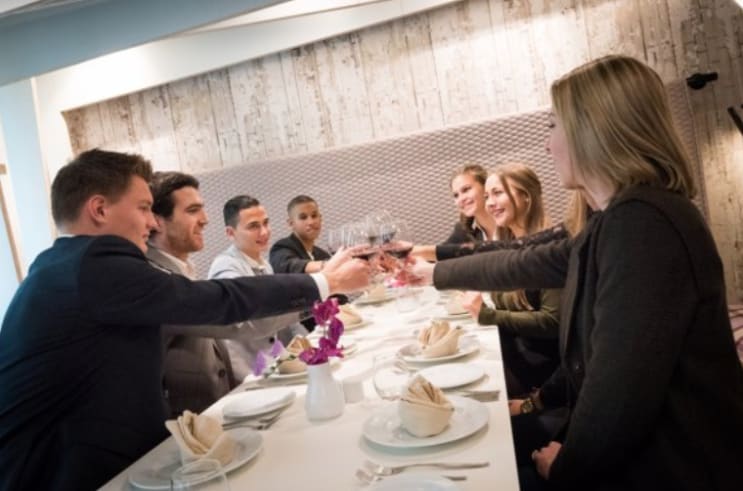 After Graduation
A glimpse of your future
There are many roads open to you when you earn your Hotel and Event Management bachelor's degree. What about working as an event manager at Tomorrowland (ID&T) or as a banqueting manager at the Hotel Sofitel Legend The Grand. You can also work as a hotel manager or organizer of conferences.
Do you want to continue your education after completing the Hotel and Event Management bachelor's degree? This bachelor's degree grants you access to many domestic and foreign master's degrees.
Starting salary
The starting salary for recent hotel school graduates is around € 2,110 per month (Higher Education Guide 2019).
Employment opportunities
Revenue in the hotel and catering industry has been increasing for over four years. That means employment opportunities have also been growing (source: CBS). The hotel and catering sector has one of the happiest professional groups in the Netherlands, so this is definitely a great industry to work in (source: HotelloTOP 2018).
Successful in the hospitality industry
Leisure is a big business; from a stay at a hotel to visiting a festival. The tourism and recreation sector is a seventy-six billion euro industry in The Netherlands. In 2017, 17.6 million foreign tourists visited our country, and this number will increase in the years to come (source: NBTC). The Netherlands is also the leading nation in Europe when it comes to the number of conventions hosted here. The rising popularity of websites such as Booking.com has created a strong demand for professionals with knowledge of e-commerce. This is a sector with plenty of future potentials!
Last updated Mar 2020
About the School

Welcome to Tio University of Applied Sciences. Tio offers you a personal, accelerated and excellent education and has been a distinguished name for many years as a recognized educational institution. ... Read More
Welcome to Tio University of Applied Sciences. Tio offers you a personal, accelerated and excellent education and has been a distinguished name for many years as a recognized educational institution. Tio's bachelor programs have been among the best in the Netherlands for years and are ranked #1 in various rankings. Which program suits you best?
Read less