Bachelor in Hospitality and Tourism Management
Program Description

BS in Hospitality and Tourism Management
*Online and Hybrid (mixture of in-person and face-to-face) options are currently being offered due to COVID-19.
Live and learn hospitality in the heart of California's tourism industry.
Hospitality and Tourism Management at Cal Lutheran combines a rigorous curriculum with hands-on learning. You'll be prepared for a range of careers within a wide variety of segments in the hospitality and tourism industry. Your knowledge will include skills such as industry-specific knowledge, creative and critical thinking, effective communication, and professional and ethical leadership.
Programs
Offered as a major (BS)
Popular Minor Pairings
Global Studies
Global Business
Spanish
The Curriculum
Cal Lutheran's Hospitality and Tourism program provides its graduates with a solid foundation on which to build their future careers.
This foundation is based on four core pillars:
Rigorous academic classroom instruction by experienced faculty members.
Technology-based learning using software applications used by major hospitality companies.
Applied hands-on operations and management laboratory training.
Practical internships expose students to different industry sectors and help them gain valuable real world experience.
Start Your Journey
In this major, you'll be prepared for a career in any public sector that involves hospitality, including but not limited to hotel administration, tourism, food service management and customer service.
Developed in partnership with leading industry professionals, your coursework will combine our liberal arts curriculum with an in-depth, cutting edge sequence of courses in hospitality and tourism management. You'll complete a core managerial program to develop skills in operations, finance, facilities, human resources, ethics, and marketing.
Your last year in the program will focus on advanced hospitality management topics. These include Quality Systems (ensuring health and safety, as well as consistent quality of delivery), Business Strategy, and an Executive Roundtable, offering students the opportunity to meet with local, regional, and global executives in the industry.
You'll also be prepared to pursue these certifications:
Certification in Hotel Industry Analytics (CHIA)
Certified Hospitality Technology Professional
Cvent Certification: eMarketing
Get hands-on experience
You'll gain practical knowledge as part of your coursework through active learning, interaction with industry, and applied projects. You will also complete one or more internships, working at organizations in the hospitality industry ranging from restaurant chains to international hotel properties. This combination gives you the opportunity to sharpen your skills in and potentially even secure a job before you graduate!
Your program also includes field trips to local industry leaders, and learning in lab-type courses that include hands-on experience to help you master the skills you'll need for your career.
Build your professional network
The real-world business experience of your professors will be an invaluable resource during your studies. You'll also learn directly from company executives through special courses and guest lectures. Because Cal Lutheran is located in the heart of California's booming tourism industry, you will have access to some of the top hotels, restaurants, and tourist destinations in the world, while working toward your degree.
Our program has been developed in partnership with experienced regional and global industry leaders from international brands such as AmaWaterways, The Cheesecake Factory, Crystal Cruises, Disney, Four Seasons, Hilton, Holland America Group, Marriott, Pleasant Holidays, and others.
Explore the industry around the world
While your classes will cover a variety of global topics, you'll also have the opportunity to study abroad while continuing your hospitality training. Studying international hospitality abroad will help you apply your knowledge and be prepared for an international career.
Save time and money earning your MBA
Add further value to your degree by choosing the 4+1 Option, which gives you a head start on earning an MBA. With 4+1, you'll be able to take graduate-level courses as part of your undergrad curriculum. After graduation, you'll only need one additional year to complete your MBA at Cal Lutheran, saving you both time and money.
The Experience
The hospitality industry needs well rounded, well educated professionals. As the HR Director of a premier hotel brand, I am very excited about Cal Lutheran's program in Hospitality Management and Tourism with a curriculum that balances industry-specific courses, experiential learning, and the liberal arts.
Jim Cathcart, Director of Human Resources
Four Seasons Hotel Westlake Village
Hospitality and Tourism are expanding industries with ever growing career opportunities. Versatile graduates from profound hospitality programs such as ours are highly sought after in all segments of these industries—from lodging and restaurants to cruises or even senior living.
Gerhard Apfelthaler, Ph.D.
Dean of the School of Management and Professor
Your Future
Because of our internship programs, contacts in the professional world, and the excellent support of Cal Lutheran Career Services, graduates will have opportunities for rewarding careers in a variety of fields.
Over the past 50 years, the hospitality and tourism industry has been in the forefront of the creation of wealth and employment in the global economy, creating $7.5 trillion in wealth and 292 million jobs. The industry is expected to remain robust and to offer rewarding career opportunities to hospitality and tourism graduates.
California is one of the world's leading tourist destinations. Famous for its national parks, shorelines, mountain ranges, wine producing regions, historic sites, renowned museums, five star resorts, and international sport & convention venues, it's an ideal place to pursue career opportunities in hospitality and tourism.
Employers:
AmaWaterways
Caruso Affiliated
Command Performance Catering
Crystal Cruises
Fox Hotels Partners
FROSCH Classic Cruise & Travel
Hogan Family Foundation
Holland America Corporation
Marriott
Pleasant Travel
Princess Cruises
The Urbane Cafe
The Walt Disney Company
Town and Country Travel
Ventura County Lodging Association
Visit Conejo Valley
Westlake Village Inn
Career paths:
Hotel/Resort/Vacation Ownership Management
Convention Sales
Event Coordination
Destination Marketing
Wedding Planning
Restaurant Management
Food and Beverage Service Management
Food and Beverage Cost Accountant
Nightclub Management
Golf Course Management
Sr. Living Facility Management
Last updated Jul 2020
About the School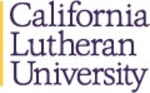 California Lutheran University is a selective, comprehensive institution offering undergraduate and graduate degrees in the liberal arts and sciences and professional fields. Rooted in the Lutheran tr ... Read More
California Lutheran University is a selective, comprehensive institution offering undergraduate and graduate degrees in the liberal arts and sciences and professional fields. Rooted in the Lutheran tradition, Cal Lutheran encourages critical inquiry into matters of faith and reason. Mentored by dedicated and accomplished faculty members, students pursue their passion and discover their purpose as they seek to grow as individuals. California Lutheran College was founded in 1959 on a ranch donated by Richard Pederson, the son of Norwegian immigrants. The college opened its doors to 330 students in September 1961 and held its first Commencement in May 1964.
Read less