Bachelor in Graphic Design Specialisation, itinerary in Advertising
Home ›
Bachelor ›
Bachelor in Graphic Design Specialisation, itinerary in Advertising
Read more about this program on the school's website
Program Description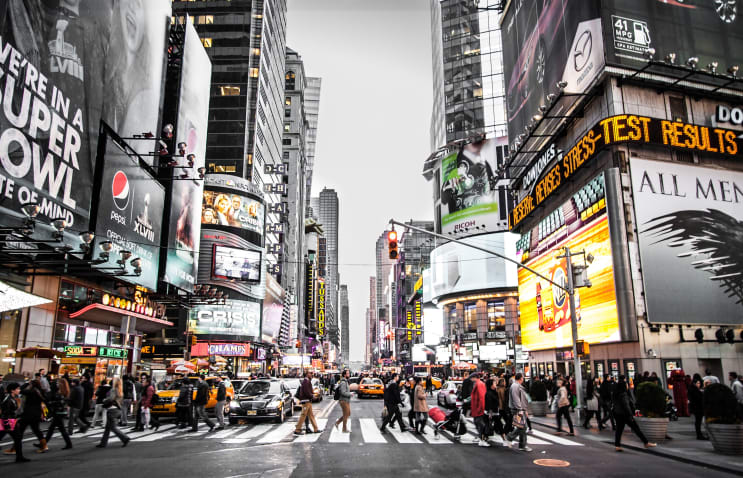 Aaron Sebastian / Unsplash
Introduction
The Graphic Design specialization, itinerary in Advertising is a course comprising 240 ECTS credits for graphic designers with a creative advertising mindset. As well as carrying out design projects, they will learn to conduct visual communication campaigns enhanced by conceptualization, brand strategy, and art direction.
Graphic Design has taken on a new dimension that ventures beyond its traditional boundaries into a market where designers are expected to build creative communication concepts and strategies into their projects.
Succeeding in the world of creativity in this day and age requires an eye-catching portfolio that appeals both to design studios and advertising or branding agencies. Knowing this, a graphic designer has to be capable of conceiving and developing surprising and unique ideas. As a creative advertiser, they will need to prove they have the ability to create and convey their ideas with a powerful visual impact and professional skill.
The Graphic Design specialization, itinerary in Advertising encourages students to develop a variety of projects with real clients for the first three years and to carry out a Final Course Project with a specific client linked directly to the world of advertising and creativity.
IED Barcelona is offering specializations in Design of 4 years (240 ECTS). The aim is to transform passion, talent, and creativity into knowledge and abilities that allow future design professionals to develop their careers.
Objectives
The course teaches students all about the creative processes of research, interpretation, conceptualization, and production to help them communicate, embellish and find creative, innovative solutions for their product, brand or space using audio-visual elements.
The project culture is the leitmotif underpinning the entire didactic experience, fostering the idea of 'learning by doing' – real projects with real companies.
Year One
Grasping the basic concepts of design, project culture and methodology.
Encouraging students to try, create and communicate.
Year Two
Studying the technological and project tools needed to communicate a visual message simply and effectively by developing their individual creativity and interdisciplinary methodology processes.
Learning to command software such as Adobe Photoshop, Adobe Illustrator, Adobe After Effects, etc. and how to apply creativity in corporate communication.
Year Three
Applying all their previous learning to create real projects.
Encouraging creativity and artistic direction.
Understanding the professional context and its full complexity.
Creating a professional portfolio in preparation for the working world.
Year Four
Completing a mandatory internship.
Developing projects that tie in all of the knowledge gained throughout the course.
Carrying out a Final Course Project with a real company that consists of conceiving and developing an advertising campaign based on research, conceptualization, strategy, and production.
Methodology
The chosen methodology is known as learning by doing and promotes interdisciplinarity among various fields including design, fashion, and management and design strategies by organizing joint workshops and projects.
The syllabus sets a series of learning goals for the student, which becomes more demanding as the course progresses and ends with a Final Course Project for a real client.
Job Opportunities
Graphic designer, visual communicator, creative director, art director, branding specialist, corporate, publishing or packaging image expert, content developer, copywriter, brand consultant, digital advertising strategist, interactive brand manager, brand manager, social media strategist.
Former IED Barcelona students are now working for:
Ogilvy, Shackleton, Everis, Tomorro', Somos, Comuniza, McCann Worldwide, Operation Unicorn, Lo Siento, Pixel Research, Mass Digital, Folch, Duprée, Common Sense, relajaelcoco, Steer Davies Gleave, Stop Stealing My Look, Bestiario, Inoxcrom, and others.
Companies
The course enhances its project culture by teaming up with brands, firms, and institutions to bridge the gap between the academic universe and the working world. This way, students not only study the methodology and tools of several disciplines; they also learn to deal with real clients and what briefing involves.
Collaborating companies:
PSP Sony, Sónar, Everis, ESADE, Barcelona City Council, Pixel Research, Rosás, Loop Festival, Mercats de Barcelona, Oxfam, CCCB, La Fábrica, Alba Synchrotron, Festa del Grafisme, Festival Grec, La Mercè, Barcelona Institute of Culture, Barcelona Brand, Museu de la Xocolata, Benetton, Brands & Roses, Ling, Ericsson Response, etc.
Coordinator
Rory Lambert
Rory has worked as a Creative Director for various advertising agencies (SCPF, JWT, and Pavlov) and clients such as BMW, Freixenet, Trident, Vodafone and Assistència Sanitària. He then went on to launch MTL, his very own agency offering cutting-edge solutions in the fields of marketing, strategy, and advertising.
He also works as head of development at the IED Barcelona Visual Communication School and helps to draw up and supervise the syllabus, as well as setting certain course content, goals and the final project methodology.
Last updated Aug 2020
About the School

The IED Barcelona is a workshop for conducting analysis and research applied to material culture, a focus it is destined to develop increasingly in the future.
The IED Barcelona is a workshop for conducting analysis and research applied to material culture, a focus it is destined to develop increasingly in the future.
Read less