Read more about this program on the institution's website
Program Description
Start-Up, Work and Lead in a Globalized World
Global Management students gain knowledge in theory, practice, and imagination through experiential activities in our classes. They develop business plans for startups or nonprofits with peers, compete for funding, and implement their ideas in their home countries or locally.
Courses in the major draw on economics, politics, mathematics, management, and organizational psychology. The major, within the framework of an Earlham liberal arts education, support the development of critical and analytical thinking, written and oral communication skills, and an interest in contributing positively to the world.
Our faculty have work experience in a variety of countries and advanced academic degrees. We regularly involve learners in our research.
Highlights
Every student completes an internship, either here in Richmond, off-campus within the United States, or abroad.
Internships can be completed through formal programs in Philadelphia, New York or Washington, or students can apply for funding through The EPIC Advantage for their own internship.
About 80 percent of our alumni have completed or expect to pursue a master's degree or Ph.D. programs.
Recent graduates have found employment at a wide variety of organizations from First Bank in Indianapolis to the World Bank in Palestine.
The Global Management major is comprised of an average of 40 percent of international students from all over the world. Our U.S. students came from all over the country and many different backgrounds. Students can expect to work in a multinational group on a regular basis in almost every class in the major.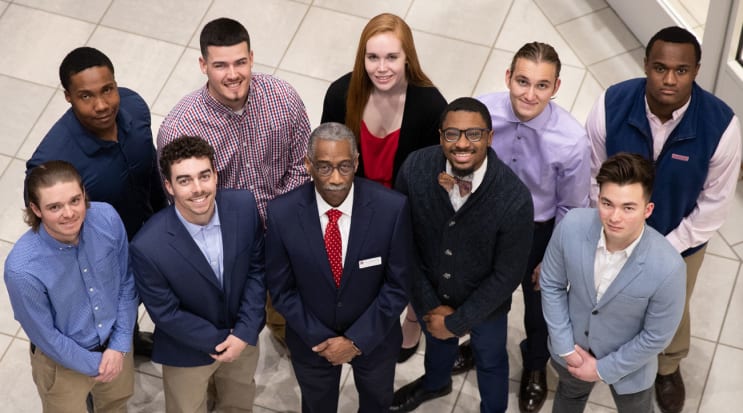 The Earlham Prize for Creative Capitalism
Social entrepreneurship thrives at Earlham!
The Earlham Prize for Creative Capitalism is a business plan competition that helps students move their passions, ideas, and ideals from theory to practice. The competition provides a platform for students to transform their ideas into real-world business plans.
Earlhamites Win $1M Hult Prize to Meet Clinton's Urban Spaces Challenge
A team of Earlham College students was awarded $1 million in start-up capital on Tuesday after winning the Hult Prize, the world's largest student competition for social good. The Earlham project is designed to positively affect 11 countries and millions of people.
Plan of Study
General Education Requirements
The Program offers 11 courses that fulfill General Education Requirements: three courses that meet the Abstract Reasoning component of the Analytical Reasoning Requirement — MGMT 101, 103 and 310, one course that meets the Quantitative Reasoning component of the Analytical Reasoning Requirement — MGMT 120, two courses that meet the Domestic component of the Perspectives in Diversity Requirement — MGMT 342 and 343, four courses that meet the International component of the Perspectives in Diversity Requirement — MGMT 322, 324, 325 and 377, and one course that meets the Wellness Requirement — MGMT 260.
In addition, MGMT 305, 306, 309, 312, 313, 315, 361 and 369 qualify as Research courses, and MGMT 368 is a Writing Intensive Course.
The Major
Students are encouraged to begin the Major during the first or second year. This provides flexibility in the student's schedule to participate in an off-campus program and to develop multinational professional networks among other students in the Program.
Electives
Students must take two 3-credit MGMT courses from a track outside of their chosen track, with at least one 3-credit course being an upper-level course.
The Minor
Earlham graduates, whatever their majors, frequently pursue careers that move them into management positions. By taking Global Management as a minor, students in any major can develop an understanding of how to work and lead in an organization.
Students minoring in Global Management must complete these courses:
MGMT 141 World of Business
MGMT 200 Financial Accounting
MGMT 211 Leadership: Theory & Practice
Two additional upper-level MGMT courses
International Admissions
A Global Learning Community
Rooted in the Quaker values of equality, justice, respect, and collaboration, an Earlham education creates an unending desire to see the world differently and to bring about change. Earlham prepares you for the challenges and decisions of your college career and for your life after college.
As an international student, you play a key role in bringing the world to Earlham. We recognize and value the distinct perspectives you bring with you and how they can enrich experiences in and out of the classroom.
International students make up approximately 21% of the total student body at Earlham. Our dynamic campus includes more than 200 international students, faculty, and language assistants from more than 60 countries.
We look forward to welcoming you to campus, too!
Standardized Test Scores
Standardized test scores are required of all international applicants.
If English is not your primary language, you must submit an English Proficiency exam and meet the required criteria. You may also submit an SAT or ACT score to enhance your competitiveness for admission and for scholarship consideration.
If English is your primary language, you may submit your SAT or ACT scores instead of an English Proficiency exam.
Current accepted tests and minimum required scores are:
| | | |
| --- | --- | --- |
| Test | Required | Recommended |
| SAT – EBRW | 400 | 600 |
| ACT – Reading | 20 | 26 |
| TOEFL - total | 80 | 92 |
| IELTS – total | 6.0 | 7.0 |
| Duolingo - total | 105 | 115 |
| GTEC - total | 1192 | 1255 |
| ISE - total | ISE II Merit | ISE III Pass |
While we understand the many issues present in standardized testing, Earlham's current registration with SEVIS requires compliance with these test score requirements. SEVIS is the Student and Exchange Visitor Information System used by the Department of State on behalf of the Department of Homeland Security (in other words, important US governmental agencies). Therefore, the International Student Advisers must use test scores to substantiate academic preparedness and English proficiency when preparing an I-20 (the document needed to apply for a student visa) for an admitted student.
Last updated Aug 2020
About the School

Earlham is a national liberal arts college with a reputation for excellent teaching and preparing students to make a profound positive difference in the world.
Earlham is a national liberal arts college with a reputation for excellent teaching and preparing students to make a profound positive difference in the world.
Read less