Bachelor in Global Business Management
Program Description
The Bachelor's Degree in Global Business Management (GBM) has an innovative program in Argentina that provides its students with the best knowledge and the appropriate tools to successfully manage international business. This new career offers a solid academic preparation that, with creativity and global training, allows the graduate to succeed in the current business world.
This new Bachelor's degree enables you to exercise the leadership of work teams, from an integral perspective, with people of different nationalities in a highly dynamic environment.
Currently, the Degree in Global Business Management (GBM) has three Double Degree agreements . One of them is with the Berlin University School of Economics and Law (Berlin - Germany), another with JAMK University of Applied Sciences (Finland) and with ESC PAU BUSINESS SCHOOL (France) .
The "Global Being", as a concept, refers to the need to open the mind, create a vision in which the market is the world, meet new cultures, travel and be flexible to adapt to the way of doing business in different countries. To manage global businesses you need people with an innovative profile, with the capacity to take risks, creative sense and prepared for the challenges of today's world.
Advantages of the Program
Global approach:
Clear approach to the global vision in the world of organizations.

International exchange programs.

Courses of technical subjects in English.

Languages Department available.

Agreements with top-level companies to carry out professional practices.

Double degree agreements with European universities, which allow obtaining a degree with 10 subjects studied abroad and within 4 years of the degree.
Flexibility and integration capacity:
The student defines the orientation of his career through 10 elective subjects.

Choose the end of degree project in the area that the student prefers. (Thesis or Project of end of degree)

It offers the opportunity to carry out volunteer programs and rented internships.

There is also the possibility of obtaining a second undergraduate degree in one year.
Innovative and entrepreneurial approach:
It includes the possibility of facing real projects of change or creation of new businesses.

The whole career challenges the student to apply innovative concepts in the resolution of cases. In addition, the curriculum has a specific subject: "Innovation"
Intercultural approach:
Students receive intercultural training materials, with trips to different countries, which help to understand the belief system and paradigms of each country, a key factor in developing global businesses.

The future graduates obtain an integral formation for the Management and the direction of multinational companies, with entrepreneurial profile.
Travel in the Race
In the first year of the race the students travel to Chile, where they carry out an intensive program at the Technical University of Santa María , in Valparaíso.
In the second year of the course, students travel to Finland for a month to complete the Summer Camp at JAMK University of Applied Sciences.
The experience told by our students
Lautaro Frette, First year student of the race
"The internship to Chile was an excellent choice to begin the trips within the race. Not only did it allow us to cross the boundaries of what is known from the academic point of view and thus experience a different approach to teaching, it was also a great opportunity that we had as a group to get to know each other more deeply, exchange ideas, projects and strengthen each other. It is a unique opportunity offered by the university as well as essential for our learning within GBM "
Juana Chiurchiu, second year student of the race
"The trip to Finland marked a before and after in the race. On the one hand, it gave us a broader perspective of our academic environment , it showed us a different way of educating , it crossed with professors with a vocation and allowed us to specialize in what each one was interested in. But also, it helped us to evolve socially . Not only did it help consolidate us as a group, but it also gave us the chance to relate to other cultures that are very different from ours. In short, I think that the most important thing that we took was an integral learning, as people, colleagues and friends "
Profile and scope
The career is aimed at training managers and managers capable of managing organizations that exhibit an active participation in the international market.
The graduate will be able to:
Interpret the different realities of the countries and analyze the incidence of social, political, economic and cultural variables on the different areas of activity of a company in a global context.

Apply the fundamental knowledge of strategic analysis, marketing and negotiation to companies in different contexts and with different cultures.

Develop corporate strategies, organizational structures and human resources policies suitable for companies composed of people of different cultures or with different interests.

Apply models and techniques that allow analyzing global companies from an economic and financial point of view, using current technological tools.

Know the legal instruments necessary to implement projects at an international level.

Identify the operations management processes and the most suitable logistics to connect different points of the world geography, attending to the optimization of the cost-quality-utility ratio.

Identify and apply information and control technologies to improve the overall competitiveness of the company.
Reaches
The Bachelor in Global Business Management is qualified to perform the various executive functions inherent in the administration of international organizations.
The title enables the following functions:
Lead, lead and exercise control of the integral operation of international-based organizations from different areas and hierarchical positions.

Analyze and formulate global business strategies based on economic-financial, legal and cultural aspects.

Formulate, evaluate and direct investment projects in different countries, based on economic, financial, legal and cultural analysis.

Conduct economic-financial analysis related to the international management of organizations.

Design and implement logistics processes linked to external markets.

Investigate, design and execute contextualized marketing actions according to different markets and current regulations.

Design, manage and evaluate the integral policy of human resources that responds to the objectives of the company and staff, to the particularities of each context and to the specific problems of multiculturalism and

mobility of people.

Advise on the development of franchises, joint ventures and strategic alliances.

Design control systems to verify the achievement of the organization's objectives and improve and innovate processes, applying computer technology.
Curriculum
First year
Business Administration I

Marketing

Management Accounting I

Business

Law I

Mathematics Applied to Business

Business

Administration II


Global Management of Human Talent

Statistics Applied to Business

International Economic History

Contemporary Cultures and Societies
Second year
Management Accounting II

Microeconomics

Business

Law II
Optional

(2 subjects)

Costs for decision-making

Global Logistics

Financial Calculation

Hiring, Means of Payment and Currency Management

Operations Management and Quality
Third year
Leadership and International Negotiation

International Business Law

Global Business and Business

Strategic Management

Global Marketing

Optional

(5 subjects)
Fourth year

Innovation in Value

Corporate Finance

Macroeconomy

Knowledge Management


Information Technology Management

Integrated Company Information
Final Research Work in Global Business Management
Optional (3 subjects)
Last updated Mar 2020
About the School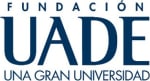 UADE es una institución con 50 años de actividad en la enseñanza universitaria, que se concibe, nace y desarrolla desde una perspectiva de gestión global. Fue creada con el objeto de formar profesiona ... Read More
UADE es una institución con 50 años de actividad en la enseñanza universitaria, que se concibe, nace y desarrolla desde una perspectiva de gestión global. Fue creada con el objeto de formar profesionales que, por medio de carreras innovadoras, se adecuaran a las crecientes necesidades de las diferentes industrias.
Read less