Program Description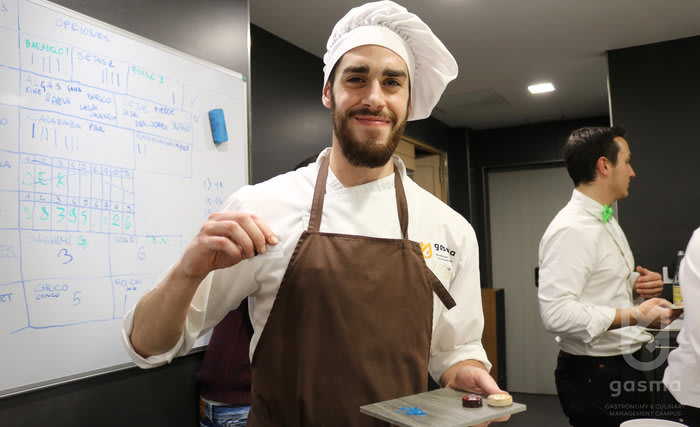 The Bachelor's Degree in Gastronomy aims to train professionals specialized in culinary techniques but also qualified to lead and manage a gastronomic business. A four-year training that will enable our graduates to lead the future of Gastronomy.
Details
Official Training: Bachelor's Degree in Gastronomy.
Addressed to: Students who want to pursue their careers in Gastronomy with business management skills.
Study Duration: 4 years.
Total Crédits: 240 ECTS
Language: English: 1st year. Spanish: 2nd, 3rd, 4th year*
Located in: Castellón de la Plana (Spain)
*1st year can be either in Spanish or English language
Presentation
The Bachelor's Degree in Gastronomy at CEU Cardenal Herrera University is the result of an in-depth social, cultural and business study on the current situation of culinary practice and how it has developed in both gastronomic and commercial terms. The main conclusions drawn from the study were as follows:
Professionalism: There is an increasing trend towards the requirement for professional qualifications in the gastronomy sector.
Business Dimension: There is now a need for suitable learning environments that can successfully combine gastronomy and business, cooking and return on investment.
Gastronomic R&D+I: The development of gastronomy has resulted in the involvement of a series of scientific and technical issues that only a few years ago had nothing to do with cooking as a profession. We need to equip professionals with the tools and knowledge to bring R&D+I into the gastronomy equation as a competitive factor in their practice.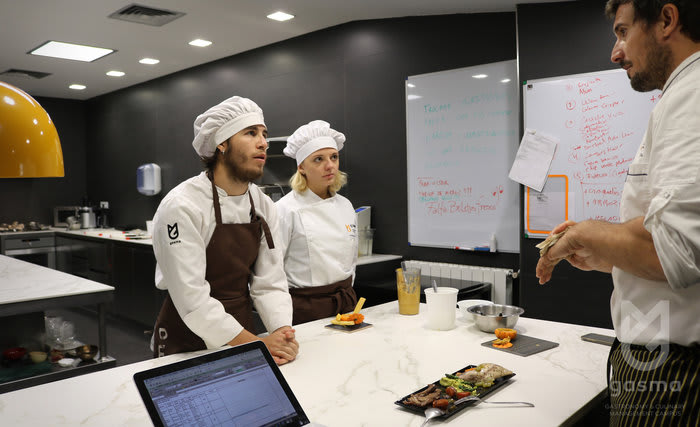 The Bachelor's Degree is based on five topic areas:
GASTRONOMY
Food Product and Culinary Techniques: Transferring knowledge on the food product and culinary techniques, on the origin and traceability of foods. Training students in the disciplines of the quality and safety of raw ingredients, food preparation and storage and healthy eating
CREATIVITY
The value of ideas: This degree includes subjects related to creativity, design and artistic trends. This basic knowledge gives students the chance to play an active part in projects related to decorating and arranging interiors, as well as to develop their own distinctive look in terms of food presentation and interior decor.
LANGUAGES
International Opportunities: The growth of this sector on the international market prompts us to place a strong emphasis on English as an everyday working language for our students, who have the opportunity to practice their language skills in seminars, supervised work, bibliographic searches, etc.
BUSINESS MANAGEMENT
Tools to manage solid business projects: Taking a practical, applied approach to the hospitality business with the aim of equipping students with the tools they need to set up solid business projects and protect their financial viability.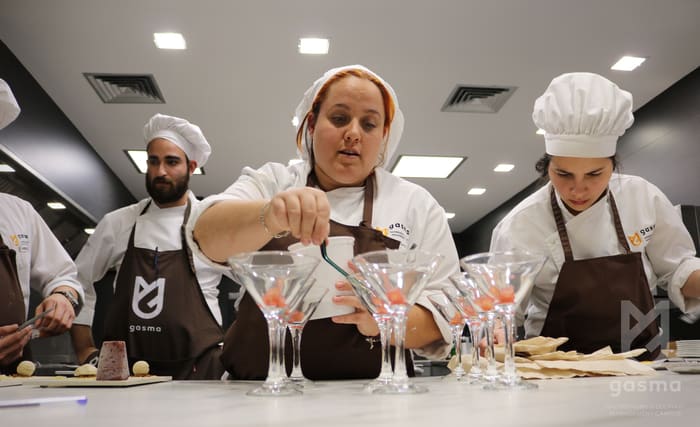 Study Programme
The Study Programme for the Bachelor's Degree in Gastronomy equips prospective students with a solid and practical foundation on which to build their future careers.
The Programme is based on five topic areas. Combined, these areas offer Gasma graduates a complete, up-to-date professional profile of the future:
Food Technology
General Business Knowledge
Gastronomy
Culinary Management
Languages
1st Year. A Solid Foundation in Gastronomy and Management
First-year students acquire basic knowledge in relation to food handling and basic culinary processes.
They will learn about the marketing and economic areas of companies in the sector. The English language is part of the first contents of their studies as well as practical activities, in order to obtain experience at local companies.
2nd Year. New Techniques and Tools
The second year includes concepts related to enology and culinary processes.
Concepts related to law, finance and health issues will be dealt with in Culinary Management. The students are also equipped with tools to create solid business projects. Training continues in the English language and English communication skills. Students undertake Internships at national companies.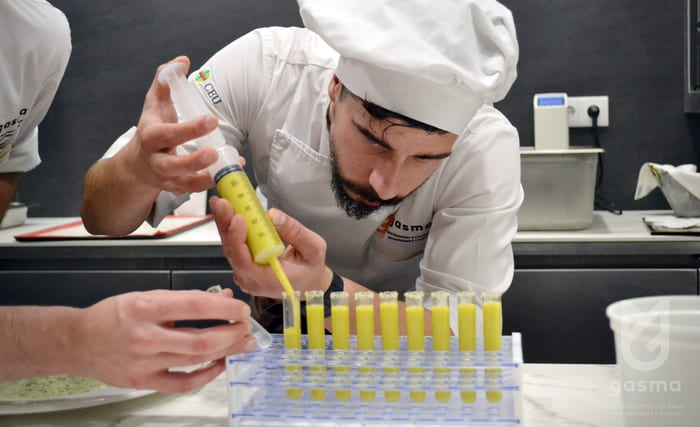 3rd Year. Knowledge Consolidation
Gastronomic studies focus on nutrition and dietetics, further to creation and innovation processes in Gastronomy. Students will also broaden their knowledge of enology and wine-pairing.
In Culinary Management, students study business models and use software to control costs. Events management is introduced. In English, students acquire practical knowledge related to the world of business and the restaurant industry. Internships take place at international companies, both in restaurants and companies in the food industry.
4th Year. Path to Specialization
In the fourth year, students choose a specialization and the corresponding course pathway.
Executive Chef Innovation - Research in Gastronomy: Students will study the latest culinary techniques and trends in Gastronomy. They begin acquiring research concepts. This specialization aims for the highest culinary level by learning new culinary trends and applying the creative processes and ongoing research in the kitchen.
Gastronomic Business. Food & Beverage: Students specializing in Culinary Management, with food and beverage department management. Students will learn how to establish company operations and improve gastronomic and restaurant services.
Final Project (TFG)
The Bachelor's Degree Final Project (TFG) consists of a memory or original study carried out by each student. The TFG integrates and develops the training and skills acquired during the Bachelor's Degree.
Its purpose is to train students in searching, managing, organizing and interpreting relevant data to make judgments that include reflection on important issues of social, scientific, technological or ethnic nature. Its completion facilitates the development of critical thinking, logical and creative judgment. A teacher will supervise the TFG and its completion is needed to acquire the title of the Bachelor's Degree.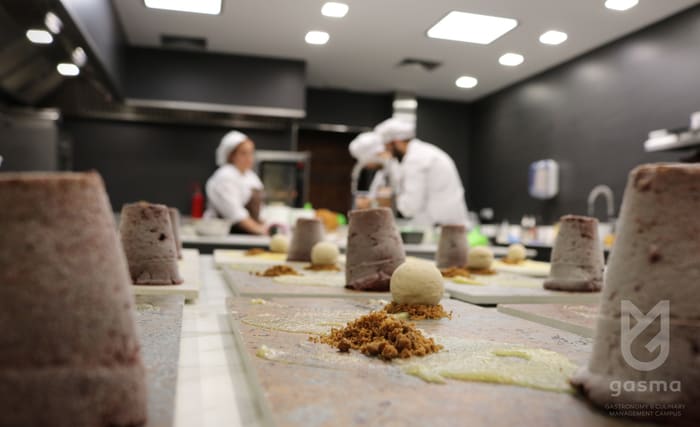 Internship
Students will have the opportunity to undertake work placements at local, national and international companies.
Our Gastronomic and Culinary Management Campus gives every student the opportunity to gain external academic work placements, thanks to several collaboration agreements between the CEU Cardenal Herrera University and different local, Valencian, national and international companies.
From the first year of their degree course, students can begin to acquire professional experience by undertaking work placements in companies based nearby. As they acquire more knowledge and skills, students have the chance to apply for placements in increasingly competitive environments.
Career Opportunities
Gastronomy is a highly interdisciplinary field involving a wide range of activities connected with the gastronomic and culinary sectors. Our graduates, further to creating their own businesses, will have the opportunity to perform their professional activities in a wide varied of fields, within the restaurant and tourism sectors:
The food industry.
Restaurant and catering.
Gastronomy consultancy.
Tourism.
Hospitality.
The many career opportunities open to them enables graduates in Gastronomy to practice their profession in positions of responsibility, such as:
Chef.
Director of Food & Beverage.
Restaurant and Catering Manager.
Gastronomy Consultant.
Events and Gastronomic Activities Manager.
Food Sector Research and Innovation Manager.
Food Quality and Safety Officer.
Culinary Operations and Projects Manager.
Additionally, our graduates will be able to apply their professional skills in the teaching and consulting sectors, including:
Culinary and gastronomic managers, consultants or advisers.
Teachers in areas related to gastronomy: master classes, course delivery, work placement supervision, etc.
Teaching adviser in gastronomic training centers.
Culinary Team
For the Gastronomy area, Gasma employs professionals with a successful career in the world of gastronomy.Academic staff from CEU-Cardenal Herrera University provide their experience in delivering the skills required for the subject areas of Business and Marketing, Food Technology, Communication, etc.
Continual Tutoring
A tutor will be responsible for supervising each student throughout the course of their degree.
Admission Routes
Baccalaureate LOGSE: All students who have completed the second year of Baccalaureate and passed the university entrance exams will be allowed access to the University Degree. UCH CEU has its own student-admission process.
Internation Baccalaureate taken within or outside Spain: 1. Educational systems of the European Union with specific agreement on education. 2. Educational systems of countries outside the European Union or with which there is no specific agreement on education.
Advanced Vocational Qualification (CFGS) or FPII obtained in Spain: Pursuant to current legislation, all students who have completed a CFGS (Advanced Vocational Training Cycle) may access the University from any professional sphere, but in the event that demand exceeds the number of places available, the UCH CEU will give preference to qualified candidates holding qualifications from the same branch of knowledge as the one studied on the degree course that they wish to follow.
Qualifications that are equivalent to Spanish vocational training/ Qualifications or educational courses done abroad: Additionally, Spanish and non-Spanish applicants can be admitted to the UCH CEU if they have completed studies abroad that are equivalent to Advanced Vocational Training Cycle qualifications. Studies equivalent to the Advanced Vocational Training Cycle or Professional Training taken abroad.
Previously completed University studies: 1. University studies previously completed in Spain. 2. University studies previously completed outside Spain.
University Qualifications started but not completed: Access by transfer of academic records
Vocational experience or other personal circumstances: People over 25/45. People over 40 with vocational experience related to the degree that they wish to study.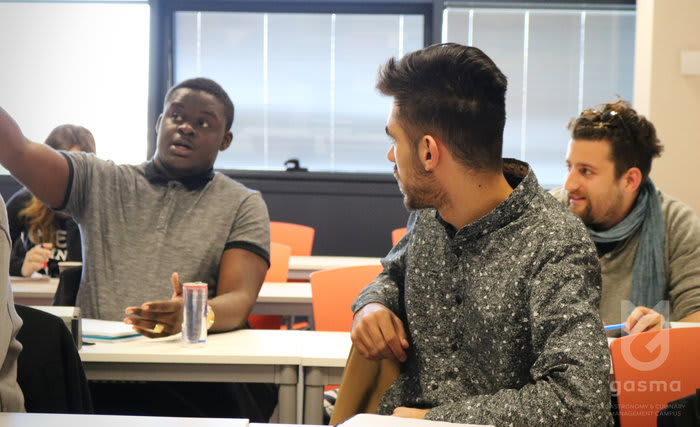 Academic Fees
First step: During the first year total fees, for the students of the English line, are 11,500 euros. Their training (48 ECTS) during this year is entirely in English (classes, materials, etc.) while receiving intensive Spanish classes (12 ECTS). Students will finish the first school year dominating many resources of Spanish Language.
Second step: From the second year anon, the students of the former year's English line pass onto the line taught in Spanish. Total fees for their training (66 ECTS each academic year) the 2nd and 3rd year will be 10.690 euros per year. In any case, students can continue to receive Spanish language classes if they need it. They will improve and deepen their mastery of Spanish to be completely fluent in Spanish. Whenever there are special events (masterclass, for example) the students of the line in English will have language support.
Third step: Total fees for the 4th year will be 9.970 euros per year (60 ECTS). In any case, students can continue to receive Spanish language classes if they need it. They will improve and deepen their mastery of Spanish to be completely fluent in Spanish.
Whenever there are special events (masterclass, for example) the students of the line in English will have language support.
Academic fees include:
All raw material and inputs to cook.
The use of the Campus facilities and equipment.
A uniform plus a set of knives and utensils that are given to each student for their own property. (notwithstanding the above, students must deposit 400€, that will be reimbursed after graduating).
Personal Locker.
Attendance to Masterclasses, conferences and extracurricular seminars scheduled for our students.
Arrangement for mandatory and extracurricular internships.
Not included:
Accommodation. However, Castellón is a medium sized Mediterranean capital with 180,000 inhabitants and a very moderate cost of living. Students can find a room in shared apartments starting at 170€ -190 €/month.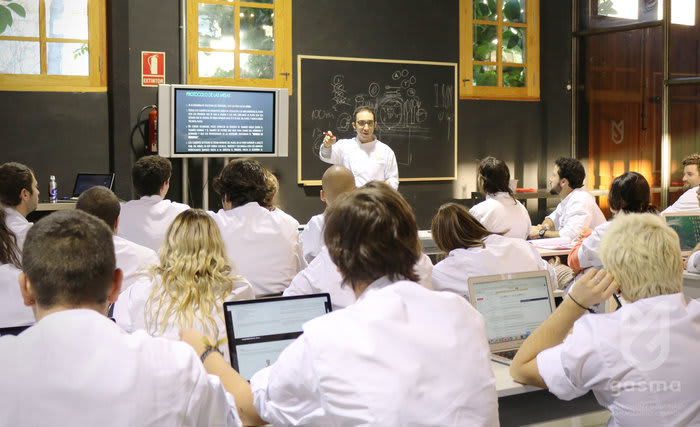 Admission and Enrollment
Admission interview
On the application form, you will be asked to choose a day and time for your personal admission interview and this will take place at the facilities of CEU Cardenal Herrera University.
The interview will be held with a manager from the Bachelor's Degree in Gastronomy area and has two main purposes: firstly, for the candidate to have direct contact with the Campus by interacting with somebody linked to Gasma, who will be able to answer any questions they have; secondly, for the candidate to find out all about the Bachelor's Degree in Gastronomy first-hand. At the interview, the candidate will be given complete information about the course and the way that our Campus works. This will assist the decision-making process. Additionally, the interview will allow us to learn more about the future student's skills and motivations directly, in-person, which is a key factor for us in evaluating the candidate as a possible student on our Degree course.
Reservation and matriculation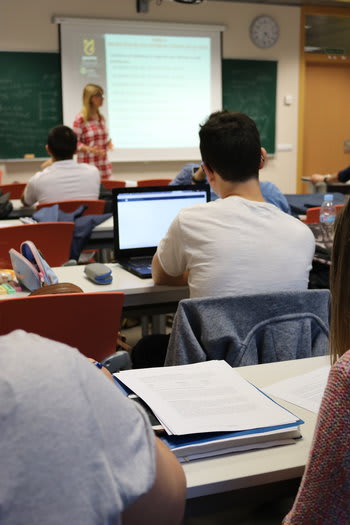 Following the admission interview, the process to reserve a place will begin. Generally speaking, except in special circumstances, 24 hours after the interview, the candidate will receive a notification by e-mail and through the admissions intranet.
The notification will set out one of three scenarios for the candidate:
That they have been selected and that there is a place available for them. In this case, the notification will be accompanied by a personalized Place Reservation Document telling them what they have to do to continue with the process. Following the simple instructions on this document, the candidate can reserve a place at the Gastronomy and Culinary Management Campus.
That they have been put on the waiting list for access to the Bachelor's Degree. In this event, they will be informed as to the next steps to take.
That they have not been selected because there are no available places and it is not expected that any places will become available or for reasons related to the evaluation of the candidate's application.
Selection will take place by evaluating the candidate, their motivations and skills and, where applicable, their personal and family circumstances. Given that the Gastronomy and Culinary Management Campus has its own selection system, the grade obtained in University Entrance Exams will not be taken into account for this purpose, although final enrolment can take place only when all legal requirements for admission to the Campus have been fulfilled.
In the event that they are selected, students should register in order to make their place reservation official:
Future students will be able to print the necessary documentation to pay the registration fee from the intranet.
24 hours after making the payment, future students should fill in the registration form on the intranet.
Both payments of the fee and completion of the registration form will be required in order for the place to be reserved and to subsequently be able to request an appointment for enrolment, which will be formalized at the General Secretariat of the Campus.
Custom tests
The Gastronomy and Culinary Management Campus, GASMA, has implemented a process that helps evaluate the knowledge and skills of its new students in order to identify their profile on accessing the Bachelor's Degree in Gastronomy.
This process allows us to classify the access level of students so we can design teaching strategies in accordance with the group they belong to. To do this, at the start of the academic year, once the students have enrolled at the Campus, a series of profile tests are carried out in the classroom, which is specifically adapted to the Bachelor's Degree in Gastronomy. Based on the information obtained from these tests, the Campus designs reinforcement and intensification actions adapted to the students' needs.
This is a further example of our efforts to offer personalized teaching, oriented towards getting the best out of each student. In this process, students are also given an English level test. Using the results of this test, the Campus will tell students which free courses they should attend from among its language courses, in order to achieve the level of English required on bachelor's degree courses.
Last updated Jul 2020
About the School

Gasma is the Gastronomy and Culinary Management Campus from CEU Cardenal Herrera University.
Gasma is the Gastronomy and Culinary Management Campus from CEU Cardenal Herrera University.
Read less