Bachelor in Environmental Science
Program Description
The Environmental Science curriculum provides students with a broad understanding of the cultural, economic and environmental aspects of sustainability. The curricula of the Environmental Studies Department has a strong grounding in the principles of environmental science, sustainability, biology, ecology, chemistry, and statistics. Many courses offered by the Department focus on experiential and service learning.
The Environmental Studies Department offers a major in Environmental Science and Environmental Sustainability, a minor in Environmental Studies and certification in Environmental Education. The Department works in close partnership with the Fulton Center for Sustainability Studies (FCSS) and requires all students to complete an internship in the student's selected area of focus as part of their program. Opportunities are also provided for independent study courses in specialized areas of research.
Our beautiful, 300-acre campus is situated on the banks of the Conococheague Creek in the foothills of the Appalachian Mountains in southern Pennsylvania. Wilson College houses an interpretive trail, Fulton Farm--an over 50-acre farmstead that produces Certified Naturally Grown crops for our community-supported agriculture (CSA) program--and the Robyn Van En Center (RVEC). RVEC is a nonprofit organization that houses a national database of CSA's and provides education and assistance about the promise of CSA's as a way to reconnect people to farmers and preserves small family farms. These and other resources make Wilson College a unique place to study and experience environmental science and sustainability.
Environmental Studies majors and minors plan their programs in close collaboration with faculty advisors. Careers in environmental fields require intensive preparation; therefore, some students consider a double major or minor in a related discipline. Students with special interests may develop individual programs of study in collaboration with advisors from appropriate disciplines. Our graduates have chosen to pursue graduate work in ecology or environmental science, environmental policy, environmental law, or find employment with private companies or governmental or non-governmental organizations. Specifically, recent students have interned with or been employed by the National Park Service at Homestead National Monument of America in Nebraska, the Community Environmental Legal Defense Fund, and Earthnet Energy among others. Wilson also has a formal partnership with Vermont Law School.
Our program continues to grow. We will continue to adapt to our changing student body and new local and global needs as they arise. Please contact the Environmental Studies Department with questions.
Student Learning Goals
The Goals of the Environmental Science (BS) Major:
Ground the ethical and social dimensions of environmental studies in a strong science foundation.
Synthesize environmental sustainability with an(other) discipline(s).
Cultivate an understanding of environmental challenges through a framework of sustainability.
Provide personalized education, distinguished by collaborative and cooperative faculty-student interaction in which students recognize their roles and responsibilities in establishing and attaining learning goals.
The Goals of the Environmental Sustainability (BA) Major:
Provide a curriculum that offers service/experiential learning to students.
Synthesize environmental sustainability with an(other) discipline(s).
Apply environmental policy and law to environmental issues and develop an ability to solve complex environmental problems.
Develop cross-disciplinary research in the natural and social sciences and humanities to cultivate a sustainable approach to environmental challenges.
Last updated Jan 2019
About the School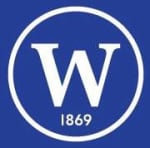 Wilson is committed to providing our students and their families with value in a college education. From our first-in-the-nation student loan buyback program to career development and financial litera ... Read More
Wilson is committed to providing our students and their families with value in a college education. From our first-in-the-nation student loan buyback program to career development and financial literacy training, we're dedicated to providing an experience
Read less