Program Description
In our digital world, we read and write every day, bringing with it an urgency to learn how to critically approach written texts and to produce effective writing. A degree in English provides the flexibility, creativity, and cultural literacy demanded by many different fields today.
Students who complete the program earn a Bachelor of Arts in English. The core B.A. curriculum includes courses in the United States, British, and World Literature; Creative and Professional Writing; and a generous amount of electives, so the student majoring in English can either minor in another discipline or choose courses from across campus to fashion a program that focuses on their individualized needs.
Students who have a particular interest in the craft of writing can tailor their curriculum to combine their Bachelor of Arts in English with a formal concentration in either Creative Writing or Professional Writing.
Along with learning the art of writing effectively and thinking critically in a number of different contexts, the Medaille English major also emphasizes research skills in databases and search engines. In some classes, students also use social networks for group work and public outreach, or create an online magazine, or build their own websites.
English majors have the opportunity to learn publication skills through work on the campus literary magazine, The Prelude. The Write Thing Reading Series, sponsored by the English Program, brings locally, nationally, and internationally known authors to campus and English majors have opportunities to meet and work with these guest writers.
Many courses within the major also allow for the exploration of the world outside the classroom. This can include direct engagement with the Western New York Community; readings, performances, artworks, print publications, or digital creations made available to the Western New York Community; or virtual outreach to other communities in geographically inaccessible areas outside of Western New York.
In addition, English majors have the opportunity to work as interns with local businesses and non-profit organizations. This field experience allows students to apply the knowledge, skills, and values that they have learned in a professional setting.
Ultimately, the English major provides excellent preparation for careers in teaching, law, business, and management, government, publishing, technical writing, journalism, writing for media, public relations, digital writing and publishing, library science, grant writing, and many other areas of professional and creative endeavor.
The English Program also offers Minors in Creative Writing, Professional Writing, and Literature.
| | |
| --- | --- |
| Degree earned | Total number of credits |
| B.A. | 120 |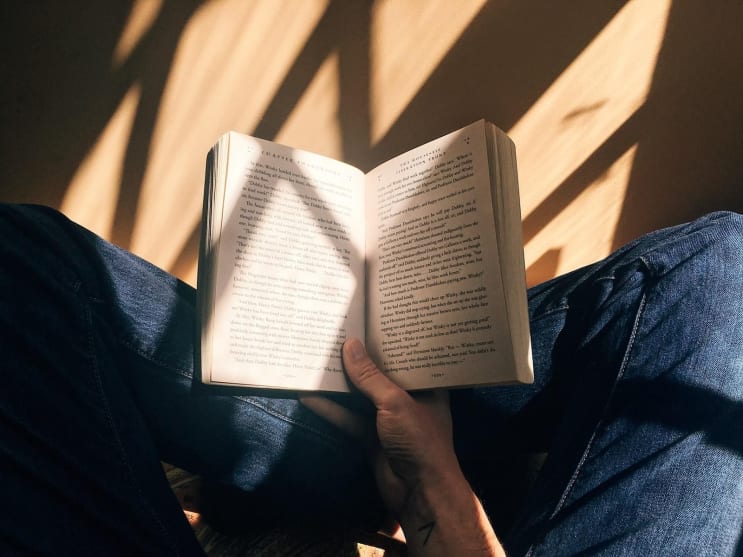 Blaz Photo / Unsplash
What can you do with this degree?
Medaille English majors are currently completing internships at sites such as:
Western New York Book Arts Center (WNYBAC)
Robert J. Miller and Associates (Grants Development Services)
Medaille College Buffalo Campus Library
Medaille graduates have gone on to prestigious graduate school programs in a variety of fields, including:
New York University and the University of Southern California (Master in TESOL)
University of Massachusetts Boston (Master in Rhetoric)
Emerson College (Master in Global Marketing Communication)
The University of Illinois at Urbana-Champaign (Master in Human Resources)
University of Rochester (Master in Higher Education Administration)
Medaille English alumni are now in careers such as:
Professional Grant Writers
College and High School Teachers
Librarians
Managers of Group Homes for Teens in the Foster Care System
ESL Teachers
Public School Administrators
Directors of Operations at Nonprofit Youth Organizations
Medaille's English degree provides personalized learning through:
The opportunity to learn about people and culture through literature.
Small classes in the study of literature and the art of writing in multiple media.
Classes incorporating community outreach and community-based learning projects.
Publication experience with Prelude literary magazine.
Close mentoring relationships with award-winning faculty accomplished in academic and professional fields.
Opportunities to meet locally and nationally known writers through the Write Thing Reading Series.
All courses in the Medaille College English degree program offer to learn opportunities to prepare students to study and work in the digital world.
You have an exciting journey ahead and we'll be there every step of the way
Medaille College is the place for students who want to change their world and improve the lives of their communities through their careers as leaders, advocates, and professionals. Each one of Medaille's undergraduate programs prepares you for the workplace through hands-on learning experiences in and out of the classroom.
Medaille College is accredited by the Middle States Commission on Higher Education.
Personalized support.
Student-centered environment.
Financial aid and scholarships are available.
A vibrant campus located in the heart of the City of Buffalo Relevant real-world experiences.
More than two-dozen clubs and activities.
Successful NCAA Division III athletic teams.
Last updated Feb 2020
About the School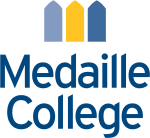 Medaille College is a private, nonsectarian four-year college with campuses in Buffalo, Rochester and online. Medaille focuses on your success as a student and as a future professional by offering und ... Read More
Medaille College is a private, nonsectarian four-year college with campuses in Buffalo, Rochester and online. Medaille focuses on your success as a student and as a future professional by offering undergraduate and graduate degree programs in hands-on, practitioner-based learning environments on campus and in the Western New York community.
Read less