Program Description
Engineering
From the Pyramids and Roman aqueducts to the steam engine, spaceship, and smartphone, engineering is how we have been applying science to create structures and machines and transform the world around us. Engineering at Hanover offers you a rigorous and broad education, emphasizing both analysis and practical skills. You will learn in small classes, engage with supportive faculty members who are committed to your success, conduct research and present your results, gain work experience with our industry partners and have the opportunity to study abroad.
Learning Engineering at Hanover College
Our mission:
We offer an excellent grounding in the ideas, skills, and experience of engineering within a liberal arts environment so that students can succeed in their profession, function across disciplines, provide leadership, and make positive contributions to society.
We emphasize critical thinking and creative problem solving that foster innovation. We challenge our students to collaborate, communicate effectively, complete research projects, and receive career training before graduation.
We cultivate the love for lifelong learning as an essential means to thrive in a world of constant change. We encourage students to pursue further studies or careers with confidence and insight, a broad perspective, and a profound appreciation for what makes us human.
Our strengths:
You learn in small, dynamic classes one-on-one with experts who unlock your potential and develop your professional skills.
You can join a research or work internship (or co-op), and receive academic credit.
You expand your horizons through visits and guest lectures by our industry partners.
You enjoy the benefit of the integration of engineering with science and the liberal arts. In addition, you may combine engineering with business through our established Business Scholars Program (B.S.P.). There is an increasing US and global demand for broadly educated engineers.
You have the opportunity to study abroad.
Degree Paths and Careers
The engineering department offers two engineering degrees:
1. A Bachelor of Science degree in engineering with coursework in the following specialties:
mechanical engineering
electrical engineering
electromechanical engineering
computer engineering
The Bachelor of Science in Engineering is designed for those who wish to pursue career paths in engineering or applied science working in the industry, research or entrepreneurial endeavors. It prepares students for both advanced studies and professional employment.
2. A Bachelor of Arts degree in engineering science.
Engineering science provides an interdisciplinary education in mathematics, science and engineering. It also encourages students to incorporate diverse cognate areas, such as business, economics or art and design, so they can effectively pursue careers in engineering management, public service, business or entrepreneurship.
Beyond the Classroom (Research, Internships, Co-Ops)
Professors have an active research agenda and engage students with projects. You will have the opportunity to present your research on campus and in professional conferences.
You can earn academic credit for a summer internship or a more extensive co-op. In particular, Hanover College corporate partners offer a unique opportunity to qualified engineering majors to acquire work and research experience through a four-month co-op. This extends over a spring term and the subsequent summer, and so students can complete it and still graduate in four years. Because of a strong local business representation, students have the option to avoid relocation.
Experiential opportunities also include spring-term travel, field trips, and study abroad opportunities.
The engineering department can also offer paid employment to majors as tutors or lab assistants.
Executive Involvement
The engineering program is supported by the Engineering Advisory Board. This is a team of corporate, research, government and civic leaders who help guide the continued growth and development of the Engineering Program. The Board:
Identifies competitive advantages of the program and key factors of success. Advises on effective marketing and recruiting strategies ranging from local to international.
Assists in developing a broader network of engineers and executives who promote the engineering program and create opportunities for students, including internships, co-ops, workshops, networking events, class visits, guest lectures, skill development, and career preparation.
Addresses issues of strategic growth including collaboration with other institutions, foundations, and industries, upgrading of facilities and equipment and development of new programs and research.
Monitors and evaluates the engineering program.
Helps raise funds to build and maintain the program.
Advises on education enhancement, curricular issues in terms of employer needs, technology transfer and contribution to the broader community.
The program relies on alumni, engineering, and executive involvement.
Foundation Support
Generous support has been provided by the Duke Energy Foundation.
Accreditation
We are pursuing accreditation of our four-year degree program through the Accreditation Board for Engineering (A.B.E.T.) and anticipate we will be reviewed for accreditation in 2020.
What We Look for
We are looking for well-rounded students so our admissions office evaluates candidates holistically. Standardized test scores are considered but the weight of applicant evaluation focuses on curriculum and grade point average. Other factors included in our evaluation are the high school attended, letter of recommendation, participation in extracurricular and community activities and the submitted writing sample. In addition to achievement and participation, Hanover College values cultural, ethnic and geographic diversity in its student body.
Profile for Class of 2022
Number applied: 4,073
Percent accepted: 63.4%
Number admitted: 2,582
SAT score (middle 50%, critical reading, and math sections only): 1030-1220
ACT score (middle 50%) 23-27
Average GPA: 3.62
Admission Requirements
As a selective liberal arts college, Hanover is looking for those students who have completed a rigorous college-preparatory curriculum. To be eligible for admission, an applicant must have completed the following high school courses:
Four years of English (literature and composition)
At least two years of foreign language
At least two years of mathematics, including Algebra II
Students who have taken AP, IB and dual-credit courses may be eligible for Hanover College credits.
Last updated Dec 2019
About the School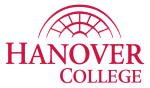 Nestled in 650 acres of a wooded campus and located on the banks of the scenic Ohio River, Hanover College is a private, liberal arts institution where brains and beauty truly intersect. Our rigorous ... Read More
Nestled in 650 acres of a wooded campus and located on the banks of the scenic Ohio River, Hanover College is a private, liberal arts institution where brains and beauty truly intersect. Our rigorous interdisciplinary academic program with 33 majors attracts the best and the brightest from across the region and beyond.
Read less