Bachelor in Electrical and Computer Engineering
Home ›
Bachelor ›
Bachelor in Electrical and Computer Engineering
Program Description
Overview
What powers your imagination? Electrical and computer engineers have found inspiration to design, build, and test devices that power our everyday world and carry information across the globe. HD TVs, robots and intelligent systems, solar power, computer chips, new computer operating systems – they all have electrical and computer engineers in common.
Tennessee Tech's Electrical and Computer Engineering Department offers two solid undergraduate programs that emphasize the fundamentals of electrical and computer engineering and enable graduates to enter the workforce with confidence. Programs are offered which lead to Bachelor of Science degrees in Computer Engineering (B.S.Cmp.E.) and Electrical Engineering (B.S.E.E.), as well as a Mechatronics Concentration in Electrical Engineering (B.S.E.E. - Mechatronics Concentration). Both degree programs are accredited by the Engineering Accreditation Commission of ABET, http://www.abet.org. The discipline is divided into several areas within ECE.
With about 460 undergraduate students, the department is one of the largest in the College of Engineering. Undergraduate program enrollment and graduation data are on the About the Department page. All 16 faculty members hold doctorates, and one has a joint appointment in one of three Centers of Excellence. These centers have brought the university international recognition and provide unique opportunities for electrical and computer engineering undergraduates to participate in center-related projects.
An Exciting Time
You'll have the chance to participate in research that includes wind energy, sending and securing massive amounts of computer data, fuel cells, secure and economical camera surveillance, and more. Many of the great engineering achievements of the 20th century, such as electrification, telephone, radio and television, computers, and medical imaging, were created by electrical and computer engineers. Looking forward, there are several grand challenges in which electrical and computer engineers will contribute to the development of technology to improve the lives of all people.
A Solid Foundation
You'll work in labs designed to the replicate experience in the industry. The TVA Power Relay Lab, for instance, has some of the same equipment the industry giant uses in daily operations. There are a number of labs where you can conduct research, even as an undergraduate.
As a professional, you'll be experienced in designing and manufacturing safe, economical products that enhance our quality of life. You'll understand the latest programming languages, operating systems, and software engineering that connect the world.
Mobile Device / Laptop Computer Recommendations
Laptop computers are required for some ECE courses. The College of Engineering recommendations for computing devices can be found on the Mobile Device Recommendations web page.
Program Objectives
Program Educational Objectives describe the overall career and professional accomplishments that the program is preparing graduates to achieve.
The Program Educational Objectives of TTU BSEE and BSCmpE programs are:
Within one year following graduation, our graduates will be:

working in the field of electrical and computer engineering and/or
pursuing graduate studies

Within five years following graduation, our graduates will have:

progressed in their careers as indicated by promotions, positions of leadership, awards, recognitions, entrepreneurial activities, products or processes developed, patents, and/or publications;
advanced their knowledge and expertise as indicated by continuing education, advanced degrees, and/or professional registration;
contributed to the profession and society as indicated by research, national and international collaboration, professional service, community service and/or public service.
Student Outcomes
Student Outcomes describe what students are expected to know and be able to do by the time of graduation.
TTU BSEE and BSCmpE graduates will be able to demonstrate that they have:
an ability to identify, formulate, and solve complex engineering problems by applying principles of engineering, science, and mathematics;
an ability to apply engineering design to produce solutions that meet specified needs with consideration of public health, safety, and welfare, as well as global, cultural, social, environmental, and economic factors;
an ability to communicate effectively with a range of audiences;
an ability to recognize ethical and professional responsibilities in engineering situations and make informed judgments, which must consider the impact of engineering solutions in global, economic, environmental, and societal contexts;
an ability to function effectively on a team whose members together provide leadership, create a collaborative and inclusive environment, establish goals, plan tasks, and meet objectives;
an ability to develop and conduct appropriate experimentation, analyze and interpret data, and use engineering judgment to draw conclusions;
an ability to acquire and apply new knowledge as needed, using appropriate learning strategies.
Last updated Aug 2019
About the School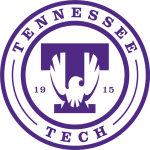 At Tennessee Tech, learning isn't contained within a classroom's four walls. There's a strong intellectual community, where faculty and students connect daily through research, discussion, and service ... Read More
At Tennessee Tech, learning isn't contained within a classroom's four walls. There's a strong intellectual community, where faculty and students connect daily through research, discussion, and service.
Read less