Bachelor in Electrical Engineering
Program Description
A degree in electrical engineering prepares students to develop solutions to urgent problems in areas such as power, communications, computing and networking.
Electrical engineers work with electromagnetic fields and electricity for use in communications, biotechnology applications and electronic circuits. The core of electrical engineering is the ability to work with sensors, acquire data, communicate electronically, process signals and information, model complex systems, and integrate various sources of energy in distributed systems.
Areas of emphasis
You have the option of choosing to pursue your electrical engineering degree with an emphasis in either renewable energy or biomedical engineering.
Renewable energy: Students pursuing this emphasis take the same required courses as all other electrical engineering majors, but they focus on energy-related topics for their senior year technical electives.
Biomedical engineering: Students pursuing this emphasis are required to take three additional introductory courses in biology and chemistry, but they have fewer technical elective requirements, which must include coursework in biochemistry and biomedical engineering.
The bachelor's degree program focuses on giving students depth of knowledge, breadth of knowledge and professionalism.
Our graduates are able to apply specialized knowledge in the practice or advanced study of electrical engineering, including scientific principles, rigorous analysis and creative design.
Additionally, graduates develop a broad range of knowledge, including information on the most important current issues in electrical engineering, for productive careers in the public or private sector or for the pursuit of graduate education.
Finally, our graduates are able to communicate clearly and work ethically in teams in a complex modern environment. Graduates will engage in life-long learning to adapt to changes in the requirements of their profession.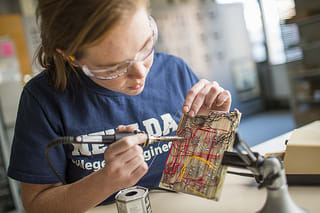 Requirements
In addition to core curriculum requirements, electrical engineering students take courses in engineering communication, math and science, and engineering science and design.
Students also complete technical elective requirements, typically during the senior year. Electives allow you to focus on topics that interest you, but all students must have at least one course from the following five elective areas:
Communication
Control
Electronics
Electromagnetics
Power
Additionally, students can take electives in computers, although this is not required.
Areas of emphasis
If you choose to complete an area of emphasis in either biomedical engineering or renewable energy, you may have alternate technical elective requirements. See the Course Catalog for specific elective classes.
Capstone requirement
As seniors, all electrical engineering majors take two capstone classes where they apply knowledge gained during their degree program toward the design and creation of an industry-relevant electrical engineering project.
Credit for internships
Up to three units of internship credit may also be applied toward the degree.
Career Options
Electrical engineers wear many hats today, thanks to the wide range of fields that call on their expertise. With communications, computers, networking and systems playing key roles in the operations of virtually all businesses, electrical engineers are critical to maintaining and developing the systems that support our society.
Career opportunities for electrical engineers include jobs such as the following:
Communications equipment design
Electric power generation and distribution
Electronics
Image and signal processing systems
Instrumentation design
Design and development of renewable energy sources
Optical and laser system design
Robotics design
Sensor design
Additionally, electrical engineers generally enjoy solid earning potential. Electrical engineering majors had median earnings of $85,000 in 2011, according to a report from Georgetown University's Center on Education and the Workforce, making them one of the top-earning majors for bachelor's degree holders.
Last updated Mar 2018
About the School
The University of Nevada, Reno was founded in 1874 as the State University of Nevada in Elko, Nev., about 300 miles northeast of its present-day campus in Reno. The site for the university preparatory ... Read More
The University of Nevada, Reno was founded in 1874 as the State University of Nevada in Elko, Nev., about 300 miles northeast of its present-day campus in Reno. The site for the university preparatory school in eastern Nevada (where no state institutions had previously been located) proved to be impractical, as nearly half of the state's residents lived in the Reno-Carson City area. In 1885, the legislature approved the move of the University from Elko to Reno.
Read less