Program Description
The mission of the School of Education is to develop caring, reflective decision makers in a Christian environment. The School of Education places great value on the Dispositions for Teaching Excellence, values outstanding teaching, and is dedicated to offering socially responsible, theoretically-informed, and research-based effective practice. We seek to encourage our teacher candidates to become life-long learners; we provide comprehensive instructional programs; and provide service to both public and private schools, as well as the professional community. The School of Education prepares professionals who contribute substantially to the educational process and improvement of the lives of students in our changing, technologically complex, and increasingly diverse society.
The School of Education is accredited by the Southern Association of Colleges and Schools Commission on Colleges (SACS), the Mississippi State Department of Education (MDE), and the National Council for Accreditation of Teacher Education/Council for the Accreditation of Educator Preparation (NCATE/CAEP). Programs in Elementary Education, Mathematics Education, English Education, Social Studies Education, Gifted Education, and Music Education are nationally recognized by NCATE/CAEP.
Standards for Admission
Freshmen Complete the application for undergraduate admissions
Send in your $40 application fee
Send in your official ACT or SAT scores
Send in your official high school transcript
Send in proof of measles, mumps, rubella (MMR) immunizations (must have had one MMR shot in the last ten years or two MMR shots in your lifetime.)
If you have taken college classes during high school, call the college and ask them to mail us an official and final college transcript.
Last updated Feb 2018
About the School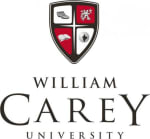 William Carey University is a community of learners which seeks to blend faith and learning with living. Within this unique nurturing and challenging environment students prepare to fulfill their div ... Read More
William Carey University is a community of learners which seeks to blend faith and learning with living. Within this unique nurturing and challenging environment students prepare to fulfill their diverse
Read less