Program Description
Economics majors at Northwest develop analytical, critical thinking and decision-making skills in preparation of evaluating the decisions made by businesses, consumers and government. The goal of this degree is to assess information and decisions in order understand the structure, operation, and investigation of decisions.
In addition to small class sizes, Northwest students receive instruction from faculty who have received the Dean's Award for Exemplary Teaching and the Governor's Award for Excellence in Teaching. Classes are small and upper-level courses have an average of fewer than 10 students.


Career Opportunities
100% of students who graduated with a degree in economics obtained employment or continued their education within six months after graduation.
The following is a listing of common positions for graduates with an economics major:
Economic analyst
Securities analyst
Business forecaster
Banking and finance related field
Market Researcher
Economic development officer
Analyst programmer
*Based on self-reported data in recent years.
Profession-Based Learning Experiences
New Venture Pitch Competition is designed for ambitious students and aspiring entrepreneurs to present ideas to business professionals, small business owners and potential investors. Students present their ideas to judges who in the future could represent their boss or client.
Study Abroad is an opportunity for students to apply hands-on international experience to their own academic development. Faculty members supervise short-term study abroad programs that prepare students before, during and after the program. Two types of study abroad programs are available – faculty-led and traditional study abroad.
The traditional program may be a semester, summer or year-long program and is taught by Northwest's international partner institutions. Students from the business school have recently traveled and studied in China, Africa and Eastern Europe including Hungary, Austria, and the Czech Republic.
Omicron Delta Epsilon is the international honor society for economic majors. To be admitted, students must have completed a minimum of 12 hours of economics with a 3.0 GPA.
Financial Management Association is a national organization with members from all majors within the Department of Business. This organization hosts speakers and takes field trips to locations related to business.
Internships
Although internships are not required in the economics major, they are highly encouraged to gain real-world experiences.


Requirements
Students choosing a major in Economics must take and earn a minimum grade of "C" in the following courses:
The Northwest Core (48-52 hours)
Must include the following:
MATH 17114 General Statistics3
This course fulfills a Northwest Core requirement and is not counted toward the major requirements.
Required Courses


MATH 17118 College Algebra
ECON 52150 Principles of Macroeconomics
ECON 52151 Principles of Microeconomics
ECON 52351 Macroeconomic Theory
ECON 52352 Money, Credit, and Banking
ECON 52353 Microeconomic Theory
ECON 52450 International Economics
ECON 52150: Cannot be used to fulfill any Northwest Core requirement.
3
3
3
3
3
3
3
Electives (12 hours minimum) from the Directed Concentration areas below

Directed Concentration: Upper Division courses
Economics courses (minimum of six hours)

Advisor-approved electives from the following areas:

Mathematics (Calculus or more advanced courses)
Finance
Marketing
Management
Political Science

NOTE: A business minor is encouraged, but students should be careful not to double count minor courses and elective courses in the directed concentration. See your advisor.


Last updated Sep 2018
About the School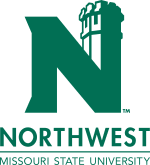 Originally established in 1905, Northwest Missouri State University is a state-assisted, four-year regional university that also offers graduate degree programs. Northwest Missouri State University fo ... Read More
Originally established in 1905, Northwest Missouri State University is a state-assisted, four-year regional university that also offers graduate degree programs. Northwest Missouri State University focuses on student success - every student, every day. It will be THE university of choice for a comprehensive, exceptional student experience.
Read less