Bachelor in Early Childhood and Childhood Education
Home ›
BSc ›
Bachelor in Early Childhood and Childhood Education
Program Description
The Early Childhood (Birth-Grade2) and Childhood (Grades 1-6) degree provides students with the skills they need to teach children from Birth to Sixth Grade. Upon successful completion of this program, students will earn a B.S.Ed. degree and certification in both Early Childhood (B-2) and Childhood (1-6).
Medaille College's Education programs seek to prepare constructive thinkers for today and tomorrow's world. Teacher candidates are taught theoretical perspectives and practical applications of teaching. This ensures that graduates are prepared to successfully meet New York State Learning Standards in their classrooms. The generalist concentration embedded the Common Core Curriculum Learning Standards, Regents, Reform mandates, NY State Education Department mandates, and Race to the Top content into the program in a coherent and consistent manner. Additionally, course content covers the performance indicators on the NYS Teacher Certification Exams (NYSTCE).
The B.S.Ed. in Early Childhood/Childhood (B-6) Education Generalist Concentration is rigorous in nature and provides students with multiple opportunities to engage in the practical application of coursework. The literacy courses and the methods courses will have instruction delivered in 2 hours blocks to allow students supervised opportunities in area schools.
The teacher candidates in this program as with the other education programs will graduate knowing the subject matter in their certification areas; meeting the needs of diverse learners through effective pedagogy and best teaching practices; demonstrating scholarship supported by the use of technology; as caring and competent educators.
All students working toward New York State Certification will take coursework in the professional, field-centered curriculum. The program provides for completion of a campus-based course of study and clinical field experiences.
| | | |
| --- | --- | --- |
| Degree earned | Total number of credits | Certificate/licenses titles and types |
| B.S.Ed. | Generalist Concentration: 132 | Childhood 1-6/Early Childhood Birth-2 |
NeONBRAND / Unsplash
What sets Medaille's early childhood education degree program in Buffalo, NY apart?
Small classes and individualized support.
Close mentoring relationships with faculty.
Future Teachers Club, a club rooted in the principles of education and professional and social development.
Continue at Medaille to complete your master's degree in just sixteen months (four semesters).
Education Programs.
Concentration - Generalist
New York State requires that students in teacher preparation programs pursue an academic concentration of study (e.g. English, math, science). At Medaille College, rather than requiring a student to choose one area of focus, we offer a generalist concentration that best prepares our students to teach English language arts, math, science, and social studies in prekindergarten through sixth grade. The concentration is complemented by additional courses from the general education and liberal arts/sciences curriculum to allow students to take:
English - 21 credits (7 courses)
Math - 15 credits (5 courses)
Social Studies - 12 credits (4 courses)
Science - 9 credits (3 courses)
Required Education Coursework
CIS 175 Technology Applications in Education (3 credits)
EDU 207 DASA Seminar (requires co-registration with EDU 210) (0 credits)
EDU 210 Educational Foundations (requires co-registration with EDU 201) (3 credits)
EDU 223 Educational Psychology (3 credits)
EDU 240 Literacy I: Language Development and Pre-Emergent Literacy (3 credits)
EDU 241 Literacy II: Emergent to Early Readers and Writers (3 credits)
EDU 242 Literacy III: Transitional to Fluent Readers and Writers (3 credits)
EDU 340 Child Abuse and School Violence and other Current Issues in Education (requires co-registration with ESP 230) (0 credits)
EDU 370 Methods of Language Arts with Children's Literature (3 credits)
EDU 371 Methods of Mathematics (3 credits)
EDU 372 Methods of Science and Technology (3 credits)
EDU 373 Methods of Social Studies and Creative Arts (3 credits)
EDU 375 Strategic Literacy Instruction for Diverse Learners (3 credits)
EDU 378 Field Experiences and Seminars (3 credits)
EDU 478 Student Teaching (B-6)/Seminar (12 credits)
Clinical Experiences
This exciting opportunity allows students the ability to learn through hands-on experience with the support and mentorship of classroom teachers and college instructors.
Fieldwork: Students enrolled in the BSED Early Childhood/Childhood Education program are required to complete a minimum of 150 field experience hours prior to student teaching. These field experience hours are embedded over several courses and must be completed prior to the culminating experience of student teaching.
Student Teaching: This is the culmination of the educational preparation process. It is where students have the opportunity to utilize the knowledge and skills gained through coursework at Medaille College with the support of a classroom associate teacher and college supervisor. Medaille College student teachers participate in two, full-time eight-week student teaching placements.
You have an exciting journey ahead and we'll be there every step of the way
Medaille College is the place for students who want to change their world and improve the lives of their communities through their careers as leaders, advocates, and professionals. Each one of Medaille's undergraduate programs prepares you for the workplace through hands-on learning experiences in and out of the classroom.
Medaille College is accredited by the Middle States Commission on Higher Education.
Personalized support.
Student-centered environment.
Financial aid and scholarships are available.
A vibrant campus located in the heart of the City of Buffalo Relevant real-world experiences.
More than two-dozen clubs and activities.
Successful NCAA Division III athletic teams.
Last updated Feb 2020
About the School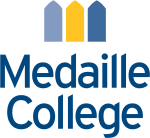 Medaille College is a private, nonsectarian four-year college with campuses in Buffalo, Rochester and online. Medaille focuses on your success as a student and as a future professional by offering und ... Read More
Medaille College is a private, nonsectarian four-year college with campuses in Buffalo, Rochester and online. Medaille focuses on your success as a student and as a future professional by offering undergraduate and graduate degree programs in hands-on, practitioner-based learning environments on campus and in the Western New York community.
Read less