Read more about this program on the school's website
Program Description
Due to COVID-19, all lectures at IUBH University of Applied Sciences will occur in a virtual classroom until further notice. We aim to ensure that the current special circumstances will not result in students being disadvantaged in their course of study.
The future is digital
In today's world, the progressive digitalization of the marketplace presents an ever greater challenge for companies. Big data, social media, and e-business play a central role in almost all areas of business, from production and manufacturing to personnel management, accounting, sales, logistics, and more.
As such, the future of companies lies in emerging technologies, innovative solutions, and digital business models. Experts in the field of Digital Business are therefore in ever-increasing demand. Our Bachelor's degree in Digital Business is designed to optimally prepare you for this varied and exciting field.
Facts & Figures
Degree:
Study model:
Duration:
Intakes:
Bachelor of Arts (B.A.)
on Campus
6 semesters
March/April 2020 or 2021
September/October 2020 or 2021
Internship
Study abroad
Tuition
Admission
1 semester in Germany or abroad
1 semester (voluntary, performance-related)
from 5,500 EUR per semester
High school diploma, technical school certificate or comparable degree;
successfully completed Assessment Day; Proof of English skills
What our students say about Germany
What you will learn from us
The Bachelor's degree in Digital Business prepares you optimally for your career at the interface between management and digital innovation:
You will develop a sound foundation in economic theory with an emphasis on Digital Business.
You will acquire knowledge and skills indispensable in the age of digitalization and fast-changing business models and processes.
You will learn to deal with the challenges of digital innovation both on a national and international scale.
Course of study at a glance
1st Semester
Business Statistics
Principles of Organisation and HR Management
Principles of Service Marketing and Management
Financial Accounting
Digital Future Commerce
Compulsory Elective Module Foreign Language A (German)
Consumer Behaviour
Global Digital Transformation
2nd Semester
Business Mathematics
Management and Cost Accounting
Compulsory Elective Module Foreign Language B (German)
Online Marketing
Creating Value in Digital Business
Digital Business Models
Introduction to Privacy & IT Security
3rd Semester
Compulsory Elective Module Foreign Language C (German)
Content Management Systems
Digitalization in Finance
Data Analytics and Big Data
Principles of Research and Academic Writing
Financial Management
Management Accounting and Control
Business and Marketing Research
4th Semester
Social Media Marketing
Business Intelligence and Analytics
Seminar: Current Trends in Digitalization
Digital Supply Chain & Smart Factory
Advanced Research and Academic Writing
Career Development
5th Semester
Research Project to Develop Digital Business Models
Digital Project Management & Entrepreneurship
Design Thinking
Managing Emerging Technologies
6th Semester
Internship
Bachelor Thesis & Colloquium
Specialize
The B.A. in Digital Business allows you to choose one of two majors in which to specialize.
Digital Transformation Management
Digital Marketing
Internship
During your internship, you can use your academic knowledge outside of your studies. You will also get to know the industry better – which provides the perfect foundation for choosing your career. The internship is firmly integrated into your studies so of course, you do not lose any time.
You can take your internship in Germany or abroad.
The internship usually lasts five to six months.
Make your first contacts in the industry.
Enrich your CV with an important position.
Use the opportunity to be hired by the company after graduation.
Study Abroad
You spend your 7th semester abroad at one of our partner universities. We support you in the search for a suitable partner university and in preparations for your stay abroad.
The staff of the International Office can inform you about the admission requirements of the partner universities and provide valuable orientation for a successful semester abroad.
During your studies, both in Germany and abroad, you can significantly improve your language skills and earn additional ECTS credits.
Gain intercultural experience, broaden your horizons and get to know new cultures and people.
Career Possibilities
Online Project Manager
In the broadest sense, an Online Project Manager has the same tasks as an Offline Project Manager. This includes creating offers, recording and formulating requirements, creating schedules, checking budgets, controlling resources, delegating tasks and communicating with customers and stakeholders.
The role of the Online Project Manager differs from that of the Offline Project Manager in that the Online Project Manager mainly oversees projects in the digital field, such as website projects.
Digital Marketing Manager
As a Digital Marketing Manager, you have two fundamental tasks: first, product communication, and second, brand communication. A communication and marketing strategy, usually developed by the Digital Marketing Manager in coordination with head management, underlies the design of all online content. In addition, you will determine the methods and channels of an effective digital marketing approach (the "marketing mix").
Only then can the actual advertising campaigns be developed. This requires a deep understanding of the target groups of the campaigns and of the digital market generally. As a Digital Marketing Manager, your responsibilities will be the content of digital campaigns, the administration of newsletter marketing, and the management of social media marketing. The coordination of agencies and editors will also be part of your job.
Digital Business Consultant
As a Digital Business Consultant, you act as a strategic interface between your company and its customers. You develop strategies for implementing the digitalization of your customers' business, analyze business requirements and future business models and create business requirements and user stories.
Your tasks also include creating offers, supporting business development and key account management, and budgeting for various projects.
Last updated Apr 2020
About the School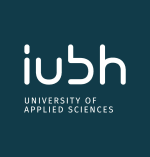 IUBH Campus Studies at IUBH University of Applied Sciences offers on-campus degree programs that have a strong international focus: all courses are taught in English, the curriculum is aligned to the ... Read More
IUBH Campus Studies at IUBH University of Applied Sciences offers on-campus degree programs that have a strong international focus: all courses are taught in English, the curriculum is aligned to the future needs of international companies. Professors and students from over 85 nations meet and work together on–campus.
Read less