Bachelor in Data Analytics
Program Description
Data is the basic raw material of the 21st Century. Industry, government, and NGO's can now know more about us than ever before in human history: what we buy, what we read, what we do. But, all that data must first be processed into information in order to answer the big question: What does it all mean?
Advances in computer technology have created an explosion in the acquisition and storage of vast quantities of data from every walk of life. This sudden change has created the need for mathematically and computationally trained graduates who can analyze this data and make recommendations based on those investigations.
The Data Analytics program at Assumption University (offered as a major and a minor) will help you understand who we are and where we're going—and how best to use that knowledge—by providing you with the research, programming, and critical analysis skills you'll need. When you study data analytics at Assumption, you'll learn how to gather, process, and evaluate large amounts of information, and what it means for the rest of the world.
This major will provide students with the knowledge and skillset to serve as data analysts in a variety of fields including public health, product development, scientific research, marketing, and neuroscience. It will also provide the knowledge base for students intending to pursue graduate work in data science.
A minor in data analytics pairs well with a number of majors and helps prepare students for careers in marketing, computer science, economics, or other fields. Through the incorporation of a number of disciplines, and a liberal arts grounding that teaches you how to consider and assess complicated scenarios, the data analytics minor will help you make sense of a complex world.
Why Study Data Analytics at Assumption?
Gain an understanding of key concepts like database management, linear algebra, and matrix methods.
Develop a foundation in areas like programming and forensic accounting.
Study the underlying theories and methodologies that shape data analysis.
Learn how to process and extract information from large data sets.
Hone the analytical skills and ingenuity that will help you evaluate data and apply it to real life.
Determine how to extrapolate trends and how to use those trends to anticipate future action.
Discover the far-reaching applications of data science and how it is increasingly used in a variety of important fields.
Degree Requirements
Students who major in data analytics must take a total of fifteen (15) required courses which include five courses in mathematics, six in computer science, two in statistics, and two major elective courses.
Internships
Students are strongly encouraged to participate in the University's internship program and spend a semester gaining practical experience. There are two types of internships: students can earn academic credit by working with an academic advisor and the internship site or participate in a career internship, which provides valuable experience but does not offer academic credit. Both types of internship experiences offer students the experience needed to enhance their educational experiences and prepare them for post-graduate successes.
Graduate Schools and Careers
Assumption mathematics and computer science students either go on to graduate studies in mathematics or computer science or enter directly into careers in such fields as business, communications, education, finance, healthcare, and information technology.
Last updated Jun 2020
About the School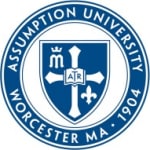 At Assumption, we are committed to exploring with great gusto the relationship between faith and reason. By participating in this 2,000-year-old-tradition, today's students join generations of scienti ... Read More
At Assumption, we are committed to exploring with great gusto the relationship between faith and reason. By participating in this 2,000-year-old-tradition, today's students join generations of scientists, artists, writers, and philosophers who have engaged in a search for truth across disciplines.
Read less