Bachelor in Cybersecurity
Program Description
Cyberspace is a dynamic and evolving ecosystem, with complex, multifaceted networks that connect individuals, organizations, and national and international entities. However, cyberspace's expansion presents new weaknesses to exploit, making it vulnerable to intrusion and exploitation. Cyber threats and vulnerabilities have grown exponentially with the explosion of technology and connectedness, affecting individuals, organizations, and nations alike. Through a major in cybersecurity, Assumption University will train the next generation of individuals who will seek to thwart and respond to cyber threats and attacks.
According to the Federal Bureau of Investigation's 2016 Internet Crime Report, millions in the United States are the victims of Internet crimes each year and it receives, on average 800 complaints, per day. The Report also shares that losses due to email scams, identify theft, ransomware attacks, tech support fraud losses, and other nefarious activity generated $1.33 billion in victim losses in 2016, the latest year for which statistics are available.
Assumption's Bachelor of Science in Cybersecurity offers a technology-based education, using methods in computing and information science, engineering, social science, and technology management that also foster innovation and entrepreneurship in the digital information economy.
In January, the Bureau of Labor Statistics reported 28-percent growth for information security analyst positions, rating the field with "much faster than average" growth. The Bureau reports that the latest median annual wage for analysts is $92,600. The highest concentration of jobs in this industry are found in the Mid-Atlantic area, including Washington, D.C
Degree Requirements
The Bachelor of Science in Cybersecurity comprises 18 required courses: 5 courses in Computer Science and Statistics; 8 Cybersecurity Core Courses; and 5 Advanced Courses in Cybersecurity including a capstone project in cybersecurity leadership and an independent cybersecurity project or internship; the total is 58 semester hours.
First Year
MAT 114 Elementary Functions
CSC 117 Introduction to Programming
ECO 115 Statistics
CSC 250 Intermediate Programming
CYB 115 Cybersecurity Fundamentals
Elective
Second Year
CSC 305 Data Structures
CYB 230 Networking and Data Communications
CSC 321 Database Management Systems
CYB 235 Securing Wired & Wireless Networks
Elective
Third Year
CYB 338 Ethical Hacking
CYB 348 Global Cybersecurity
CYB 418 Proactive & Reactive Methods in Cybersecurity
CYB 304 Introduction to Cryptography
Elective
Fourth Year
CYB 338 Software and Application Security
CYB 328 Computer & Network Forensics & Digital Investigations
CYB 438 Preparing for Cyber Disasters
CYB 428 Data Mining and Data Science for Cybersecurity
CYB 401 Independent Cybersecurity Project or Internship
Elective
Internships & Outcomes
Assumption students have many opportunities for career internships through the Career Development & Internship Center. Career internships may be paid or unpaid and they offer students valuable, hands-on experience. Establishing a network of professionals and proving one's abilities often results in job offers and provides invaluable experience. A career internship does not offer academic credit and students generally seek an internship during their junior year or the following summer.
Last updated Jun 2020
About the School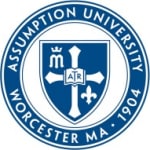 At Assumption, we are committed to exploring with great gusto the relationship between faith and reason. By participating in this 2,000-year-old-tradition, today's students join generations of scienti ... Read More
At Assumption, we are committed to exploring with great gusto the relationship between faith and reason. By participating in this 2,000-year-old-tradition, today's students join generations of scientists, artists, writers, and philosophers who have engaged in a search for truth across disciplines.
Read less