Program Description
As the only university in Pomerania offering the opportunity to study cosmetology, we invite you to study with us at the bachelor's level. Full-time and extramural modes of study are available.
Cosmetology as a profession has been known since ancient times, but only in recent years has the demand for beauty and health specialists, increased. Cosmetology is a field that combines aspects of different areas – dermatology, aesthetic medicine, anatomy, histology, physiology, biochemistry, allergology, physiotherapy, and many others, all intrinsic to the human body, and thus also to medicine. Our goal is to prepare our students for being professional cosmetologists. We want to teach you how to become specialists in this field.
The learning outcomes we aim to achieve are both theoretical and practical. Knowledge is essential for the proper exercise of one's profession. Classes in professionally equipped laboratories supervised by highly qualified specialists working in the beauty and medical industries will help you achieve high results. While studying cosmetology, you will learn how the body functions, you will discover the secrets of the human body and the rules that govern it. We will teach you how to select treatments for specific cases, how to perform them correctly, and when not to do them.
You will learn the operating rules of specialized equipment used in cosmetology: when to use it and how to use it. You will find out how to perform podology treatments and how to deal with various pedological problems. You will learn how to make your own cosmetics based on a formula by making appropriate chemical calculations. You will also find out how to determine the influence of the ingredients of a given cosmetic product on biochemical processes in the skin. You will learn the principles of analyzing the influence of various stimuli on the human body, including aromatherapy. You will gain the knowledge necessary to diagnose medical conditions and learn how to cooperate with specialists in this field.
You will also find out how the canon of beauty has changed over the years, what used to be considered tasteful and what still is today. You will learn how to do different types of makeup and what to consider when proposing a customized look. We will show you how to be a good cosmetologist – emphatic and customer-friendly, knowing and following ethical rules and capable of managing your own beauty salon.
Make the world more beautiful, take care of your future – join us!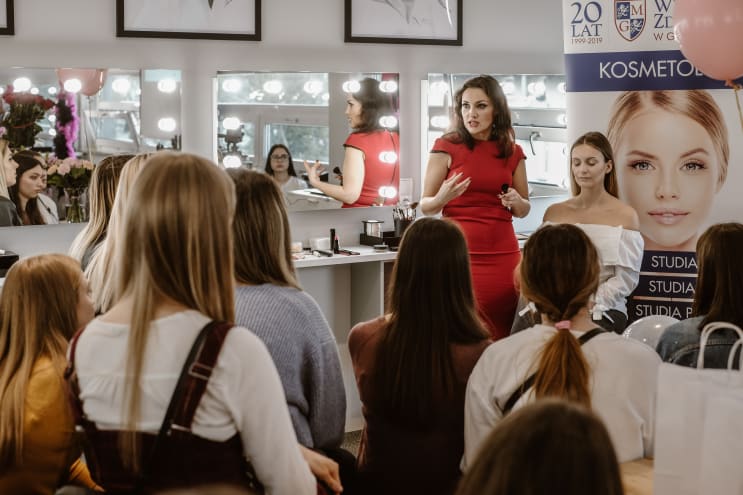 Terms and Conditions Recruitment
Recruitment Terms for bachelor's studies:
The winter semester recruitment duration time is from 16th March until 15th September
The summer semester recruitment duration time is from 16th November until 15th February
Recruitment Conditions for bachelor's studies:
Candidates for studies are accepted without entrance exams. Applicants are admitted on a first-come, first-served basis.
We consider the submission of a set of required documents as an application. We don't verify your results achieved during the secondary school leaving examinations.
Required Documents
Completed application generated from wsz.pl – registration in the system and completion of data are required.
The Certificate of Secondary Education recognized in Poland by virtue of law or under an international agreement or by the administrative procedure (nostrification) conducted by local educational authorities having jurisdiction over the applicant's place of residence and, in case the applicant has no such place of residence, the local educational authorities having jurisdiction over the head office of the institution where the applicant applies for admission.
All documents presented in a foreign language must be translated into Polish by either:
a) a Polish sworn translator (whose name appears on the list of sworn translators owned by the Polish Ministry of Justice),
b) a Polish consul in the country where the document was issued.
One current photo (passport format) + CD with digital photo (*.jpg, 368×456 [width x height. px], 300 dpi").
Confirmation of administration fee – 200€ (non-refundable)
A medical certificate certifying the absence of contraindications to study (to be made in Poland, can be provided later, but no later than 15th September).
If you need a visa, please consider processing time – apply for studies well in advance.
Fees
Administration fee (non-refundable): 200€

Tuition fees: 2,5

00€ / year
Duration of Studies
Bachelor studies in cosmetology last 6 semesters (3 years). The studies are conducted in full time and extramural modes.
What After Graduation
As a graduate in cosmetology, you gain:
interdisciplinary knowledge of medicine, chemistry, pharmacy and health sciences with particular emphasis on the issues of skincare cosmetology, beautifying cosmetology, therapeutic cosmetology as well as cosmetic formula and fragrances,
preparation for cooperation with a dermatologist in the field of healthy and problematic skincare,
preparation for proper maintenance of equipment and apparatus used in cosmetology,
the ability to read cosmetic formulas and determine the impact of cosmetic preparations on the skin and human body,
practical skills for effective use of the gained knowledge at work,
preparation for work in beauty salons as well as organizing, equipping and running a beauty salon independently,
the basics of management and marketing of cosmetic services.
After graduation you can open your own beauty salon or work in:
beauty salons,
Wellness and SPA centers,
biological renewal clinics,
beauty companies,
cosmetic departments of pharmacies,
cosmetic laboratories,
beauty schools,
editorial offices of magazines and trade portals.
Student Internship
Professional experience is a crucial asset to the labor market. A student internship is required as part of full time and extramural studies. You can also select an internship abroad or with the Erasmus+ program.
During your internship you will familiarise yourself with:
the specific area of the organization, its structure, and daily operations,
the tasks of divisions and units in the organization,
the rules of observing professional secrecy,
the organization of information and document flow,
the rules of cooperation with other employees.
Moreover, you will:
present yourself to a potential employer,
gain valuable professional experience,
get to know the future work environment in a given industry,
gain important professional contacts.
Contact
Gdansk College of Health
Promotion and Recruitment Office
7 Pelplinska Street
80-335 Gdańsk, Poland
tel. +48 58 769 08 03
e-mail: recruitment@wsz.pl
Last updated May 2020
About the School

Gdansk College of Health is a school with over 20 years of experience, which educates specialists in the fields of dietetics, cosmetology and physiotherapy, at the level of bachelor's, master's and on ... Read More
Gdansk College of Health is a school with over 20 years of experience, which educates specialists in the fields of dietetics, cosmetology and physiotherapy, at the level of bachelor's, master's and one-cycle five-year master's degree.
Read less