Bachelor in Construction Management
Program Description
Overview
The Construction Management degree (BST) was created in 1979 to provide our construction program with a greater focus on the management of construction activities. We were one of the first universities to use the Construction Management title for a program. The Construction Management program requires students to take a strong core construction curriculum supported by the emphasis in one of the following: Building Information Modeling (BIM), Civil Construction, Company Management, Field Management, Residential Construction, Safety Management.
The Construction Management program was one of the first Construction Management programs accredited by the Applied and Natural Science Accreditation Commission of ABET.
The construction management program at Pittsburg State is among the best of its kind in the United States. Using state-of-the-art equipment inside the world-class Kansas Technology Center, students who earn a construction management degree receive a hands-on education that prepares them for all aspects of the industry.
The program begins with a laboratory approach to construction materials and methods education then proceeds through appropriate laboratory and construction project management and engineering coursework.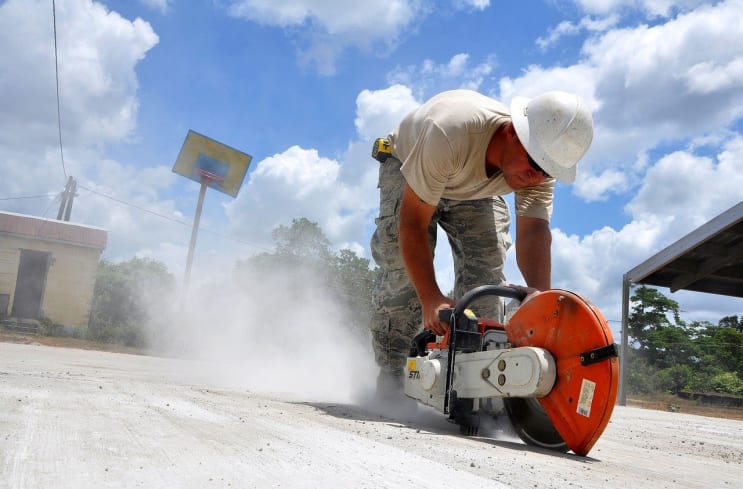 About the Program
Labs and Equipment
Students in the Construction Management program have access to the SOC labs which include some of the best industry-supported software and equipment.
Internships
Students in the Construction Management program are required to complete one paid internship before graduation.
Special Events
Students are provided numerous opportunities to meet and engage companies throughout their college career including the School of Construction annual Company Day (fall) and Construction Expo (spring).
Student Organizations
Students also have access to numerous student organizations (AGC, MCA, NAHB, DBIA, ACI, ASSE, WIC).
Career Opportunities
Career opportunities are virtually unlimited with 100% placement for graduates seeking employment. Graduates are typically employed as project managers, project engineers, estimators, site managers, superintendents, field engineers, quality control/testing professionals, surveyors for a variety of companies including general contractors, specialty contractors, engineering firms, project owners, local/state/federal agencies. The School of Construction has over 100 companies each year recruit interns and graduates from our programs. Starting salaries for graduates typically range from $50,000 to $70,000 per year.
The Construction Management program at Pitt State is unlike any other in the nation. The program combines classroom instruction with hands-on applications. From heavy equipment to computer simulations, nearly every aspect of the construction industry is explored.
And with a nearly 100 percent placement rate, graduates of our construction management program can be confident that their education from Pitt State will lead them to professional success.
Tuition
Flat rate tuition
The affordability you need. The flexibility you want. Our Flat-Rate Tuition program allows full-time undergraduate students (enrolled in at least 12 credit hours) and graduate students (enrolled in 9 or more credit hours) to pay a single tuition rate regardless of the number of total credits taken. Want to explore a topic outside of your major or take additional courses to help accelerate your graduation date? Thanks to our Flat-Rate you can do so without paying additional tuition. Whether you're taking 10 hours or 20 hours, you pay the same rate.
Undergraduate tuition (Undergraduate In-State1 and Gorilla Advantage1 Tuition & Costs)
| | |
| --- | --- |
| Tuition & costs per semester (the academic year 2019-2020 ) | |
| Tuition (flat rate, incl. campus fees) | $3,669 |
| + Books & Supplies (estimated) | $500 |
| + Residence Hall Living (estimated) | $3,998 |
| Semester Total (estimated) | $8,167 |
| Academic Year Total* (estimated) | $16,334 |
International Undergraduate Tuition & Costs
| | |
| --- | --- |
| Tuition & costs 2019-2020 (fall and spring semester) | |
| Tuition (flat rate, incl. campus fees) | $18,682 |
| + Sickness/Accident Insurance - 12-month coverage (Required) | $1,772 |
| + Books & Supplies (estimated) | $1,000 |
| + Living Expenses (estimated) | $7,996 |
| + Orientation & SEVIS Compliance | $80 |
| Academic Year Total* (estimated) | $29,530 |
Scholarships and Financial Assistance
Pitt State offers its students many opportunities for scholarships & financial assistance.
We understand that, as a student, your focus should be on the classroom and not on the paperwork. The professionals in our Office of Student Financial Assistance are here to provide you with the information you need to make the right choices about financial aid.
Nearly 80 percent of Pitt State students receive some sort of financial aid, including:
Grants: assistance that does not require repayment
Scholarships: awards for students who have demonstrated superior academic achievement or meet specific criteria, which do not require repayment
Employment: about 10% of our students are employed on campus
Loans: loans can be made to parents and/or students, and must be repaid
In many cases, our student financial assistance professionals can help you combine these options into a personal package that fits your individual need. The amount of assistance you receive is based upon your family's expected contribution to your educational costs.
It's important to get applications in early - Admission Scholarships for incoming freshmen and transfer students are awarded on a first-come, first-served basis until funding is depleted. Application for the fall semester are due February 1, and December 15 for the spring semester. Due on these dates:
Admission application
Scholarship applications
All required documentation (self-reported information is not accepted for scholarship purposes)
Application for Admission
If you do not meet either of the guaranteed requirements, you are still encouraged to apply. Your application will be reviewed individually.
As you begin your application for admission to Pittsburg State University, please note the following features of our on-line application:
The online application is designed to allow you to progress as your schedule allows. We encourage you to complete the process in one sitting, but if that is not possible, you may exit after saving any section and return at a later time to complete the rest.
If you have questions about a section of the application, please click on the near the item. A box will pop up with additional information regarding the particular item.
Each section of an application is listed on the left side of the screen. The continue button at the bottom of each screen will save the information you have completed in that section and move you to the next section.
As a section is completed, a will appear next to that section. You may still add additional information to a completed section.
Your application for admission cannot be submitted until all sections are complete.
Payment of the application fee is required before your application will be processed.
If you will be applying as a degree-seeking freshman, be sure you have a copy of your high school transcript or another listing of your high school coursework, including GPA and course grades. You will not be able to accurately complete your application without this information readily available. Applicants must indicate courses, grades, credits, and test scores on the application which will be used by the Office of Admission to make initial admission decisions. Upon request, official transcript(s) and test scores will be required for validation.
The application for admission and scholarships must be completed and submitted along with all required transcripts and additional documentation by February 1 (or December 15 for transfer students starting in the spring semester) to be eligible for Admission Scholarships. Admission Scholarships will be awarded contingent upon funding. (Self-reported information is not accepted for scholarship purposes).
Last updated May 2020
About the School
Looking for a university with a traditional campus feel, competitive academic programs, and an incredible surrounding community? Look no further than Pitt State.
Looking for a university with a traditional campus feel, competitive academic programs, and an incredible surrounding community? Look no further than Pitt State.
Read less