Program Description
Overview
Our mission is to provide our undergraduates with a degree in Computer Science grounded in fundamental principles of computing. We prepare our students to apply these principles creatively and responsibly.
The Computer Science Department is in the College of Engineering. Thus, degree requirements include those of the University, the College, and the Department. Computer science is a technical major program, which combines professional training in Computer Science with broad experiences across the University. Mathematics is emphasized. Our computer science curriculum is designed to educate students in the basic areas of computer science including general problem-solving techniques, architecture, concepts of programming languages, operating systems and theoretical concepts dealing with computational models and the design and analysis of algorithms.
Concentrations
Tennessee Tech's Software & Scientific Applications Concentration (CSSC) in Computer Science is accredited by the Computing Accreditation Commission of ABET http://www.abet.org.
Software and Scientific Applications - CSSC
Data Science
Cyber Security
Parallel, Distributed, and High-Performance Computing
Curriculum
Students must complete fifteen (15) semester hours of CSC courses including CSC 1310 and at least six (6) upper division CSC hours.
In addition to university level requirements, students aspiring to be computer science majors are required to have an ACT Math subtest score of 22 before being admitted into the program.
Virtually every industry uses computers in a variety of ways from computerized control of hazardous and remote environments to payroll processing. Thus, opportunities for computer science graduates are limitless.
Our graduates are regularly recruited by industry, government, and businesses for computing careers in a variety of areas including systems design and software engineering.
For more information about our undergraduate program, contact chair@csc.tntech.edu
The Fast Track program is designed to enable TTU undergraduates to accumulate up to six (6) credit hours of graduate coursework while still pursuing their undergraduate degree and to transition to the Computer Science graduate program smoothly, with accelerated completion. Up to six (6) hours of graduate coursework, exclusive of directed study, taken during undergraduate study can be used to satisfy both undergraduate and graduate degree requirements. These courses must be taken at Tennessee Tech University and must be approved as appropriate substitutions in the undergraduate curriculum. Additionally, a Fast Track Student can take up to 6 hours of graduate coursework at TTU during their junior or senior year which can be used to satisfy graduate degree requirements only.
The minimum requirements for applying to the Fast Track program are:
Enrolled as TTU undergraduate with junior or senior standing.
Completed CSC 2400.
Overall GPA of at least 3.25 and a GPA for CSC courses of at least 3.5.
Letter from a CSC graduate faculty member agreeing to serve as applicant's graduate advisor.
Program participants should consult with their future M.S. advisor regarding appropriate graduate courses to take during their undergraduate study and must earn a minimum grade of "B" in the graduate courses in order to apply them to their M.S. program of study. Additionally, all requirements for full admission to Graduate School must be met upon graduation.
If you would like more information concerning the program please send emails to: info@csc.tntech.edu
Last updated Aug 2019
About the School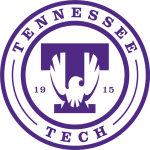 At Tennessee Tech, learning isn't contained within a classroom's four walls. There's a strong intellectual community, where faculty and students connect daily through research, discussion, and service ... Read More
At Tennessee Tech, learning isn't contained within a classroom's four walls. There's a strong intellectual community, where faculty and students connect daily through research, discussion, and service.
Read less