Bachelor in Computer Engineering
Read more about this program on the institution's website
Program Description
About the Department
Computer engineering is the point where technology and innovation reach each other. The Computer Engineering Program is designed to give students a strong background in the fundamentals of mathematics, physics, computer engineering, and science. Graduates of this program will be able to use the mixture of all sciences to analyze and evaluate computer systems in both hardware and software fields and they will also be able to design and run computer systems, which are the main resources of all solutions to a variety of computing problems. In addition to these program-specific objectives, all students in the Department of Computer Engineering will be exposed to societal issues, professionalism, ethics, and have the opportunity to develop leadership and teamwork skills.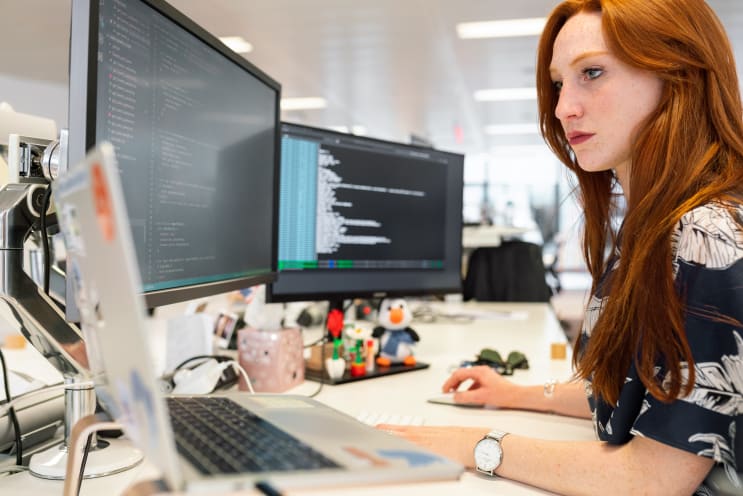 Educational Opportunities
The courses in this department are designed to fulfill the daily needs of organizations through subjected matters which are a combination of mathematics, electrical and electronic engineering, and elective courses. Throughout their studies, students will be introduced to artificial intelligence, databases, operating systems, computer networks, various programming languages and programming techniques, microprocessors, signal processing, and project management. Almost all courses have practical components that consolidate theoretical knowledge. Through both theoretical courses and lab sessions, students can prepare themselves for professional life easily under the supervision of well-respected and expert academics.
Career areas
Our undergraduate program graduates receive the "Computer Engineer" degree and they can work all over the world with the high-quality knowledge and experience gained during their education. They can have a career in a wide range of areas, such as information technology management, software development, software design, database management and design, system security, information technology counseling, web-based application development, system integration, industrial software, software project management, computer networks, network management, and system management.
Admission Requirements
Required Documents:
Diploma and Transcript
Passport photocopy
Personal photo
Admission Criteria:
American College Testing: Minimum 21 points
General Certificate of Education (GCE): Having 2 A level or equivalent (4AS/8 IGCSE)
International Baccalaureate: Qualify for an IB diploma.
Scholastic Aptitude Test (SAT): Minimum 900/1600
For further information please contact our Admission team via email: admission@cwu.edu.tr
How to Apply
Start Online Submission

Firstly, the student has to apply online and fill all the required information and upload the required documents such as Passport or ID, High School Diploma and Transcript with English Translation and passport size photo.

Submit The Form

You can submit your application by clicking "Apply Now".

PIN Code

After Submitting the Application Form, a popup window will appear and it will show your PIN CODE which you need for tracking your application. Meanwhile, you will receive an email and SMS includes your PIN CODE (if you can't find it in your inbox, please check your spam or junk folder).

Application Tracking System

To track your application and to know about the admission status, approved program and scholarship percentage, you need to login to the Application Tracking System.

Log in to the System

Use your email address which you submit in the form and to where the PIN code has been received.

Admission Decision

The Admission Committee will review your application, then the admission decision will be in the system in 2 working days, and the Conditional Acceptance Letter will be available in the system in the following day.

Payment

Once your Conditional Acceptance Letter will be in the system, you may make your payment in 2 ways, either by online payment or by Bank Transfer (mentioned in the Conditional Acceptance Letter). Please check Financial Section in Application Tracking System.

Official Acceptance Letter

After making the payment, the Financial Affairs will review your payment and if received, the official Acceptance Letter and Payment Confirmation Letter will be available in the System in Admission Section.

Visa and Airport Pick up

The last step for the admission process, the student has to contact the admission committee or our support team to know more about visa application for the ones who require a visa to come to North Cyprus and to apply for Airport Pick up in the Application Tracking System.
Tuition Fees
60% Scholarship is being offered to all international students in all departments and programs. To check our Tuition Fees for the upcoming intake, visit our Tuition Fees Page.
Language Requirements
English Requirements
IELTS – International English Language Testing System (minimum 6.0)
TOEFL IBT – Internet-based Test of English as a Foreign Language (minimum 6.0)
TOEFL CBT – Computer-based Test of English as a Foreign Language (minimum 170)
TOEFL PBT – Paper-based Test of English as a Foreign Language (minimum 497)
GCE/IGCSE – General Certificate of Education/International General Certificate of Secondary Education (Minimum C) FCE – First Certificate in English (Minimum C)
CPE/CAE Certificate of Proficiency in English/Certificate in Advanced English (Minimum C)
SAT – The SAT Reasoning Test(Formerly Scholastic Aptitude Test):

Old SAT: Writing: Minimum 400, Reading: Minimum 400, Total: Minimum 800
New SAT: English: 480

PTE – Pearson Test of English: Minimum 36
Scholarships
CWU offers a variety of scholarships to all of its prospective and current students in undergraduate programs according to their level of success.
International Students Scholarship - Prospective Students - Partial Scholarship
All undergraduate level students are granted with 65% tuition fee scholarship in all departments.
Tomorrow's Leaders Scholarships - Prospective Students - Full Scholarship
Cyprus West University is pleased to offer fully-funded scholarships for international students who have received a conditional acceptance letter to study on an eligible program starting in September 2020. This scholarship proposal is competitive and we will award scholarships to applicants who most closely meet or exceed the criteria for the scholarship. The scholarship decision will be made by a scholarship committee and all decisions of the scholarship committee are final. The scholarship will be a tuition fee reduction. If you are awarded a scholarship, your fee will be adjusted before you enroll.
Financial Aid Program - Prospective Students
Financial Aid program designated for highly qualified undergraduate students with limited financial resources. After you have been admitted, you may apply for a financial grant if you meet the following requirements: have received an Acceptance Letter from the admission office and having limited financial resources.
If you are eligible for the financial aid program, the amount of the award will depend upon your financial need and your academic qualifications. Grants are awarded regardless of race, color, gender, religion, or national origin.
Please download the Financial Aid Application through the button below, fill it, and gather all the required documents and send it to our Scholarship Committee email (Scholarship@cwu.edu.tr).
Deadline: 31st of August 2020
Academic Scholarships - Prospective Students
It covers 70%, 80%, and 100% of the tuition. Scholarships of 70%, 80%, and 100% for exceptionally successful prospective students. You shall apply for the scholarship by contacting our Scholarship Committee (scholarship@cwu.edu.tr).
The applications are evaluated by the international student's admission committee. Note: The academic scholarship covers (Fall & Spring semesters).
Duration of the scholarship: 4 years in the program of study, plus 1 year in the English Language Preparatory Program (if required).
Deadline: 31st of August 2020
Academic Achievement Scholarships - Current Students
Registered undergraduate students who have studied for at least two semesters and who have achieved at least 3.00 Cumulative Grade Point Average (CGPA) and 3.50 Grade Point Average (GPA), receive a CWU academic achievement scholarship of 70% to 100% reduction in their tuition fees, depending on their academic status.
Deadline: 31st of August 2020
Last updated Aug 2020
About the School
Cyprus West University was established in 2015 and located in Northern Cyprus. As a higher-education institution, it symbolizes the contemporary aspect of Cyprus which is a historical and cultural cen ... Read More
Cyprus West University was established in 2015 and located in Northern Cyprus. As a higher-education institution, it symbolizes the contemporary aspect of Cyprus which is a historical and cultural center of the Mediterranean.
Read less