Program Description
The Communication program provides a career-oriented program designed to give the student broad practical and theoretical knowledge of various aspects of communication, television, radio, newspaper, advertising, public relations and digital multimedia.
Courses in Communication, which include experiences of a practical nature, begin in the freshman year to provide the student immediate exposure to communication processes. Field experiences, permitting the student to observe and work in a chosen communications medium, begin early in the program. They allow students to explore media settings, develop skills, and make contacts that are critical to success in this industry. By the senior year, the student may reach and maintain a clear, independent focus on the practical art of communication through the mass media and his/her role in that process.
In addition, the Communication student is given the opportunity to acquire a comprehensive liberal arts background. While enriching his/her specialized program, this may provide the student with a humanistic perspective for the evaluation of his/her role in relation to society and assist toward the mutual improvement of self and society.
Communication majors may not take any Career Component course Pass/Fail.
All Communication majors should complete 100-level Communication courses, writing courses (ENG 110/ENG 112 and ENG 200/ENG 202) and SPE 130 during their first year at Medaille College. It is also important to complete as many other required 100-level courses as possible in the first two years.
Students may not go out on field experiences (COM 277, COM 377, COM 388, COM 477) unless their average is 2.0 or better, and unless they have all prerequisite courses completed, as stated in the Undergraduate Catalog.
The Department of Communication operates and maintains the College radio lab and television studio. Medaille College's on-campus radio lab offers students an opportunity to learn production, news, and on-air techniques. The student staff is responsible for all aspects of operating a radio station from programming to final product. The campus radio lab is now online at WMCB The Fuze.
The TV studio allows students to learn various aspects of broadcast production from computer graphics to directing and editing a television program.
| | |
| --- | --- |
| Degree earned | Total number of credits |
| B.S. | 120 |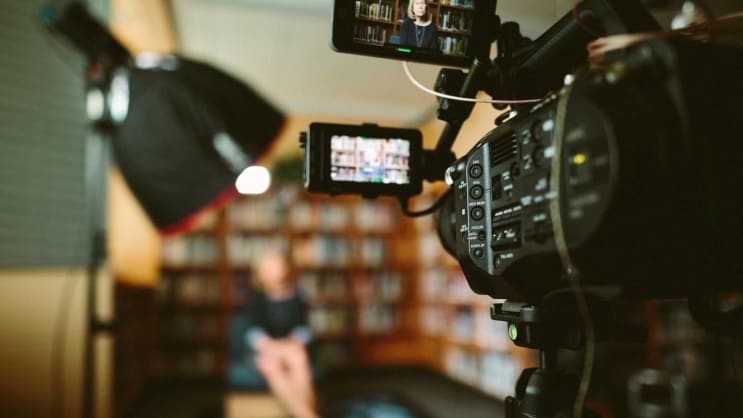 Sam McGhee / Unsplash
What can you do with this degree?
Medaille communication program graduates work in a variety of fields, including:
Broadcasting
Print Journalism
Public Relations
Advertising
Marketing
Social Media
Sports Communication
Special Events
Community and Media Relations
Healthcare Communication
Human Resources
College Admissions and Student Affairs
Medaille alumni have gone on to careers as:
Radio News Director
National Magazine Editor
Vice President of Corporate Communications at a Major Bank
Radio Personality
Sports Information Officer
NCAA Basketball Coach
TV News Videographer
Marketing Representative
What sets Medaille's communication degree program in New York apart?
Small classes.
One-on-one mentorship with professors in and out of the classroom.
Frequent field trips that encompass all areas of the field and allow students to gain real-world knowledge from networking.
Three required internships.
Faculty with real work experience in the field — broadcasting (on- and off-air), public relations, advertising, social media and more.
Start working in our online radio station, TV station and newspaper from your first day on campus.
You have an exciting journey ahead and we'll be there every step of the way
Medaille College is the place for students who want to change their world and improve the lives of their communities through their careers as leaders, advocates, and professionals. Each one of Medaille's undergraduate programs prepares you for the workplace through hands-on learning experiences in and out of the classroom.
Medaille College is accredited by the Middle States Commission on Higher Education.
Personalized support.
Student-centered environment.
Financial aid and scholarships are available.
A vibrant campus located in the heart of the City of Buffalo Relevant real-world experiences.
More than two-dozen clubs and activities.
Successful NCAA Division III athletic teams.
Last updated Feb 2020
About the School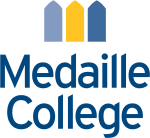 Medaille College is a private, nonsectarian four-year college with campuses in Buffalo, Rochester and online. Medaille focuses on your success as a student and as a future professional by offering und ... Read More
Medaille College is a private, nonsectarian four-year college with campuses in Buffalo, Rochester and online. Medaille focuses on your success as a student and as a future professional by offering undergraduate and graduate degree programs in hands-on, practitioner-based learning environments on campus and in the Western New York community.
Read less