Bachelor in Communication and Media Science
Program Description
Communication and media have become an integral part of our everyday life. They are not only indispensable for work but they play an essential role in almost every activity imaginable. The latest developments in technology provide an opportunity for an immediate reaction to any event.
Therefore, new applications, such as Web 2.0 based technology, are of paramount importance for us. Our aim is to transfer the in-depth knowledge and skills needed to understand and master the constantly evolving tools of communication in a spirit that enables graduates to use the novel means of communication and the media in a responsible way preparing students to face any future challenge.
The program is designed for individuals who:
Are open, creative, and well-informed with good communication skills, who are ready to face challenges, ask questions, and stand by their opinion. Shape opinions, inform, and entertain by using the tools of creative communication.
Core subjects
Theory of Communication
Advertising and Media Planning
Digital Marketing (New Media Marketing and Advertising Trends)
Public Relations Theory and Practice
Social studies
Network communications
Multimedia tools
Creative communication
Principles of Marketing
Media Market
Media Law
Media-skills Training
Specializations
International communication
Integrated media
Specializations are launched only if a minimum of 15 students wishes to join the specialization.
Important features of this program
Teaching creative communication: writing, speaking and problem-solving skills; development of critical thinking and negotiating abilities; learning techniques of assertiveness
Social media teaching: understanding the new type of communications and the radical changing of social media publicity and conscious usage of it; features of social networks
Project-based education: providing the opportunity for students to experience teamwork and active creativity
Learning to use media tools
Integrated approach
Career prospects
Journalist, editor, press officer, spokesperson
A mid-level management position in PR
Advertising and marketing
Salesperson, event organizer
International affairs officer
Head of the program
Andras Murai Ph.D., Associate professor
"Hungary was recommended to me by my best friend, so actually I just had to choose the right University. However, I must admit I have made a lot of research about Hungarian history and found it very rich and amazing. There are so many historic places to go and many things to do. When I was searching for Communication programs in Budapest, Metropolitan was the first result. I became particularly interested in this University because Metropolitan focuses on teaching practical knowledge and I have the opportunity to practice the acquired methods and techniques on real-life issues. One of my primary reasons to study here is, those Metropolitan degrees are recognized in all EU countries and the University has a lot of partners around the world. During seminars, we study in small groups, so I feel that instructors can focus on teaching us individually and can really mentor us. They can find out which fields we are more talented and focus on how to make us the best."
Ahmad Al-Rabayah student of our Communication and Media BA Program from Jordan
"Journalists have a deep impact on our ability and disposition to communicate and cooperate with each other both in our everyday life and at a social level. The most important virtue of any journalist is a firm code of ethics and moral standards and the ability to look at the world as a free individual. No other basis may underpin credible and ethical journalism. At Metropolitan this is what we try to achieve in the hope that our graduates will become members of the elite group of highly professional and honorable journalists."
András Kepes DLA, habil. University Professor, Táncsics Mihály Award and Prima, Pulitzer Prize-winning Writer, Television Production Expert, Chairman of the Council of Arts
Last updated May 2020
About the School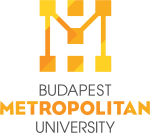 We are inspired by creativity. The art of creative education is the core value of our University. It is embodied in our teaching methods, it is a central concept in our approach and our students' atti ... Read More
We are inspired by creativity. The art of creative education is the core value of our University. It is embodied in our teaching methods, it is a central concept in our approach and our students' attitude. Creativity is the force organizing everyday life at the University paving the way to the future success of our students. We offer a stimulating environment and a unique atmosphere that motivate our students to make use of a wide range of unparalleled opportunities and apply their knowledge in practice looking for new, innovative solutions. This inspiring world offers the key to creative thinking, which is the most immediate expectation in today's labour market and a crucial issue of the future.
Read less