Program Description
Civil engineers use their knowledge of science and engineering to design and maintain much of our world's infrastructure. They also apply their expertise to improve our quality of life, whether it's by designing safer buildings, reducing our carbon footprint or just shortening your commute. Their work helps solve many of our planet's most serious problems, including decaying roadways, clogged highways, polluted water and hazardous wastes.
Civil engineers generally specialize in a particular area. Our department offers five areas of specialization for students:
Earthquake and structural engineering involves the analysis and design of structures that support or resist loads, such as bridges or buildings.
Environmental engineering uses science and engineering principles to improve the environment, with a special focus on air, water, and land resources.
Geotechnical engineering is the branch of civil engineering concerned with the engineering behavior of earth materials such as soils, foundations and earth structures like tunnels, dams or levees.
Pavements/materials engineering focuses on pavement design and materials as well as vehicle pavement interaction.
Transportation engineering involves all aspects of planning, functional design, operation and facilities management for any mode of transportation.
Two cooperative training programs are available for civil engineering students. Both programs offer financial assistance through summer employment with the participating organizations.
Related Degrees and Programs
Civil Engineering, Minor
Environmental Engineering, Minor
Civil Engineering, Bachelor of Science Degree
Environmental Engineering, Bachelor of Science Degree
Civil and Environmental Engineering, Master of Science Degree
Civil and Environmental Engineering, Doctor of Philosophy Degree
Successful engineering students arrive at the University with a strong background in math and science. We recommend students have taken physics and chemistry courses in high school and are prepared to take calculus as freshmen.
Our program teaches students to make engineering and design decisions while considering a broad range of factors such as sustainability, aesthetic values, and environmental, economic, legal and technical limitations.
Graduates of the bachelor's degree program in civil engineering are trained to:
Apply their engineering knowledge and problem-solving skills in a professional environment
Analyze and design civil infrastructure systems
Work as members or leaders of multidisciplinary teams
Continue their education through graduate studies or ongoing professional development hours
Understand and communicate technical, social, environmental and ethical issues to society at large
Be aware of contemporary issues and engage in life-long learning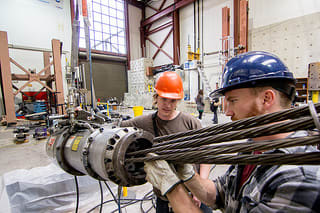 Degree requirements
In addition to University core curriculum requirements, the bachelor's degree program in civil engineering requires coursework in four areas:
Math and physical sciences
Engineering sciences
Engineering design
Technical electives
Your technical electives will depend on your area of emphasis. All students must complete at least two elective courses that cover design, one of which must be either CEE 480, Structural Concrete Design, and/or CEE 481, Structural Steel Design.
Students are also required to take two capstone classes in the senior year. Capstone classes are a chance for you to synthesize the knowledge you've gained during your degree program and apply it to the engineering design process.
Students must also take the Fundamentals of Engineering Examination administered by the Nevada Board of Professional Engineers. This exam is generally taken during the spring of your senior year. Register for ENGR 490 in order to have the exam recorded on your transcript.
Career options
A civil engineering degree can lead to a wide range of career paths. Civil engineers may find employment in supervisory and administrative positions, ranging from supervisor of a construction site to city engineer to an executive role.
Civil engineers work in teams with other engineers and scientists in a range of settings, such as the following:
Private industry
Engineering consulting firms
Federal, state, county and city governments
Public utilities and educational institutions
Many of our department's past graduates work with or have their own consulting firms and often hire graduates from the department.
U.S. News and World Report ranked civil engineering on its list of the top 10 best technology jobs, and the profession was number 26 on the overall list of best jobs. According to the report, civil engineers enjoy above average upward mobility and a promising job outlook. Civil engineering majors had a median salary of $78,000, according to a 2011 study from Georgetown University's Center on Education and the Workforce.
Last updated Mar 2018
About the School
The University of Nevada, Reno was founded in 1874 as the State University of Nevada in Elko, Nev., about 300 miles northeast of its present-day campus in Reno. The site for the university preparatory ... Read More
The University of Nevada, Reno was founded in 1874 as the State University of Nevada in Elko, Nev., about 300 miles northeast of its present-day campus in Reno. The site for the university preparatory school in eastern Nevada (where no state institutions had previously been located) proved to be impractical, as nearly half of the state's residents lived in the Reno-Carson City area. In 1885, the legislature approved the move of the University from Elko to Reno.
Read less