Program Description
The Department of Chemistry and Physics offers a Bachelor's Degree in Chemistry. Chemistry focuses on the study of matter and the changes it undergoes; as such it encompasses a broad spectrum of fields including biochemistry, medicine, meteorology, engineering, archaeology, electronics, and psychology. Routinely, our students are selected as summer interns at sites throughout the United States. Recent students have worked at Kent State University, the University of Alabama, University of Southern Mississippi, University of Pittsburgh, and the USDA Agricultural Research Center at Poplarville, MS.
After a 4-year undergraduate program in chemistry, our graduates work in government, industry, or education; others pursue further education—including graduate school, medical school, pharmacy school, or other health professions. Currently, the Department has alumni in graduate school at University of Alabama, Carnegie Mellon University, and the University of Southern Mississippi and in medical school at the University of Mississippi Medical Center and Yale University Medical Center.
Students planning to major in Chemistry should seek the advice of the department chair or academic advisor on the choice of courses that will meet the specific requirements of their program of interest. Chemistry majors planning to teach should consult with the department chair or academic advisor regarding the requirements prescribed by the Mississippi Department of Education to earn the basic educator's license. The student who elects to major in Chemistry must meet the University Core Requirements for the Bachelor of Science degree as well as those outlined below.
Standards for Admission
Freshmen Complete the application for undergraduate admissions
Send in your $40 application fee
Send in your official ACT or SAT scores
Send in your official high school transcript
Send in proof of measles, mumps, rubella (MMR) immunizations (must have had one MMR shot in the last ten years or two MMR shots in your lifetime.)
If you have taken college classes during high school, call the college and ask them to mail us an official and final college transcript.
Last updated Feb 2018
About the School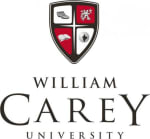 William Carey University is a community of learners which seeks to blend faith and learning with living. Within this unique nurturing and challenging environment students prepare to fulfill their div ... Read More
William Carey University is a community of learners which seeks to blend faith and learning with living. Within this unique nurturing and challenging environment students prepare to fulfill their diverse
Read less