Read more about this program on the school's website
Program Description
Students majoring in chemistry embark on a path leading to achievements in medicine, agriculture, health, and technology. You will be mentored, engage in research and collaborate with faculty distinguished in research on diabetes, cancer, epilepsy, materials science, medical devices, anti-viral and anti-inflammatory agents. You will gain the hands-on experience on modern analytical instruments and in computational methods needed to substantiate scientific discoveries. You will supplement classroom learning with on-the-job experience in government agencies, corporations and research laboratories.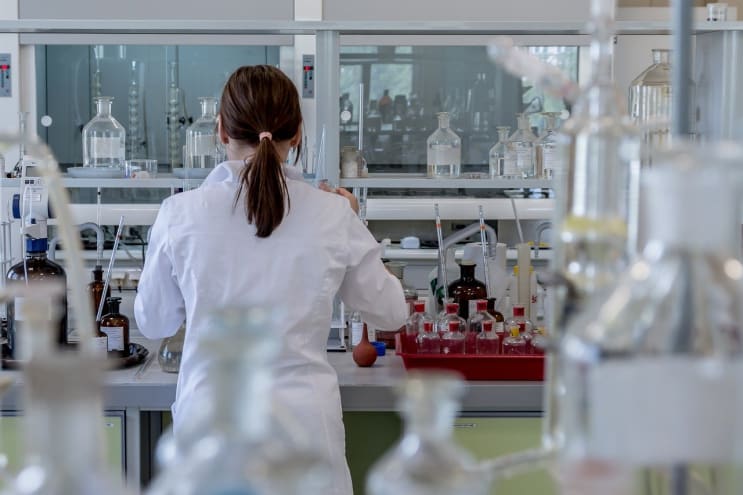 Program Highlights
Hands-on experience through student-faculty research collaboration in analytical, physical, organic, inorganic, biochemistry, materials science, and other interdisciplinary fields.
Faculty members with diverse cultural background and experience
Access to modern analytical, surface and chemical structure characterization and spectroscopic instruments for classroom and research.
Student research colloquium showcases student work and achievement.
Senior-year capstone experience involving student-faculty collaborative research and a senior thesis with oral and written presentations.
Professional development opportunities such as competitive student research awards and presentations at regional and national symposiums and conferences.
Department alums share post-graduate research in department seminars
Active Chemistry Club offers social and professional networking and community outreach.
Select classes are available online.
Program Distinctions
Program approved by the American Chemical Society (ACS).
New laboratories and classrooms under development in the $45 million Integrated Science and Engineering Laboratory Facility (ISELF).
National Science Foundation grants help provide a full range of modern instrumentation to support coursework and research.
International studies work done by faculty members in Nepal, Qatar and India, brings a global perspective to the study of chemistry.
Student Organizations
Chemistry Club
Pharmacy Club
Medical Professional Association (MPA)
American Society of Microbiology (ASM)
Pre-Veterinary Society
Pre-Med Club
University Facts & Statistics
95% of chemistry graduates employed
$106 million in scholarships loans and grants
39 Education Abroad programs offered
1 of 56 Higher Education Excellence in Diversity (HEED) award winners
25 years of residential math-science-computer camps for youth
Popular Careers
Laboratory Technician
Chemical Technician
Chemist
Pharmaceutical Research
Product Development
Chemical Engineer
Environmental Health
Requirements and Details
Chemistry minor electives
The following is a list of possible electives for the minor. Minor advisor approval is required. Details about these courses are available in the University Catalog.
Chem 307 Advanced Forensic Science
Chem 320 Environmental Chemistry
Chem 420 Physical Chemistry 1
Chem 421 Physical Chemistry 2
Chem 422 Physical Chemistry Lab 1
Chem 423 Physical Chemistry Lab 2
Chem 430 Inorganic Chemistry 1
Chem 431 Inorganic Chemistry 2
Chem 440 Environmental Analytical Chemistry
Chem 450 Instrumental Analysis
Chem 452 Nuclear Chemistry and Radiochemistry
Chem 453 Organic Mechanisms & Synthesis
Chem 460-469 Selected Topics in Chemistry
Chem 480 Biochemistry 1
Chem 481 Biochemistry 2
Chem 482 Biophysical Chemistry
Mats 411 Introduction to Materials Science & Nanotechnology
Mats 412 Solid-State Materials
Mats 414 Polymeric and Composite Materials
Job/Career Titles
Agricultural/Agrichemical Development
Chemical Engineer*
Chemical Technician
Chemist*
Consultant
Environmental Health
Environmental Testing
Forensic Scientist
Fuel & Energy Conversion
Genetic Counselor
Laboratory Technician
Materials Scientist
Nutritionist
Pharmaceutical Research
Pharmaceutical Sales
Pharmacist*
Pollution Analysis
Product Development
Professor/Teacher*
Property/Patent Law*
Quality Control Technician
Research Equipment Design
Sales & Marketing
Technical Writing
Testing & Analysis
*Advanced education preferred
Employers
General Industry
Agriculture/Food Manufacturing
Biotechnology Firms
Chemical Companies
Consulting Firms
Federal Government Agencies
Hospitals and Medical Labs
Pharmaceutical Companies
Private Research Labs
Public Health Departments
Minnesota Employers
3M
Beckman Coulter
BioAmber, Inc.
Cargill
Cold Spring Brewery
Fehr Solutions
General Mills
Gradient Technology
Lifecore Biomedical
Mayo Clinic
Medtox
MN State Institutions
Pace Analytical
R&D Systems
University of Minnesota
Xcel Energy
Skills and Traits
Attention to detail
Communication skills
Determined
Inquisitive
Intelligent
Interpersonal skills
Keen sense of observation
Patience
Problem-solving skills
Strong math and science background
Strong work ethic
Team player
Tenacity
Willing to work long hours
Last updated Oct 2020
About the School
At St. Cloud State, an education is about far more than an education. It will be an opportunity to explore ideas, seek out unique perspectives and embrace new challenges – all of which will help you u ... Read More
At St. Cloud State, an education is about far more than an education. It will be an opportunity to explore ideas, seek out unique perspectives and embrace new challenges – all of which will help you unleash your true potential. You will make life-long memories on our 100-acre campus along the scenic Mississippi River. Futures that begin here might seem unassuming at first, but like the mighty Mississippi River, they quickly gather strength. Growing. Surging. Until they're seemingly unstoppable. If you're looking for choice, we've got that covered. We have more than 200 undergraduate programs of study and more than 60 graduate programs, holding nearly every available national accreditation. Founded in 1869, St. Cloud State has evolved into a comprehensive university. We're on a mission to unleash ideas, unleash imagination, purpose, and promise.
Read less