Read more about this program on the school's website
Program Description
Overview
Chemistry students at Earlham are challenged by our core courses, part of a curriculum approved and certified by the American Chemical Society.
Earlham offers the opportunity to take exciting new chemistry courses, such as Forensics and Biophysical Chemistry.
You will work on laboratory projects alongside our faculty, using state-of-the-art instrumentation, in a newly renovated LEED-certified building named after Earlham Chemistry alum and Nobel Laureate Wendell Stanley.
You will gain analytical, critical thinking and writing skills required to succeed in whatever career you choose.
Highlights
Our students participate in at least one immersive research experience either on or off-campus.
You will have access to paid internships at organizations such as Belden, the Richmond Sanitary District, the Environmental Protection Agency and the Indianapolis Museum of Art.
Recent graduates have gone on to Ph.D. programs at universities such as Harvard, Duke, Purdue, Northwestern, Notre Dame, Tennessee, and Utah. Several of them were awarded the prestigious National Science Foundation Graduate Research Fellowships.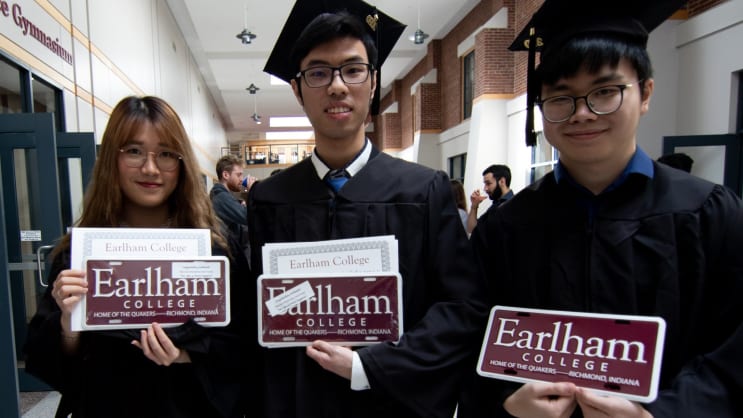 Plan of Study
General Education Requirements
The Department offers five courses that fulfill the Quantitative Reasoning component of the Analytical Reasoning Requirement. Those courses are CHEM 105, 111, 221, 321 and 331.
Students who successfully complete these courses will have accomplished many of the General Education learning goals, in particular:
Generate, interpret, and evaluate quantitative information.
First-hand experience with both theoretical analysis and the collection of empirical data.
International Admissions
A Global Learning Community
Rooted in the Quaker values of equality, justice, respect, and collaboration, an Earlham education creates an unending desire to see the world differently and to bring about change. Earlham prepares you for the challenges and decisions of your college career and for your life after college.
As an international student, you play a key role in bringing the world to Earlham. We recognize and value the distinct perspectives you bring with you and how they can enrich experiences in and out of the classroom.
International students make up approximately 21% of the total student body at Earlham. Our dynamic campus includes more than 200 international students, faculty, and language assistants from more than 60 countries.
We look forward to welcoming you to campus, too!
Standardized Test Scores
Standardized test scores are required of all international applicants.
If English is not your primary language, you must submit an English Proficiency exam and meet the required criteria. You may also submit an SAT or ACT score to enhance your competitiveness for admission and for scholarship consideration.
If English is your primary language, you may submit your SAT or ACT scores instead of an English Proficiency exam.
Current accepted tests and minimum required scores are:
| | | |
| --- | --- | --- |
| Test | Required | Recommended |
| SAT – EBRW | 400 | 600 |
| ACT – Reading | 20 | 26 |
| TOEFL - total | 80 | 92 |
| IELTS – total | 6.0 | 7.0 |
| Duolingo - total | 105 | 115 |
| GTEC - total | 1192 | 1255 |
| ISE - total | ISE II Merit | ISE III Pass |
While we understand the many issues present in standardized testing, Earlham's current registration with SEVIS requires compliance with these test score requirements. SEVIS is the Student and Exchange Visitor Information System used by the Department of State on behalf of the Department of Homeland Security (in other words, important US governmental agencies). Therefore, the International Student Advisers must use test scores to substantiate academic preparedness and English proficiency when preparing an I-20 (the document needed to apply for a student visa) for an admitted student.
Last updated Aug 2020
About the School

Earlham is a national liberal arts college with a reputation for excellent teaching and preparing students to make a profound positive difference in the world.
Earlham is a national liberal arts college with a reputation for excellent teaching and preparing students to make a profound positive difference in the world.
Read less