Program Description
When you study business at Assumption University, your education will go beyond the textbook – you'll gain the business skills and real-world experience needed to succeed and a strong grounding in the liberal arts, uniquely positioning you as a well-rounded candidate in a competitive job environment.
A bachelor's degree in business from Assumption University will provide you with a framework for building a successful career in the private, public, or nonprofit sector. You will develop proficiency in a broad range of technical and professional skills sought by employers and study ethically and socially responsible business practices that prepare you for a complex and ever-changing global business environment.
The Assumption Business Department's five majors and six minors span a broad range of business disciplines and are taught by faculty with extensive business experience.
Business Degree Benefits at Assumption University:
Accounting (major or minor): Prepare for employment in the field and gain the background needed to sit for the CPA and CMA exams. A special track of the MBA program includes a CPA Exam review course and a professional practicum to acquire real-world experience, making it possible for students to have their CPA license within 14 months of completing their undergraduate accounting degree.
International Business (major or minor): Develop the business knowledge and cultural awareness needed to work effectively in diverse environments around the world. The University's robust study abroad program (including a Rome, Italy campus that was recently rated one of the best in the nation) will help you gain a first-hand understanding of diverse business practices and cultures.
Management (major or minor): Study how organizations and people function and develop the skills to drive teams toward a common goal.
Marketing: (major or minor) Immerse yourself in the fast-paced dynamics of a rapidly changing marketplace and build skills in advertising, research, consumer behavior, and public relations.
Organizational Communication (major): Analyze the inner-workings of communication within an organization and develop the skills needed to work effectively with personnel and customers.
Sport Management (minor): Students receive a solid grounding in marketing and management and learn how to deal with the complex professional and ethical issues they will encounter in the sports industry. An emphasis on experiential learning ensures that coursework is augmented with real-world experience through internships and other experience-building opportunities.
Fraud Examination & Forensic Accounting (minor): Learn how to apply accounting principles to embezzlement and fraud investigations and legal issues, assemble evidence, testify in court as an expert witness, and solve contract disputes.
BA/MBA program: Earn a dual BA/MBA degree in just five years.
Recent Assumption graduates have begun rewarding careers with respected regional, national, and multinational companies, including Dana-Farber Cancer Institute, EMC Corporation, ESPN, Fidelity Investments, PricewaterhouseCoopers, Reebok, and State Street Bank, as well as a number of nonprofit and government agencies. No matter where you go, and for whom you work, an Assumption education will make sure you're prepared.
Business Major Internships
Experiential Learning Coordinator
We believe strongly that having the opportunity to bring classroom learning to a real-world working environment is essential to developing graduates who are sought after by employers. Assumption's business program has an Experiential Learning Coordinator dedicated to supporting students, throughout their four years here, in gaining career-building experiential opportunities. The Experiential Learning Coordinator will:
Ensure students have hands-on experiences to apply classroom learning to the real world
Assist students with developing a career portfolio
Provide guidance throughout the job search process
Academic Internships
"Internship in Business" is a 3-credit seminar course in the Business Studies Department that is available to juniors or seniors. The course provides hands-on experience and training, networking with professionals, and assessment of your personal career strengths and interests. You'll spend a minimum of 120 hours working in the field. During the faculty-led weekly seminar, students discuss how organizational behavior and management concepts apply to their individual placements.
Business Degree-Related Career Internships
All Assumption students may also participate in the University's Career Internship Program and spend a semester gaining practical experience. This internship may be paid or unpaid and it provides valuable experience but does not offer academic credit.
Our students have held internships in a variety of organizations, including:
American Chamber of Commerce, Sydney Australia
Citadel Broadcasting
Deloitte Touche Tohmatsu
Greater Media/Boston
John Hancock Financial Services
National Grid
PricewaterhouseCoopers
RDW Group
Smith Barney
Careers
There is an interesting array of opportunities in business, nonprofit organizations, government, or corporate management training programs for business studies graduates. Students are also qualified to pursue an MBA or another graduate degree.
Last updated Jun 2020
About the School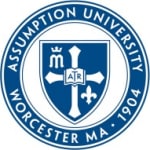 At Assumption, we are committed to exploring with great gusto the relationship between faith and reason. By participating in this 2,000-year-old-tradition, today's students join generations of scienti ... Read More
At Assumption, we are committed to exploring with great gusto the relationship between faith and reason. By participating in this 2,000-year-old-tradition, today's students join generations of scientists, artists, writers, and philosophers who have engaged in a search for truth across disciplines.
Read less