Bachelor in Business Management – International Business
Home ›
Bachelor ›
Bachelor in Business Management – International Business
Program Description
Business Management (International Business) is a three-year English-language degree programme, which prepares globally-minded students for a career in international business.
It offers students the chance to study in an international classroom, with some 40 per cent of students joining the programme from abroad. The lecturers are equally diverse, and with their industry know-how you will learn how to apply your theoretical knowledge through practical exercises, cases, and team assignments.
You will discover the principles of ethical business practice and sustainability, and develop your professional skills and cultural awareness ready for the global workplace. This course is also a springboard for a master's programme.
The degree in brief
First, you focus on the basics of international business management – accounting, marketing, operations and trade law.
Then, you get to grips with operational marketing and sales, the supply chain, cost accounting, and international HR.
You will also work as a team to project-manage a week-long research trip abroad – recent destinations include Toyko, Copenhagen and Kuala Lumpur.
By the final year, you will have a firm grasp of the ins and outs of international business. You will develop your personal profile, choose elective subjects and complete your thesis.
You will work for an international company for three months as part of our internship programme – giving you a real understanding of a dynamic working environment. Everything you have learned on the course is preparation for this step into the business world. Credit Suisse, AB Inbev, KBC Bank (London branch) and Philips Lighting B.V. are just some of the corporations where students have spent their internships.
Final-year students can also join our exchange programme and study at one of our partner universities abroad – for example in Austria, Chile, France, Kazakhstan, Switzerland and the UK.
Study in Antwerp, Belgium
Home to the second largest port in Europe, Antwerp is pivotal in the global supply chain and offers business students a wealth of learning opportunities

A vibrant city of learning with more than 44,000 full-time students

The diamond capital of the world, a thriving fashion industry and an artistic heritage of world renown

Brussels, Paris, London and Amsterdam are all within easy reach by train.
Tuition fee
The tuition fee for the 2019-2020 academic year is as follows:
Non-EEA students: €6112.80

EEA students

: €

938.80
Language requirements
The programme is taught in English, so students must have a good proficiency of the English language. Please note that you may require an English language certificate such as IELTS: 6.0 or TOEFL iBT: 87.
Application deadline
Non-EEA students: May 15, 2019

EEA students (without IELTS: 6.0 or TOEFL iBT: 87 certificate): June

12, 2019
For full programme details, application information and guidelines, please visit the KdG website https://www.kdg.be/en/business-management-international-business
Last updated Apr 2019
About the School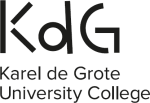 Karel de Grote University College has more than 12,000 enrolled students and employs about 1,000 staff members.
Karel de Grote University College has more than 12,000 enrolled students and employs about 1,000 staff members.
Read less