Bachelor in Business Administration
Home ›
BBA ›
Bachelor in Business Administration
Program Description
The School of Business at William Carey University provides each student the opportunity for personal development through an understanding of the business within the framework of a Christian institution of higher learning. Built on a comprehensive liberal arts foundation in the humanities, sciences, communications, mathematics, and religion, the business programs are designed to develop the intellectual, spiritual, and social dimension of each student.
A maximum of 64 semester hours earned in a two-year accredited community/junior college may be applied toward an undergraduate business degree. Since many business students transfer to Carey after completing one or two years of study at a junior college or another state school, the faculty and staff are helpful to students in making successful transitions to a four-year college.
The School of Business Programs
The School of Business delivers a major designed to provide a degree of specialization as well as a basic understanding of business and its role in a free enterprise system. Class sizes are usually less than 30 students and are less than 20 in many upper-division courses. Such small classes motivate students to be more active participants in the learning process and to develop better communication skills within the classroom environment.
The Business Administration undergraduate major requires the completion of a professional business core in addition to a concentration.
Five areas of concentration are available:
Accounting
Computer Information Systems
Finance/Economics
Management/Marketing
Workforce Training and Development
Standards for Admission
Freshmen Complete the application for undergraduate admissions
Send in your $40 application fee
Send in your official ACT or SAT scores
Send in your official high school transcript
Send in proof of measles, mumps, rubella (MMR) immunizations (must have had one MMR shot in the last ten years or two MMR shots in your lifetime.)
If you have taken college classes during high school, call the college and ask them to mail us an official and final college transcript.
Last updated Feb 2018
About the School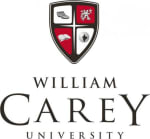 William Carey University is a community of learners which seeks to blend faith and learning with living. Within this unique nurturing and challenging environment students prepare to fulfill their div ... Read More
William Carey University is a community of learners which seeks to blend faith and learning with living. Within this unique nurturing and challenging environment students prepare to fulfill their diverse
Read less