Bachelor in Business Administration (BBA)
Home ›
BBA ›
Bachelor in Business Administration (BBA)
Program Description
With this degree you will gain a solid base of knowledge of the fundamentals of business management and its practice, enjoy a practical experience in scenarios which imitate real life conditions, and work with dedicated facilitators who in many cases work in that field. You will familiarize yourself with the responsibilities of an entrepreneur or an executive, and you will acquire an important foundation of the skills you need in order to successfully develop your professional career.
No university degree by itself can teach someone to be a competent entrepreneur or executive. That comes with experience, and then with further training. What our programme offers you is the ability to familiarize yourself with and understand the most relevant aspects of business management and decision-making, all while still being a full-time student.
This degree prepares you in every field of business management with the goal educating you to be able to reach positions of greater responsibility, providing practical understanding and knowledge to more effectively improve the competitivity of the business. These studies are intended to train leaders who have made decisions and solved organizational problems in any field of management: strategy, marketing, innovation, finance, human resources, etc.; always with well-formulated benchmarks to ensure success.
rawpixel.com / Pexels
The rapid evolution of current economic and technological advances demand that business professionals– besides having a good understanding of management tools– develop their capacity to be critical, creative, strategic, and adaptable to the ever-changing environment of the business world in order to hit the mark when it comes to the business decisions they make for their companies.
In addition, the demands of societal advancement require one to continue to learn throughout their life. Therefore, those who are going to work in the business world should understand that learning is a life-long attitude. From the moment a degree is chosen, the future business executive must accept the challenge of maintaining a professional, effective, and up-to-date demeanour throughout their working life.
It is essential that a business professional develop their own work style and make a commitment to people and society at large so that learning should not only be based on concepts, but also on procedures, methodologies, techniques, attitudes, and social skills with those with whom you wish to create a personal and professional profile.
Official British Degree
At CESTE we follow the British educational model, in accordance with QAA standards (The UK Quality Assurance Agency for Higher Education) and supervised by the University of Gales (University of Wales). This model guides both the design and renovation of our modules and classes, as well as our educational innovation, always seeking new means and methods of teaching more effectively.
In accordance with the British educational model, our methodology is:
Dynamic and constantly revised.
Innovative, applying the latest educational trends such as management simulations, design thinking, or role-playing.
Practical in order for our students to develop their own understanding, procedures, and work styles.
Personalized, centred around small groups and attentive to the abilities and uniqueness of each student.
An authentic personal experience that encourages students to develop their greatest potential.
Modern, making use of the latest methodological trends () and current technologies and their possibilities (each student receives a laptop and the beginning of their degree programme as a work tool).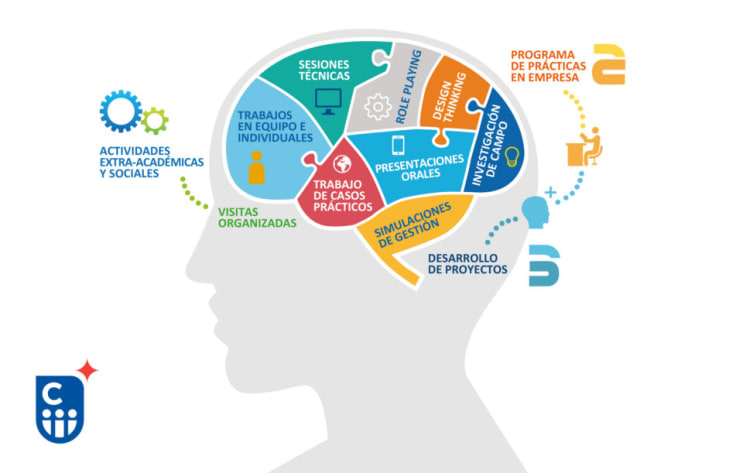 Field(s) of Specialization
Business Management and Administration
In recent years the changes (and challenges) in business management have been tremendous. The possibilities afforded by globalization and the internationalization of companies add to the opportunities generated by innovation and the application of varying technologies– especially in the digital world– both to generate new businesses and to radically transform existing ones.
Within this context, full of possibility and uncertainty, in our Administration and Business Management programme we continually design and renew our training programmes in order to offer you a solid foundation of knowledge, tools, and experiences that reflect the reality of the current market in order to help you have a leg up throughout your professional career.
Internships and professional development
All of our programmes for university students, both undergraduate (curricular and non-curricular) and official Master's degrees, include the possibility for work-study opportunities at companies. Furthermore, you may also do international internships. Discover how.
Languages
The BBA programme requires the knowledge of two languages with a high level of understanding. English and a second language of either French or German, in order to receive the degree. The aim is that the student finishes the degree with a B2 level of English as well as an A2-B1 level of a second language.
International students
For international students, it is necessary to have a minimum of a B1 level of Spanish to enrol in their first course. In the event that you do not already have that level of Spanish, the university offers the possibility of enrolling in an intensive Spanish language course to obtain the required certification. Once completed the student will be prepared to pass a C1 level exam from the Common European Framework of Reference for Languages (CEFR).
Degrees
Official British Degree

Bachelor of Arts Honours Degree in Business Administration

University of Wales

Titulación propia

Graduado Superior en Dirección y Administración de Empresas

CESTE, Escuela Internacional de Negocios
The European Diploma supplement can be added to the degree. It is a document added to the degree that certifies the student's training in order to be understood in comparison to the degrees of any other member state of the European Union, in accordance with the European Credit Transfer and Accumulation System (ECTS).
Last updated Feb 2019
About the School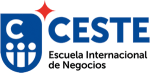 At CESTE, Escuela Internacional de Negocios, we offer you a different kind of educational model. For university students: official undergraduate and Master's degrees framed by the best educational mod ... Read More
At CESTE, Escuela Internacional de Negocios, we offer you a different kind of educational model. For university students: official undergraduate and Master's degrees framed by the best educational model in the world—the British. For professionals and executives: important and prestigious certifications, executive programmes and coaching services for you to overcome the next challenge in your professional career.
Read less