Program Description
The purpose of the Bachelor of Science degree program in Biology is to provide rigorous training to those students desiring careers in the biological, biomedical, and environmental sciences. The program also provides the necessary preparation for those students who wish to pursue graduate training in biology, medicine, or veterinary science. The goal of the program is to produce graduates who, having been trained in the analytical and investigative techniques of the biological sciences, are ready to embark on promising careers in government, industry, and biomedical sciences.
The Biology major at Medaille College is designed to introduce students to the broad spectrum of biological knowledge, from the complexities of the single cell to the dynamics of the ecosystem, and to develop an awareness of the achievements, methods, potentials, and limitations of the biological sciences. Consistent with a liberal education, the Biology major includes a combination of required and elective courses. Students may utilize their electives to experience the rich traditions of the liberal arts, to develop significant expertise in the second area of studies, such as communications or management, or to acquire an additional degree or certification, i.e., the Associate in Science degree in Veterinary Technology.
The curriculum consists of a 40-credit core of courses designed to allow students to explore, in-depth, the analytical procedures and principle tenets of thought in biological science. The core consists of (a) eight required courses in botany, cell biology, ecology, genetics, microbiology, epidemiology and biostatistics, and comparative anatomy and physiology; and (b) a choice of electives from courses that include immunology, animal behavior, advanced vertebrate physiology, herpetology, ichthyology, ornithology, mammalogy, organic evolution, developmental biology, and biochemistry. Students also take courses in general and organic chemistry and mathematics. The design of the Biology curriculum is such that graduates of Medaille College's Associate in Science degree program in Veterinary Technology may transfer into the Bachelor of Science degree program in Biology without loss of any credits provided they take the appropriate chemistry and liberal arts sequences.
| | |
| --- | --- |
| Degree earned | Total number of credits |
| B.S. | 128 |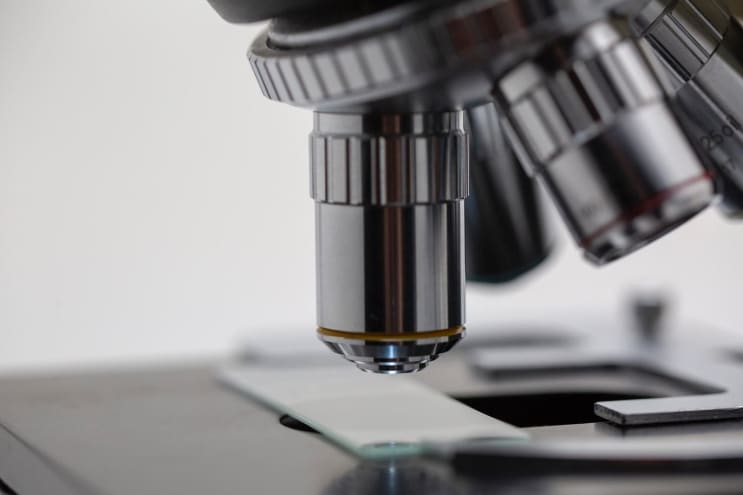 Michael Longmire / Unsplash
What can you do with this degree?
Healthcare: Degree includes prerequisite course work for continued study to become a doctor, veterinarian, dentist or healthcare professional.
Research: can be conducted across a variety of specializations, most commonly medical and life sciences. Researchers can be employed by universities, hospitals, research institutes, industries, and businesses.
Environmental Conservation: Biologists in these positions generally work with recovery and conservation programs for endangered species, as well as educating the public. Conservationists can be employed by nonprofit organizations, state and federal governments, charities, and consultancies.
Biotechnology: Skills in biology are utilized to develop and enhance technology across a variety of platforms, including consumer goods, agriculture, food science, pharmaceuticals, and medical devices.
Forensics: Biologists interested in forensics can specialize in anthropology, odontology, crime scene forensics and pathology (may require further study).
Communication: Biologists are often utilized in the world of media to inform and educate the public on a variety of scientific issues. Positions are common in the media (TV and film); publishing (magazines and journals), and industry (product literature and website content).
Economics: Biologists in this field often work in government and look at the relationship between a biological issue and its economic impact on society — i.e., pollution, deforestation, air quality, etc.
Our biology degree program in Buffalo has produced graduates that have gone on to careers as:
Doctors
Veterinarians
Government Biologists
Industry Scientists
Academic Researchers
Medaille students have completed internships at unique sites such as:
Corning Museum of Glass
Hawk Creek Wildlife Center
The Buffalo Zoo
The SPCA
New York State Department of Environmental Conservation
What sets Medaille's biology degree program in New York apart?
Low student-to-faculty ratio.
New chemistry lab scheduled to begin construction in May 2017.
Work shoulder to shoulder with a faculty of active practitioners and researchers in the lab and in the field.
Opportunities for teaching local youth through the Science in Bloom program.
Complete a dual program in biology and veterinary technology — with two degrees — in just four years.
Research opportunities alongside Medaille faculty that allow you to explore your passions.
The Life Sciences Club, which exposes you to career topics relating to the life sciences professions.
With the study of life being so broad, it makes sense that biology degree graduates can follow similarly broad and wide-ranging careers. Depending on individual interests, biology careers can lead to the study of living organisms such as animals, plants, humans or even bacteria. This investigation will help develop biological knowledge and improve the understanding of living processes for a number of different purposes, including treatment of disease and sustaining the natural environment.
You have an exciting journey ahead and we'll be there every step of the way
Medaille College is the place for students who want to change their world and improve the lives of their communities through their careers as leaders, advocates, and professionals. Each one of Medaille's undergraduate programs prepares you for the workplace through hands-on learning experiences in and out of the classroom.
Medaille College is accredited by the Middle States Commission on Higher Education.
Personalized support.
Student-centered environment.
Financial aid and scholarships are available.
A vibrant campus located in the heart of the City of Buffalo Relevant real-world experiences.
More than two-dozen clubs and activities.
Successful NCAA Division III athletic teams.
Last updated Feb 2020
About the School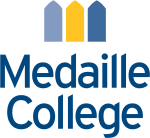 Medaille College is a private, nonsectarian four-year college with campuses in Buffalo, Rochester and online. Medaille focuses on your success as a student and as a future professional by offering und ... Read More
Medaille College is a private, nonsectarian four-year college with campuses in Buffalo, Rochester and online. Medaille focuses on your success as a student and as a future professional by offering undergraduate and graduate degree programs in hands-on, practitioner-based learning environments on campus and in the Western New York community.
Read less