Read more about this program on the school's website
Program Description
The Department of Biological and Environmental Sciences at Elizabethtown College offers a research-grounded curriculum with opportunities to pursue studies in a wide variety of biology-related fields.
Small class sizes, even in the first semester, hands-on lab experiences, fieldwork, and research opportunities prepare you for the world beyond college, whether you are interested in pursuing graduate school, medical school, or finding a rewarding job!
A degree in Biology prepares you for graduate school and the workforce by giving you the skills to observe, interpret and analyze the world around you. While in the Department, you'll have the opportunity to engage in faculty-supervised research, study abroad, internships, and apply your classroom learning to solve community problems. You'll make connections every day between what you learn and how you can use your skills to advance in your field.
Within the Biology major, you can choose from two concentrations to target your career goals.
Biological Sciences Concentration:
Prepares the student for a biologically-related profession or for graduate school. By learning to design and carry out experiments, understand the ethical scientific practice, analyze data, and develop proficiency with lab equipment, you'll be prepared for your next step after graduation.
Health Professions Concentration:
The Health Professions Concentration prepares students interested in pursuing a graduate degree in medicine (MD and DO), specialized fields of medicine (Optometry, Podiatry, Dentistry, etc.), veterinary medicine, or other careers in healthcare such as Physician Assistant, Physical Therapy and Nurse Practitioner. The concentration also prepares students for entry into the professional 3+3 physical therapy program with Widener University, the *3+2 Physician Assistant program at Elizabethtown, and, after three or four years, other accredited pre-approved programs. Students interested in these cooperative programs should consult the School of Science homepage and refer to the Affiliate Programs.
Opportunities in the Biology Department
The Department of Biological and Environmental Sciences at Elizabethtown College offers students a number of ways to get involved! From studying in a foreign country to completing service projects and researching academic interests, students can explore their passions both in and out of the classroom!
Study Abroad Opportunity
Make a rain forest or desert your classroom for a semester! Many of our students have the opportunity to study abroad during their four years at Etown College. We encourage our students to broaden their experiences by taking advantage of these opportunities. Faculty advisors can help you arrange your course schedule so that you will be able to take advantage of this opportunity all while not losing a step in achieving your degree. The Office of Study Abroad Programs can help you find the program right for you.
Internships
Biology majors at Etown College get practical, real-world experience with all things biology in a variety of ways: summer research, on and off-campus internships, employment, and volunteer opportunities. We know the value of internships, and make it a priority for every student in the Department to have the chance to apply their skills and knowledge in an internship setting. We also provide our students with career internship resources to help them succeed and gain additional experiences.
Student Organizations
Students in the Department of Biological and Environmental Sciences pursue a wide variety of co-curricular activities. One student club (BIOME and SEEDS) and one honor society (Tri Beta) are based in the Department, though students also have the opportunity to participate in sports and other on-campus clubs and organizations as well!
Tri Beta Honor Society
Tri Beta is a national honor society for college and university students in the biological sciences. Elizabethtown's Rho Lambda Chapter was established in April 1996. Membership is limited to those students who have a "B" average or better in their biology courses, and who have taken at least three courses in biology. Tri Beta works in close association with BIOME, working on academic and service events. Tri Beta encourages student research and provides a place to present your findings, at their regional meetings, and to publish student papers.
BIOME
This student-run organization is composed of students from many disciplines who share an interest in making biology educationally exciting. The formal and informal events sponsored by BIOME allow students the opportunity to interact with their peers and with faculty. Our mission is to expose students to the ever-changing world of Biology and Medicine through service projects, educational trips, and various other activities, and to aid in their preparation for post-graduate studies in the Biology and Health Professions.
Put Science into Service
Biology students at Etown College take the motto "Educate for Service" seriously. As part of your genetics coursework in your sophomore year, you will work with clinics, non-profit agencies, and other groups dedicated to helping people with genetic disorders. In other classes, you'll also have the chance to volunteer your time at a hospital, monitor water quality in local streams, or assist with ecological restoration projects! Our students become ingrained into the fabric of our community by putting their education to use for organizations that need it most.
After Graduation
Graduates from the Department of Biological and Environmental Sciences at Etown College see success both in their professional and personal lives. From placements into top medical schools such as the University of Pennsylvania and Penn State Hershey College of Medicine, to research at labs around the country, our former students consistently cite their experiences at Etown as the catalyst that launched their careers and introduced them to new passions.
Last updated Sep 2020
About the School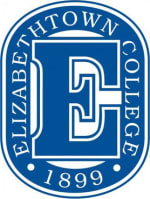 Our commitment is to Educate for Service. We believe that learning is most noble when used to benefit others, regardless of chosen career path. We prepare our students to lead rich lives of purpose an ... Read More
Our commitment is to Educate for Service. We believe that learning is most noble when used to benefit others, regardless of chosen career path. We prepare our students to lead rich lives of purpose and meaning while advancing independent thought, personal integrity, and social responsibility. These are the foundations for a life of learning. We foster the values of peace, non-violence, human dignity, and social justice.
Read less