Program Description
Operational and artistic dimensions go hand in hand
Audio-visual media play a key role in providing information, in education and in entertainment. The major Audiovisual Design teaches you to design using image and sound. You will be learning audio and camera techniques, software techniques, production methods and concept development.
Our tutors all have a solid theoretical and professional background: they are researchers, script editors, audio-visual designers, motion graphic designers, interactive designers, visual artists, editors, and camera or audio technicians.
The student is expected to have a basic level of prior knowledge in the field of audio-visual design and working with images, as well as an interest in storytelling. Students are expected to explore and take risks, to accept (and even embrace) failure. You will be learning to reflect upon your own work and that of your fellow students.
The assignments you will be working on will partly be defined by a client, and partly by your own areas of interest. You will be developing your own visual language. You will be learning to work collaboratively within a team. You will be learning to pitch and to communicate your ideas to clients, to a crew and to the public. Eventually, you will be working on the realization of a final product suitable for a public showing.
In the first part of your studies, you will learn to develop audiovisual productions. You will make one-minute productions for release on the internet or on TV, shorts for cinemas, audiovisual installations for VJs or for projection onto buildings, internet virals or autonomous audiovisual productions, images for a video wall or a first-person documentary.
Halfway through your second year, you will go deeper into the knowledge and storytelling techniques from the first part. In the third year, you will do an internship and in the last year, you will do a minor in one of the three Practices: Autonomous, Social or Commercial. After graduating, you can work as an all-around audiovisual designer, an interactive audiovisual producer, director or motion graphics designer.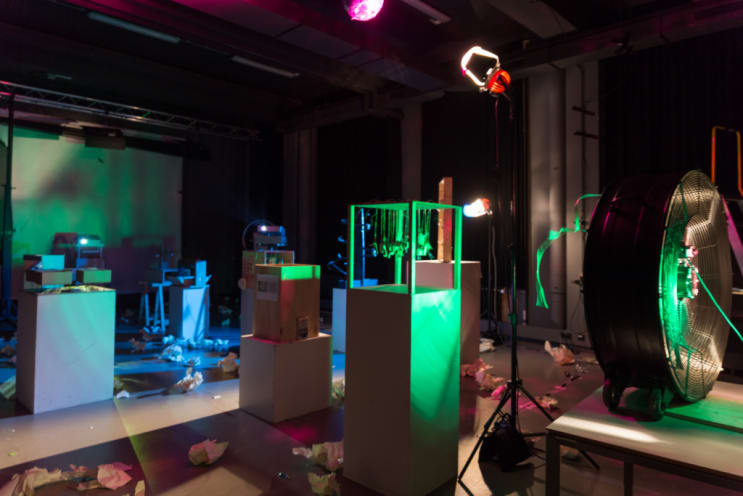 Career Opportunities
All-around audiovisual designer
Interactive audiovisual producer
Director
Motion graphics designer
Editor
Interactive designer
(Audio)visual artist
Creating Pioneers
Our successful Audiovisual Design alumni include: Willem Baptist (winner Golden Gate Award); Roeland de Bruïne (known for the TV format 'Truman'); Michel van den Burg (listed in the HOT100); Jeroen Houben (known for the videos 'Sef' and 'Yellow Claw' and the short film 'Sorry'); Jurjen Versteeg (Vimeo Award winner and From Form founder and partner); and Bero Beyer (known for 'Paradise Now').
Portfolio checklist
Are you:
talented in visual arts?
independent and responsible?
dedicated and motivated?
entrepreneurial?
Then visit one of our Open Days or Open Evenings – and bring your portfolio! – and apply for admission.
WHAT
A selection of 10-15 works which were preceded by a creative process
For example: designs, objects, photos, films, games, animations, fashion (accessories), furniture, models, drawings, posters, campaigns, paintings, usable artifacts and sculptures. You can publish and present all of this in a neat traditional portfolio folder, but you can also use different methods: 3D work can be brought in a (cardboard) box, digital work can be presented on a laptop or tablet.
Please note: apart from these works, please show us some other things you created. Make a careful selection between the two. That way, we can assess to what extent you have an insight into your own qualities and your own work.
Last updated Jan 2018
About the School
The Willem de Kooning Academy offers contemporary and cutting edge art courses that complement changing, international practice. The outside world is no longer looking for the autonomous artist or the ... Read More
The Willem de Kooning Academy offers contemporary and cutting edge art courses that complement changing, international practice. The outside world is no longer looking for the autonomous artist or the graphic designer, but rather for people who possess a multitude of talents and skills and who look beyond the borders of their original discipline.
Read less