Bachelor in Applied Informatics
Program Description
Applied Informatics faculty – knowledge and abilities useful in modern society and economy of the 21st century
Profession of the future.
In the world of information society and E-economy, the ability to use modern Computer Science tools and techniques is one of the greatest opportunities for finding an employment. Mere knowledge of IT may not be sufficient enough, though, since the computer science experts in great demand especially when they are also specialized in management, finances, banking, accounting, administration, trade, production or logistics.
Computer Scientist, that means who?
Over the past 30 years technology in the area of IT developed rapidly. Computer science, as both the area of research and professional specialization, is divided into separate parts. In occupational categories, a computer scientist is perceived as a general headword, while analysis, computer-aided design, implementation or administration experts are in great demand on the market, as well as employees with narrow specialization (information system, databases, ICT infrastructure etc). Furthermore, some of the specialities tend to disappear (e.g. developer of operating systems) whereas the others experience a period of rapid development (e.g. knowledge management). Nevertheless, having a solid foundation in creation and use of information systems guarantees a wide scope for action in future, enabling modern computer scientists to develop their careers due to the global labour market.
Communication – to understand and affect others
Over the past years, each of scientific field developed its own language. For that reason, a barrier of mutual communication and understanding between a user and IT expert became an obstacle to the effective exchange of information among them. That is why "agile" method, which involves close cooperation, gains strong support. Specialists with extensive knowledge about the functioning of various organizations (economy, management) in conjunction with professional education in computer science and communication efficiency will be needed in the new knowledge-based economy.
Niche specialists
After the analysis of IT systems development process (analysis – developing – implementation – exploitation), it can be said that there is no shortage of good programmers in Poland (developing phase). However, the analysis, implementation and exploitation stage remain scarce. Those phases need domain knowledge precisely.
Areas of administration, management, finance, insurance, marketing, services etc. are the fields of Cracow University of Economics interest. That is why C.U.E. is the only university that may educate best economists among computer scientists and best computer scientists among economists at the same time. They will be experts in analysis, designing, implementation and exploitation; familiarized with computer-aided design they will fill the growing gap in the market
Genesis
Faculty Applied Informatics at Cracow University of Economics is a continuation of previous studies – Informatics and Econometrics – which has functioned for more than 20 years. On the basis of information from graduates as well as practitioners and employers, a unique curriculum was prepared. It is aimed at students who want to both expand their knowledge and understanding of Informatics and also tie their future with the creation and use of IT.
Previous generation
The previous graduates are employed both in IT companies and consulting firms alike. Moreover, they work in various institutions that use information systems as a key element of functioning (finance, insurances, telecommunication) and in administration (often in middle- and upper management).
Graduate Profile
Informatics graduates will learn about modern Computer Science tools, techniques and business processes.
Graduates will be able to apply for IT specialist positions in IT companies as well as in economic and public sector. They will be responsible for:
analysis and design of information systems,
software development,
implementation of computer systems,
design, operation and maintenance of computer networks,
internet use in business (E-business),
managing information systems and computer networks,
analysis and processing of data for different user groups,
coordination of work, creating requirements specifications and testing of ready-made information systems,
Applied Informatics graduates will be able to create computer systems, use them (effectively and professionally) and form the way that organizations operate (they will understand the internal processes).
Graduates will find employment in:
manufacturing and services sector,
government, local government and educational administration,
financial sector companies (banking, insurances, brokerages),
project planning and management consulting companies,
R&D institutions,
computer systems developing companies,
small and medium-sized enterprises,
Graduates will organize teamwork and communicate well with other employees. They will have a good knowledge of two foreign languages, including B2 level of Common European Framework of Reference for Languages in one of them.
Opportunities for further education at second-cycle studies as well as the possibility of being employed after the first cycle were taken into consideration during the preparatory work.
Last updated Feb 2018
About the School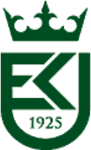 Cracow University of Economics (CUE) is the largest school of economics in Poland, and the third biggest university in Cracow, a major Polish academic centre. The University was the first institution ... Read More
Cracow University of Economics (CUE) is the largest school of economics in Poland, and the third biggest university in Cracow, a major Polish academic centre. The University was the first institution of higher education in Poland to introduce studies in English in the early 1990s. CUE graduates are among the most successful in Poland in matching their knowledge and skills with the employer's needs...
Read less