Bachelor in Agricultural Sciences
Program Description
Ferrum College is the only private college in Virginia that offers a four-year degree in Agricultural Science and teacher licensure in vocational agriculture. A diversified four-year curriculum stresses the theory, art, and practice of agriculture while also emphasizing the intimate intersections with sustainability. Within this framework, students consider the environmental, economic, and social ramifications of agricultural practices in an increasingly resource-strained world.
Emphasis Areas
The five program emphasis areas of Animal Science, Agribusiness, Agronomy, Horticulture, and Equine Studies allow students to focus their study. Agricultural teaching is, by nature, a hands-on endeavor. This philosophy is embodied in labs, class exercises, practica, internships, and independent research. These diverse delivery methods allow students to apply theory in a practical, real-world setting. This broad preparatory approach is underscored by a comprehensive liberal arts base to prepare graduates for a wide range of career opportunities. Students interested in a career in primary or secondary school teaching may study Animal Science or Horticulture and minor in Teacher Education.
The Animal Science emphasis focuses on the science and business of producing and managing farm and companion animals.
Courses in Animal Science may include Animal Nutrition, Domestic Animal Reproduction, and Animal Diseases.
The Agribusiness emphasis focuses on the study of the business of agriculture, especially using advanced technology.
Courses in Agribusiness may include Accounting and Macroeconomics, and Agronomy, Animal Science, or Horticulture courses.
The Agronomy emphasis focuses on field crop production and soil management.
Courses in Agronomy may include Animal and Plant Breeding and Genetics, Plant Physiology and Biotechnology, and Plant Diseases.
The Horticulture emphasis allows for the study of plant propagation, as well as the construction, maintenance, and utilization of greenhouses.
Courses in Horticulture may include Soil Science and Management, Plant Pest Management, and Plant Propagation.
The Equine Studies emphasis provides the flexibility to design a program geared towards hippotherapy, riding team, trainer, stable manager, pre-vet, and more – all complemented with foundational coursework in business.
Courses in Equine Studies may include Horse Science, Equine Assisted Activities and Therapies, Stable Management, Ag Business Management, and Entrepreneurship.
Teacher Education (Minor)
Ferrum College is the only institution in Virginia with a 4 year Bachelor's program leading to teacher education licensure. Interested students typically major in Agriculture, and pursue an animal science or horticulture specialization with the Teacher Education minor.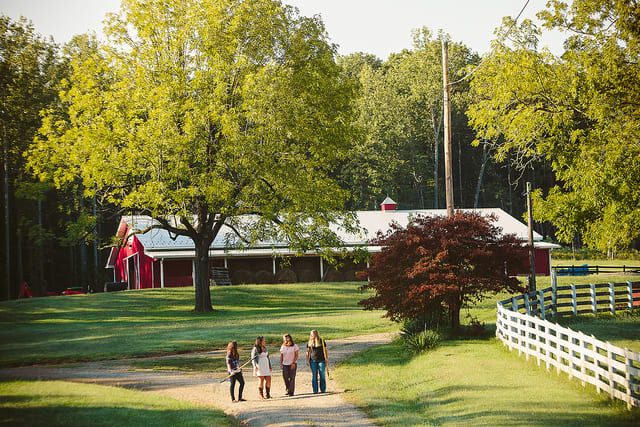 Coursework
The curriculum incorporates a variety of topics to prepare students for opportunities in agriculture, including:
Introduction to Animal Science
Field & Forage Crop Production
Farm Business Management
Livestock Evaluation and Judging
Soil Science and Management
Animal Nutrition
Introduction to Plant Science
Animal Diseases
Plant Diseases
Fitting and Showing
Animal and Plant Breeding and Genetics
Plant Pest Management
Greenhouse Management
Horse Science
Clubs
Students can choose from over 50 clubs and organizations at Ferrum College. The following are specifically related to the Agricultural Sciences:
Agriculture Club: Affiliated with the Collegiate Young Farmers (Farm Bureau), the club works with local farmers and assists with the yearly Folklife Festival. This student-led club also organizes and conducts yearly plant sales using the greenhouse facilities at the Titmus Agricultural Center. The club's membership is a diverse cross-section of majors – a reflection of its broad appeal.
National Agriculture Honor Society (Delta Tau Alpha): Promotes and recognizes high standards of scholarship, leadership, and character among agricultural students.
Equestrian Club: Ferrum College recently established a new equestrian club in partnership with Healing Strides of Virginia, a therapeutic riding facility in Boones Mill, VA. In addition to weekly riding lessons, student club members volunteer five hours a week at the facility and have the opportunity to participate in horsemanship clinics where they can improve their horsemanship skills.
Research Opportunities
Ferrum College believes that hands-on learning is a natural extension of classroom study.
Research puts classroom theory to practice. In effect, research brings the educational Experience full circle. As mentors, faculty can shepherd students through the scientific process and identify a project that's compatible with their interests.
Dr. Bob Pohlad's research interests include the use of Appalachian watersheds in undergraduate and community experiential education and web-based collaborative ecological teaching and research using a watershed project.
Dr. Tim Durham's research interests include crop variety evaluation, underutilized and niche crops, Best Management Practices (BMP's), especially as they relate to slow release fertilizers, reduced risk and biological pesticides, and comparative risk assessment of transgenic and conventional crops.
Dr. Nancy Brubaker's research interests include broad-based biomedical research as it applies to animal health, hypothyroidism in the domestic feline, the properties of the "dynamic" bone, and using animals as environmental markers (Lyme disease).
Careers
An Agricultural Sciences major can lead to traditional and non-traditional career and educational paths. Potential examples include:
Soil Conservationist
Extension Agent
Vocational Agriculture Teacher
Farmer/Farm Manager
Greenhouse Manager
Commercial Loan Officer
Agricultural Scientist
Graduate School
Quality Assurance Supervisor
Golf Course Superintendent
Peace Corps/VISTA
Campus Resources
Ferrum College Agriculture students have access to extensive resources due to our rural location. The Titmus Agricultural Center is eighty acres and includes a working farm, beef cattle, sheep, and fainting goats. Students take ownership of projects and care for the animals, including performing health checks and helping with birthing lambs. There is a dedicated agronomy block of six acres for growing crops, a hydroponic facility which provides varieties of lettuce to the campus dining hall, and a Giving Garden in which students, faculty, and staff volunteer to provide 2,000 pounds of food a year to the local food banks. We have partnerships with local industries and other universities, and we participate in cooperative extension events organized by our students. Every Agriculture student is required to do an internship and a variety of practica, through which they can develop practical leadership and professional skills.
Last updated Feb 2019
About the School

We are committed to academic excellence and we believe our students deserve to achieve successful outcomes before they even graduate. Our current students participate in opportunities that strengthen ... Read More
We are committed to academic excellence and we believe our students deserve to achieve successful outcomes before they even graduate. Our current students participate in opportunities that strengthen their resumes and give them real-world experience now. Our Ferrum College alumni are living proof that a Ferrum education yields the success that our students desire!
Read less