Program Description
The goal of Medaille College's Accounting curriculum is to prepare students for successful careers in public or private accounting. To that end, Medaille College has combined four-year, 120 credit-hour undergraduate degrees (B.S. in Accounting) with an additional one-year 30-credit hour sequence of graduate courses (M.S. in Accounting) to meet New York State's Education Department's requirements for students to sit for the C.P.A. exam. At the completion of the program, students will be graduating with a bachelor's degree as well as a master's degree in Accounting. The program provides the student with the practical, as well as the theoretical knowledge and learning experiences required to be successful in the accounting profession.
As part of the major requirements, each student takes courses in management, marketing, finance, business law, and management information systems. The field experience requirement gives students the opportunity for "hands-on" experience applying what has been learned in the classroom to real business situations. Students frequently receive job offers through these internships. Credits for work/life experience can also be earned by students who have had appropriate previous experience in related areas. Additionally, the program is designed to allow students to develop their professional communication skills, which are essential in the accounting profession. The liberal arts and sciences portion of the degree provides those necessary skills as well as a solid foundation in the humanities, social sciences, mathematics and science.
All Accounting majors should complete 100-level business courses, ENG 110/ENG 112, ENG 200/ENG 202, SPE 130, ECO 200, and ECO 201 during their first two years at Medaille College. Majors in this program may not take any business course Pass/Fail. A 2.0 cumulative grade point average (GPA) is required of all Accounting majors in their core and elective business courses to graduate.
Students admitted to the program must maintain at least a 3.0 College GPA in order to continue in the program in good standing. Students enrolled in the program who fail to maintain a 3.0 average through their first four years will be ineligible to proceed with the fifth year of the program and will instead be awarded the degree of B.S. in Accounting.
| | |
| --- | --- |
| Degree earned | Total number of credits |
| B.S. or M.S. | 120 (B.S.) or 150 (B.S./M.S.) |
What can you do with this degree?
Medaille's 4+1 Program: Complete your Master of Science (MS) in Accounting by staying one extra year!
Accounting (MS) Core Courses: 24 credits
Accounting (MS) Electives: 6 credits
Accounting (MS) Total Credits: 30 credits
Accounting BS/MS Total Credit Hours: 150 credits
Medaille alumni have gone on to careers as:
Certified Public Accountants
Financial Managers
Corporate Accountants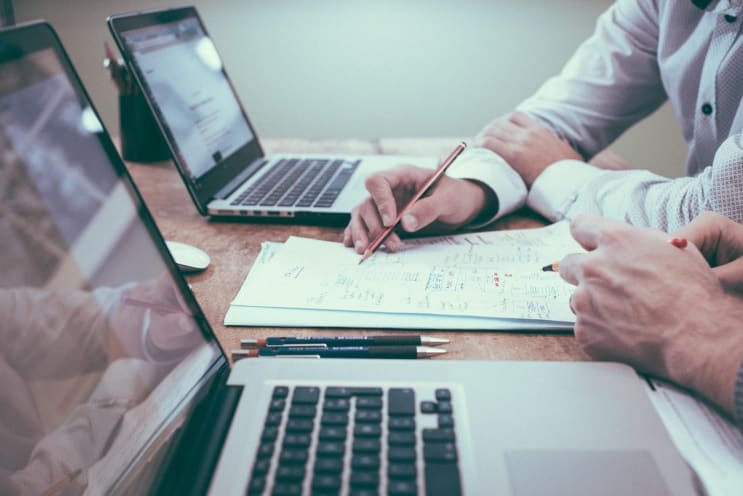 Helloquence / Unsplash
What sets Medaille's accounting degree in Buffalo apart?
Small classes and one-on-one mentorship with professors in and out of the classroom.
Two required internships.
Faculty with real work experience in the field.
The student-run Medaille Accounting Club, which meets for workshops and invites professional speakers to lecture.
The Commons Café in the Main Building is run entirely by Medaille accounting and business students, giving you the opportunity for a hands-on, full responsibility business experience.
DECA, an international business association offering access to internships, scholarships, networking, and professional conferences.
ENACTUS, which hosts national competitions and supports international entrepreneurial projects.
When the fifth year in the MSA program is completed, students are qualified to sit for the CPA exam. While students can get a job in accounting with their four-year degree, New York State mandates an extra 30 credit hours to sit for the CPA exam — we provide that with our MSA accounting degree program in Buffalo.
You have an exciting journey ahead and we'll be there every step of the way
Medaille College is the place for students who want to change their world and improve the lives of their communities through their careers as leaders, advocates, and professionals. Each one of Medaille's undergraduate programs prepares you for the workplace through hands-on learning experiences in and out of the classroom.
Medaille College is accredited by the Middle States Commission on Higher Education.
Personalized support.
Student-centered environment.
Financial aid and scholarships are available.
A vibrant campus located in the heart of the City of Buffalo Relevant real-world experiences.
More than two-dozen clubs and activities.
Successful NCAA Division III athletic teams.
Last updated Feb 2020
About the School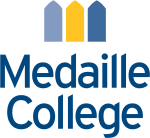 Medaille College is a private, nonsectarian four-year college with campuses in Buffalo, Rochester and online. Medaille focuses on your success as a student and as a future professional by offering und ... Read More
Medaille College is a private, nonsectarian four-year college with campuses in Buffalo, Rochester and online. Medaille focuses on your success as a student and as a future professional by offering undergraduate and graduate degree programs in hands-on, practitioner-based learning environments on campus and in the Western New York community.
Read less