Bachelor University College Roosevelt
Read more about this program on the institution's website
Program Description
Philosophy or physics? Medicine or mathematics? Law or a language? One of the distinguishing features of the programme at UCR is that you do not have to choose. The Liberal Arts and Sciences concept is based upon the idea that today's most complex problems can no longer be solved with a mono-disciplinary approach. Students at University College Roosevelt construct their own academic programme, tailor-made to their individual interests. In doing so, the programme prepares you for a world whose demands and challenges will grow more complex each year, while optimally preparing you for the master's programme or the job of your choice.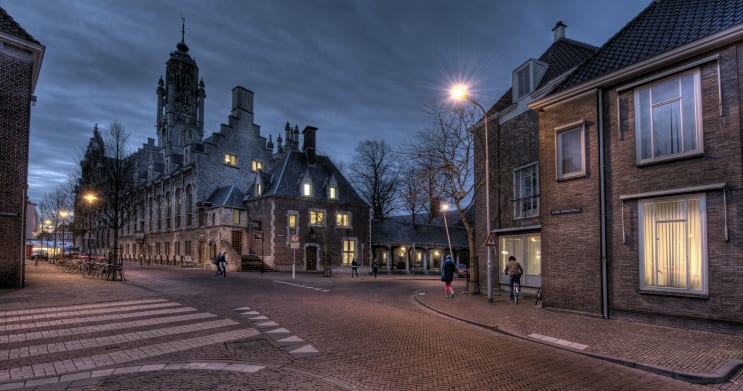 Not for every student
The University College Roosevelt concept may not fit every student: the continuous assessment system, its study pace, and its high standards demand a lot from students, who are encouraged to perform to the best of their ability and, in turn, motivate each other to the fullest. Our success rates clearly show that this strategy works. Nearly 90% of our graduates complete their bachelor´s programme within the allotted three years, and many of them have been accepted to the best graduate programmes available. This does not mean, however, that U.C.R. students are simply brilliant scholars. Students ultimately decide to study at U.C.R. because of their boundless curiosity, their motivation, and their international outlook.
A unique City Campus
University College Roosevelt´s personal approach is reflected in the city it has chosen as its location and in the way, the campus is envisioned. While Middelburg may not be as big as Utrecht, it definitely shares the same high ambitions and goals. As in other university cities, there are pubs and clubs, theatres, cinemas, and sporting facilities -- all within easy reach. Moreover, beaches are not too far away from the U.C.R. campus; many students do their homework on the beach during the spring semester! U.C.R. boasts the only City Campus in the Netherlands, with students living together on-campus locations in the city-centre of Middelburg. This allows you the freedom to cook your own meals and live an independent life while enjoying all the benefits of a close-knit campus community. Classes are taught in the majestic former City Hall of Middelburg, built in the 14th-century Gothic style.
In short
At University College Roosevelt you will:
create your own combination of courses from all academic disciplines
attend intensive, small-scale classes
live on an international city campus
go on to the best master's programmes in the world
Career Prospects
Students at University College Roosevelt are exposed to many new and interesting opportunities, both academically and socially. Some students begin at UCR, unsure of the direction their studies will take them, only to find the perfect route. Others enter convinced of their path, only to find a more appealing road. And still, others follow the exact road to the point they had envisioned all along. UCR students are eager young adults who graduate having developed a sense of self and life goals. Regardless of their decisions, they leave UCR with the academic skills that allow them to think critically, stay open-minded and conduct research from a multitude of angles. This is reflected in the fact that our alumni can be found working and living in a wide variety of areas in both the public and private sectors.
Motivated and prepared for the future
Academic skills are fine-tuned at UCR through writing papers, conducting research, analyzing theories and solving complex problems. In this way, students are well prepared to make the most out of their futures and the many challenges life may throw at them along the way. In general, the Liberal Arts & Science graduate emerges motivated and prepared for the future. For this reason, more and more graduate programmes and employers are coming to appreciate UCR graduates
Some examples of positions held by alumni within five years of their graduation:
Portfolio Manager Kempen & Co
Intern at Brigham and Women's Hospital at Harvard Medical School
Executive Board member at Landelijke Studenten Vakbond (LSVb)
Recruitment Officer at Central European University
Researcher at Achmea Real Estate
Analyst at Goldman Sachs
Portfolio Manager at Tan Khoa Distribution
Software trainer at the Dutch Ministry of Justice
Trainee at European Commission
Associate at Ernst & Young
Last updated May 2020
About the School

Founded in 1636, Utrecht University is an esteemed international research university, consistently positioned number one in The Netherlands, 14th in continental Europe and the worldwide top 100 of int ... Read More
Founded in 1636, Utrecht University is an esteemed international research university, consistently positioned number one in The Netherlands, 14th in continental Europe and the worldwide top 100 of international rankings, and member of the renowned European League of Research Universities.
Read less