Program Description
Course Description
Sign up for this innovative hands-on course and you will be encouraged to push at the boundaries of how fashion textiles, interior textiles, and surface design change the spaces around us as well as the way we dress.


Thanks to its open-minded approach, you can choose to focus on interior textiles, surface design or create innovative fabrics for fashion. The course is aimed at producing graduates who are versatile and highly skilled in the creation and presentation of their design ideas.



You will use a wide range of textile and surface design processes to develop a portfolio of innovative work that is instantly identifiable as yours. That makes you a good proposition for prospective employers, many of whom you will already know thanks to our close industry links. Indeed, students on this course often have opportunities to work on live projects that develop their skills in sales and business management as well as design.


During the course you will:
Gain a thorough insight into many aspects of textile and surface design development including printing, embroidery, and embellishment, dying, digital imaging and mixed media processes.
Be introduced to a range of textiles and surface design applications for body and space which link the disciplines of textiles, fashion, graphics and product design.
Design, construct, embellish and manipulate materials such as fabric, metal, wire, glass, paper, plastics and ceramics.
Have the opportunity to explore and examine the application and function of your concepts in a contemporary market and understand how this affects design decisions.
Develop the skills to bring alive both hard and soft surfaces in 2D and 3D using new and smart materials.
Develop complementary skills, where appropriate, in pattern cutting, draping on the stand and garment construction, so you have an understanding of how materials work on the body.
Develop your business and professional practice skills by working on live and site-specific briefs set by the industry.
Complete visual culture modules that will underpin your studio work.
Be encouraged to enter competitions and complete projects set by leading designers.
In your final year, you will focus on creating your own personal design statement which will culminate in your work being shown at the Somerset College Degree Show.


Teaching and Assessment
Most of your time will be spent in our first-rate studios and workshops, although your practical work will be complemented by a programme in Visual Culture during your first two years. Assessment is by 100% coursework with no exams. Your final Degree Show exhibition forms an essential part of the assessment.


Progression Opportunities
Students who have successfully completed the BA Hons can progress onto Postgraduate studies.


Career Progression
Our graduates have established varied and exciting careers in fields such as textile design, interior design, decorative product design, style forecasting, retail management, design management, buying and gallery sales. They have also been asked to produce commissions for public and private interiors, collaborations with fashion designers and many exhibited in galleries throughout the UK.


Entry Requirements
Applicants should have a Foundation Diploma in Art and Design, or a National Diploma in Graphic Design (MPP), or A2/AS Level in Art or an arts-based discipline (minimum 160 UCAS points including 80 points at A2 Level). Alternatively, you can apply with an AVCE Double Award in Art and Design (minimum grade CC) or an Advanced Diploma or Access Certificate in Art and Design.


Students are also required to have GCSE English, with a minimum grade of C. You will be asked to bring your portfolio to interview, to demonstrate your skills in, and enthusiasm for, interior textiles and surface design. We run Portfolio Workshops throughout the year to help you prepare for interviews - visit our website to sign up.
Last updated Oct 2020
About the School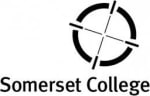 Located in Taunton the County Town of Somerset, in the heart of the South West, Somerset College offers an extensive range of Further and Higher Education courses as well as skills training in a warm, ... Read More
Located in Taunton the County Town of Somerset, in the heart of the South West, Somerset College offers an extensive range of Further and Higher Education courses as well as skills training in a warm, friendly and welcoming environment. Our success speaks for itself with fantastic achievements and great careers for our students.
Read less