Program Description
Starting in the winter semester 2018/19, the Psychologische Hochschule Berlin offers the undergraduate Bachelor's degree in Psychology.
Standard period of study: 6 semesters
Including the bachelor thesis, a total of 180 credit points (LP) are to be acquired.
Start of studies: in each case for the winter semester
Degree: Bachelor of Science
What is psychology?
Psychology as a science and a practical field of application deals with it,
how people perceive, think, learn, forget and act,
what feelings, goals, motives and interests they develop
how they build social relationships,
how their mental and social competences develop
how they differ from each other and what causes these individual differences.
Psychology deals with mental disorders, but also with gifts and other resources. Everything related to human behavior and internal mental processes, including conditions and effects, can become the subject of psychology. Psychology not only wants to grasp and analyze human behavior and its internal and external conditions, but also to influence it in a desirable way, through counseling, shaping the world of life, education and psychotherapy.
Many people believe that you can answer all these questions with intuition. But there are many errors, prejudices, deceptions and distortions of reality. Psychology seeks laws that it can systematically seek, find and verify with empirical research methods.
The study concept of the Psychologische Hochschule Berlin (PHB)
The PHB is a university that focuses all its fields of work on psychology. In the centrally located Haus der Psychologie, she offers psychology courses ranging from bachelor to master's degrees to further education and specialized postgraduate programs in psychotherapy, legal psychology and family psychology. In order to fulfill its social responsibility as a university and training institute, the PHB develops solutions for personal, family, professional and social challenges in teaching, research and application projects. Students are involved in these research and problem-solving processes and deal with the ethical, legal and political frameworks of psychological work.
For university bachelor programs in psychology, the DGP (German Psychological Society) gives recommendations for the study content in order to achieve a comparable scientific education in psychology at all universities. In order to provide students with an interesting and up-to-date undergraduate degree program, PHB has designed a syllabus that goes beyond the basic requirements of the DGP.
The special teaching profile of the B.Sc. Study course at the PHB
Consideration of social and cultural conditions for individual action
Openness for quantitative and qualitative approaches in methodology
Openness to all scientifically recognized concepts and procedures in clinical psychology
Equivalent teaching of all scientifically recognized psychotherapy procedures: psychotherapy based on depth psychology, behavioral therapy, psychoanalysis, systemic psychotherapy
Awareness of legal and ethical requirements for psychological work
Overview of the entire range of psychological occupations
Basis and specialization modules for applications of psychology and fields of activity of psychologists to support students early on in their further academic and professional orientation
Science communication to experts and lay people
Presentation and communication training
Studying at the PHB means ...
to learn from renowned scientists and researchers.
to collaborate on current innovative research projects for the further development of psychology as a science and for the benefit of society
practice-oriented work
to be intensively cared for in small seminar groups
to help shape the new degree program
Exchange with higher semesters, with students from the postgraduate masters courses and with psychotherapists in training, as the PHB unites the university and the training institute
study at a campus in the center of Berlin near Alexanderplatz
a student life with a park in front of the door and many interdisciplinary events and conferences
Participation in professional events and congresses about scholarships of the Förderverein
Last updated Mar 2020
About the School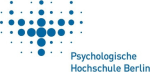 Als private staatlich anerkannte Universität ist die Psychologische Hochschule Berlin gemeinnützig tätig. Alle Studiengänge sind vom Senat für Bildung, Jugend und Wissenschaft akkreditiert, die Approb ... Read More
Als private staatlich anerkannte Universität ist die Psychologische Hochschule Berlin gemeinnützig tätig. Alle Studiengänge sind vom Senat für Bildung, Jugend und Wissenschaft akkreditiert, die Approbationsausbildungen vom Landesamt für Gesundheit und Soziales Berlin.
Read less