Bachelor Of Science In Computer Science (4 Years)
Home ›
BSc ›
Bachelor Of Science In Computer Science (4 Years)
Program Description
This is a 4-year program on full time as well as parallel. In the past few decades, advances in information technology (IT) have driven revolutionary changes in the ways we work, learn, and communicate. These advances have resulted in computer science education becoming part our educational system. As the use of information technology grows in the 21st century in developed and developing countries, computer science education is vital in the educational system in African countries. Africa University has the potential and the resources to become one of the leading universities on the continent with a strong computer science program. Upon assessing the infrastructure, space and lab equipment, it is clear that Africa University has adequate resources to start a degree program in computer science. The existing infrastructure and resources, compared to those of other institutions, currently offering a degree program in computer science in Zimbabwe, puts Africa University in a far better position to introduce computer science in its curriculum.
The Bachelor of Science degree program in Computer Science at Africa University is designed to produce computer-fluent professionals, up-to-date problem solvers equipped with experience in the use of real-world industry standard development tools, who can write clearly, communicate efficiently, speak clearly in public, and function well in a team environment.


Entry Requirements
5 'O' level passes or equivalent including English language and Mathematics. At least two GCE Advanced level passes in any of the following subjects: Accounts, Management of Business, Economics, Commerce, and Mathematics.
Special entries
Applicants with approved diplomas in Management related subjects e.g. Zimbabwe Association of Accounting Technicians (ZAAT), Association of Certified Charted Accounts (ACCA), Higher National Diploma (HND), Charted Institute of Management Accountants (CIMA), Charted Institute of Secretaries (CIS), and Diploma in Business Administration and Commerce (IAC) and Institute of Marketing Management (IMM) may be considered for admission.


Program Structure

University-wide courses:
HCS101 and 102 Communication Skills (6 credit hours)
TEV200 Ethics and Christian Values (2 credit hours)
HAS100African Studies (3 credit hours)
HSL111& 112 English as Second Language I& II, or HFR111 & 112 French for Beginners I, or HPO111 & 112 Portuguese for Beginners I (6 credit hours)
HIT100 Introduction to Information Technology (2 credit hours)
Total 20 credit hours

Computer Science Courses:
CSC100 Problem Solving Techniques (3 credit hours)
CSC101 Discrete Structures (3 credit hours)
CIS102 Microcomputer Applications (3 credit hours)
CIS201 Computers and Society (3 credit hours)
CIS202 Programming I (3 credit hours)
CIS203 Programming II (3 credit hours)
CIS204 Electronic Business (3 credit hours)
CSC211 Operating Systems (3 credit hours)
CIS301 Database Systems (3 credit hours)
CIS302 Computer Hardware Concepts (3 credit hours)
CIS303 Networks and Communications (3 credit hours)
FMA301 Internship/Industrial Attachment (15 credit hours)
FMA413 Industrial Attachment Report (1 credit hour)
CSC310 Intermediate Programming (3 credit hours)
CSC 401 Software Engineering I (3 credit hours)
CSC 402 Project Management and Practice (3 credit hours)
CSC 403 Web Application Development (3 credit hours)
CSC 404 Capstone Project (4 credit hours)
CSC410 Systems Administration (3 credit hours)
CSC 411 Algorithms and Data Structures (3 credit hours)
CSC 412 Advanced Database Systems (3 credit hours)
CSC 413 Software Engineering II (3 credit hours)
Total 76 Credit hours

Mathematics Courses:
Calculus (3 credit hours)
Discrete Mathematics (3 credit hours)
Algebra (3 credit hours)


Career and Job Opportunities
Website Designers
Systems Analyst
IT Manager
Software Engineers
Analyst Programmers
Network and Systems Administrators
Database Administrators
Computer Systems Auditors
Hardware Technicians
Network Engineers


Financial Assistance

Africa University, in its bid to make higher education accessible to youths in Africa, and being aware of the low-income status of the average African family, offers funding to deserving students to assist with payment of their University fees. The University's Financial Aid Committee is responsible for awarding this assistance. The assistance is awarded on the basis of merit, need and character and it falls into two categories: Financial Aid and Scholarships.


Financial Aid
This is normally meant for assistance with payment of tuition fees and it is available to students from second year onwards. The need of the student is assessed based on their application, supporting documents and information from any referees. The student's academic performance as indicated by his/her C.G.P.A is also used to determine the level of assistance. Those students performing very well are awarded more than their counterparts as a way of rewarding their efforts and motivating them to continue aiming for higher academic excellence. Students who get onto the Dean's list will also be assisted with payment of tuition and those whose performance falls below the C.G.P.A. required to graduate will not receive assistance.


Scholarships
Students must apply for scholarships through the Financial Aid Office. Different organizations, churches, and individuals set up scholarships which are awarded to deserving applicants, who must also satisfy any special criteria that may be set by the benefactor.(e.g. it may be required that the recipient is of a specified gender or in a specified Faculty or from a specified country.) Scholarships awarded may cover full fees for the recipient or may be partial, covering only specified fees. Where a student receives awards from more than one source and the total amount of the awards exceeds the total fees payable no refunds will be made, to the beneficiary. Any such excess is recovered from Financial Aid and awarded to another needy student.


Work Study
All students receiving financial assistance are expected to work in any of the University's units for a specified number of hours a week as a token of appreciation for the award. Currently, those working outdoors are expected to work for two hours a week and those working indoors work for four hours a week.
Last updated Jul 2018
About the School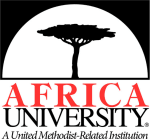 Africa University is the first and only fully-accredited institution of higher learning established on the African continent by the action of the General Conference of The United Methodist Church. Thi ... Read More
Africa University is the first and only fully-accredited institution of higher learning established on the African continent by the action of the General Conference of The United Methodist Church. This amazing institution was founded in response to the call by African Bishops for a university for the whole of Africa to foster intellectual, moral, ethical and spiritual growth in its students.
Read less