Read more about this program on the school's website
Program Description
This program meets the needs of brands in commercial profiles, adapted to the challenges of the 3rd millennium. The latter must be cultivated, polyglot, technophile, multicultural and charismatic. They must also have a trades versatility.
Associating a rigorous academic education of the fundamentals of the company to the technical disciplines of the trade of the products with high added value, the 3 years of this Bachelor also give a priority to a transmission of the know-being and know-how, artistic culture, art of live, behavioral techniques, multicultural openness ...
Regular meetings with industry professionals bring to this program what has been the success of Sup de Luxe for 30 years: the recognition of brands and houses and the interest they have in providing future employees.
The Bachelor of Sup de Luxe is the only business training to benefit from such a sponsorship and professional environment. It is the ideal springboard to join the MBA Specialized Sup de Luxe or integrate the professional world of Brands and Houses.
Format
Three years of practical training, general and sectoral with many internships.
Targeted trades
Buyer, Area Manager, Sales Representative, Visual Merchandiser, Retail Coordinator, Store Manager, Sales Representative, Commercial ebusiness, Logistics and Supply Chain Manager, etc.
Admission
1st year on post-Bac exam (ES, L, S, STT, STMG).
2nd year on competition post bac 1 / bac 2 of the management-commerce sector.
Program
1st year
Discovery and understanding of the luxury sector
General culture, history and issues of the sector
Customers
Economy and culture
Fundamentals of Commercial Law
Sales techniques
Written and oral expression
IT tools
LV1: English / LV2: Chinese beginner
Self-knowledge, personal evolution
Behavioral techniques, label
CV, cover letters, interview preparation
13 weeks of internship in a shop or at a point of sale
2nd year
Discovery and understanding of the trades of commerce in the luxury sector
Geopolitics / Economics and Economic Policy
International development of luxury brands
Luxury and digital: social networks, e-commerce, e-marketing
CRM
Analysis of customer and intercultural behavior
Merchandising, visual merchandising, sensory marketing, customer experience and emotion
Team building
General Accounting and Management Fundamentals
Trademark law
Logistics and supply chain
LV1: English / LV2: Chinese beginner
Professional project construction
8 weeks of "commercial" internship in France or abroad
3rd year
Understanding the commercial and marketing strategies of luxury brands
marketing
Strategic Marketing Operational
Finance (financial aspects of the business, in particular the calculation of margins and coefficients, operating account)
Labor law
Specialization in trades of commerce
Management
Team management
LV1: English / LV2: Chinese beginner
Elective courses
24 weeks of internship "profession" in France or abroad
Entry conditions
The Bachelor of Luxury and Trades of Commerce is open on competition:
to French or foreign students holding a bachelor's degree or equivalent,
students in the final year who will graduate from the baccalaureate at the 2019 session.
The application is made online
Upon receipt of your application, the Institute will ask you to send it by post:
photocopy of an identity document (front and back): a birth certificate or identity card (front / back) or passport and photocopy of valid residence permit for foreign students ,
your transcripts from the year of Terminale (on the day of application),
photocopies of diplomas obtained (certified for non-EU students),
a curriculum vitae (optional),
a letter of support from a teacher, a head teacher (optional).
Admission to the Bachelor of Luxury and Business Trades is divided into two stages:
Pre-selection from the application file.
Competition: written and oral tests. An invitation by e-mail is sent to the candidates.
contest
Upon receipt of your application, Sup de Luxe will propose by mail a date of invitation to the tests of general culture and English, as well as an interview motivation.
Organization of events
Written tests:
MCQ of General Culture - 30min - Coef 3.
English MCQ and mini essay from a proposed theme - 15min - Coef 2.
Oral test:
Motivation Interview - 30min - Coef 5.
Communication of results
Admission results are sent by email no later than three days after the tests.
The admitted candidate will be able to reserve a place while waiting for the validation of his baccalaureate.
Tuition fees for the year 2019/2020:
9400 €.
A timetable is proposed to the admitted students.
Last updated Mar 2020
About the School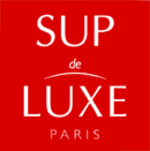 Founded by Cartier in 1990, The Institut Supérieur de Marketing du Luxe provides the only training in the world desired and supported by professionals from the sector.
Founded by Cartier in 1990, The Institut Supérieur de Marketing du Luxe provides the only training in the world desired and supported by professionals from the sector.
Read less