Bachelor International Management
Read more about this program on the school's website
Program Description
Join the Bachelor International Management right after graduating from secondary education and train for positions with a pronounced international dimension. The Bachelor offers you a personalized study path: several options are open to you, just imagine the study path that suits you best!
Strong Points
5th in the Challenges ranking, in the Top 10 of the Parisien Etudiant and 3rd in MOCI rankings
A fast passport to employment
International experience including a full year with a partner university abroad in BMI 2
An international and cross-cultural environment
2 semesters abroad, double degree possible with a partner university in BMI 3, BMI option 100% in English
Intense in-company experiences through internships
A bespoke path: 3 options to choose from in BMI 3
The opportunity to enroll in a work-study program in BMI3 when starting in BMI1
Key figures
5 to 8 months of internship in 3 years
2 semesters with an international partner university
3 specializations in BMI 3 including one taught 100% in English
3 foreign languages among the 9 offered
International
By enrolling in the Bachelor International Management, give a strong international orientation to your career through tailor-made opportunities.
The Bachelor's degree promotes intercultural exchanges by opening up the program to international candidates from the first year.
Professionalization
The Career Path Scheme
To ensure maximum success in your professional integration, and help you be more attractive for recruiters who set increasingly demanding criteria, the school supports you throughout your Professional Project through the Career Path Scheme (workshops, meetings with professionals, etc.)
Internships and In-company Consulting Projects
Thanks to the School's network of companies, you can boost your number of professional experiences to explore the world of business organizations, gain more skills and acquire an expert vision of the fields you are enthusiastic about.
Program
BM1: Le Havre
Semester 1 & 2
Internship

Core Management Courses
1 Mandatory Foreign Language and
2 Optional Foreign Languages
International Orientation

Mandatory, 2 months starting in April, in France or abroad

Getting to know about business organizations, understanding how they operate, their stakes, their constraints
BM2: Partner University
Semester 1 & 2
2 semesters abroad with partner universities
Germany, Argentina, Belgium, Mexico, Taiwan, Japan, etc.
BM3: Le Havre or Paris
Semester 1 & 2
Internship

Choose a specialization - Le Havre campus:

International Business
Logistics and International Trade

OR

Double Degree with a partner university

Mandatory, 3 to 5 months starting in April, in France or abroad.

To gain thorough experience in the sector of activity you are attracted to
OR

1-year work-study track

Multi-specialized training program
Le Havre or Paris campus
Admission
I hold a foreign diploma: access by application file
The program is open to students under 22 years old holding or are in the process of validating a non-French Baccalaureate diploma, or equivalent.
No English language test score is required for students holding a degree from an English-speaking university. For other applicants, language requirements are TOEIC 750, IELTS 5, TOEFL 72.
Due to the covid-19 situation and the closure of some Exams Centres, we do offer the possibility for the candidate to take a Language Test online, don't hesitate to contact us for more information: applyto@em-normandie.fr.
The application deadline for the 2020-2021 admission session is 15 May 2020.
Admission Procedure
Special attention is paid to the quality of the file and the quality of the academic and/or professional profile.
The shortlisted candidate is invited for an interview via Skype with a Head of Academic Programme. This interview helps clarify who the applicant is, their projects, their objectives, and the consistency of their choices with the program selected. The final admission decision (offered or denied admission) will be announced a few days after this interview.
The admitted candidate will be notified formally and invited to make a down payment later on deducted from the tuition fees. This initial payment confirms the candidate's seat in the program and an unconditional letter of admission is then issued.
In parallel with their EM Normandie application file, international candidates must also complete the Campus France application process to facilitate the visa obtention. Once the fee down payment has been received, the School will help international students with their visa procedures and search for accommodation.
Career
After the Bachelor in International Management, you will be able to join the Master in Management of EM Normandie.
You will customize your own study path in the Grande École Programme and:
Go abroad for up to 2 years
Acquire a Double Degree from a partner university, in France or abroad
Choose from over 40 options (Specialisations, Double Degrees, Cooperative Tracks, Off-Campus Optional Year)
Tuition Fees for 2020-2021
BMI Year 1: €7,000
BMI Year 2: €7,000
BMI Year 3:

International Business: €8,000
Logistics and International Trade: €8,000
Work-Study track: €10,000 tuition is paid by the host company
Compulsory Contribution: CVEC (Contribution Vie Etudiante et de Campus): €90 to be paid on the CVEC platform. Learn more
The membership fee for EM Normandie Alumni Association (not compulsory): €575. This membership fee gives you access to all services and life membership.
Application fees for 2020-2021
For non-French diploma holders: €50
Fundings
Various options are offered to students to help them fund their studies:
Work-study track (year 3): total or partial waiver of fees for one year
Grants: Higher Education, Regional, Travel or Internship grants
Bank loans: agreements between EM Normandie and banks
Paid student jobs offered by the School's Junior Enterprise and Jobs Services
Last updated May 2020
About the School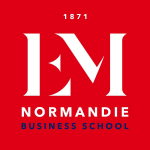 Over the last 25 years, the Chambers of Commerce of Caen and Le Havre have combined their efforts to set up a joint structure in Higher Education for the benefit of their respective towns and regions. ... Read More
Over the last 25 years, the Chambers of Commerce of Caen and Le Havre have combined their efforts to set up a joint structure in Higher Education for the benefit of their respective towns and regions. Today, this effort has given birth to the Ecole de Management de Normandie, a unified and strengthened business school ready to meet both the national and international needs of firms.
Read less