Bachelor in Logistics Transportation Management
Home ›
Bachelor ›
Bachelor in Logistics Transportation Management
Program Description
With the globalization of trade, individuals are not the only ones concerned. Today, companies rely on shipping companies to route them to their raw materials, but also ship their goods to their customers and / or outlets. In parallel with the development of tourism and the advent of e-commerce, the transportation and logistics show is in excellent health. The bus driver to professional mover through the agency head, the driver and warehouse logistics, the desired profiles are as varied as employers.
This program whose implementation obeys the LMD system and the ISO program design methodological repository 9001 version 2008 is available alone or in joint-degree with Bachelor UQAC. Originality, coherence and pedagogical structure have earned accreditation African and Malagasy Council of Higher Education (CAMES) and the center of excellence of the UEMOA.
OFFERED THIS PROGRAM?
The functions it provides mainly correspond to operating and management activities (vehicles, stocks of goods, locations warehouses) or administrative (monitoring records), sometimes technical sales (assistance of a responsible management customers). As to the career development, jobs are moving more towards sectors of industry and distribution. The duties carried out tend towards extensive responsibilities (managing larger teams, operational responsibility of a service or agency ...).
Our signs first develop a methodological expertise and then propose an application of these skills to different business functions and sectors with a mastery of its national and international economic environment.
What background for the license?
It trains managers with a solid foundation in management and able to intervene in several functions of a given company. Depending on their choice equip themselves late in the first round of new multidisciplinary skills in management Transport Logistics.
The License Program
It takes place over six semesters, including the first five semesters represent core courses. The sixth semester is the concentration or specialization chosen by the student. Before obtaining the license (Bachelor in Business Administration in this specialty), beyond the validation of lessons the student must present units, support and tutored a successful project based on the framed work management Transport Logistics.
CONDITIONS OF ADMISSION
• Bachelor • Application form • BSAT admission test • Maintenance
LANGUAGES
• English • Japanese • Chinese • Fulani and Mandinka Business This program trains transport technicians and logistics with a mastery of technical skills needed for their future careers, in particular: transport of people and goods, inventory management and procurement, production management, international trade techniques, etc.
Train for a good knowledge of languages, the main international trade flows and international trade practices allowing them to intervene directly with clients or foreign partners.
To form a better understanding of the tools necessary to optimize the quality and safety of the physical and information flows in order to provide efficient alternatives in case of disturbances ongoing stream train graduates capable of understanding the business and its African economic environment, international trade.
Former operational graduates capable to support the business growth of the company through control of the supply chain (supply chain management) and its issues internationally.
• Inventory • Warehouse Managers Managers • Fleet Managers • Distribution and Purchasing Managers • Responsible Purchasing and Supply • transit • Agent Production Manager Assistant Manager • Staff • Responsible Transportation Trucking Transportation • Billing Manager
Last updated Nov 2015
About the School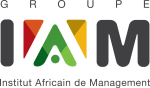 Founded in 1996, the African Institute of Management (Institute Africain de Management) is one of the leading West African private business schools. Set in Dakar, the capital of Senegal, IAM is set in ... Read More
Founded in 1996, the African Institute of Management (Institute Africain de Management) is one of the leading West African private business schools. Set in Dakar, the capital of Senegal, IAM is set in a unique and life changing learning environment. Over 2,000 students from 28 countries from all over the world populate IAM's campus ensuring that you will get to meet friends from all over the world, and will broaden your horizons to different cultural, professional and educational perspectives.
Read less