Bachelor Hotel and Tourism Management
Home ›
BSc ›
Bachelor Hotel and Tourism Management
Program Description
BSc. Hotel and Tourism Management
Programme Code: UBSHSTMFXU1A
PHILOSOPHY STATEMENT
The Bachelor of Science degree in Hospitality and Tourism Management (BSc HTM) employs an outcome-based approach which pays attention to experiential and workplace learning opportunities in order to produce graduates who are committed to lifelong learning and have the skills and competencies to contribute immediately to the workplace at the supervisory or entry-level management level.
This degree was designed to meet the needs of the Tourism market, in recognition of the strategic importance of the industry to the economic development of the country. It is also expected that a graduate of this degree demonstrates an awareness of ethical practices and professionalism in the execution of his/her job.
COURSE GOALS
The goal of the Hotel and Tourism Management course is to prepare students who have chosen hospitality/tourism as their career for entry-level management positions, leadership roles, and life. This goal is accomplished through a commitment to student learning and development marked by high expectation and standards of conduct and performance; excellence in scholarship and instruction; exposure to the industry and successful industry professionals; and training and experience in the student's chosen area of the industry.
It is designed to meet the needs of the hospitality and tourism market and aims at producing a graduate who has:
Immediate functional competencies
An entrepreneurial and innovative attitude to work
A good overall knowledge of the business and competitive environments in the industry
Language and cultural sophistication, awareness, and appreciation
A strong sense of social obligations and environmental responsibilities of the industry
Strong people skills
Strong self-learning orientation
Respect for vocational work
A self-conscious identification with the industry (problems and solution)
COURSE PURPOSE
The Hospitality and Tourism industry is the largest and fastest growing industry in the world and this growth is predicted to continue. It is a service industry that encompasses such areas as hotels, restaurants, nightclubs, convention centers, amusement parks, family entertainment, cruise ships, travel, and tourism to name a few. The Bachelor of Science degree in Hospitality and Tourism will prepare students for entry-level management positions and leadership roles in the industry, by providing the kind of education needed by tomorrow's managers.
This four-year degree course was designed to meet the needs of the Hospitality and Tourism industry job market. It provides the industry with trained professionals who can step into numerous supervisory and management trainee positions and compete with other hospitality and tourism graduates internationally. This it does by building on foundation modules in business, social sciences, and modules specific to the hospitality and tourism field.
METHODS OF ENTRY
There will be three (3) methods of entry to the course:
Normal Entry - an applicant who satisfies the University's normal matriculation requirements and is successful at the interview. This applicant will enter the course of study in Year 1.
Mature Entry – An applicant over the age of 25 years, who has not satisfied the university's matriculation requirement, may be accepted into Year 1 of the course using the prior learning assessment (PLA) route. The student will work with the PLA Coordinator and an assigned supervisor to develop a portfolio to demonstrate knowledge equivalent to the University's matriculation standards and /or gain PLA credit for work in the area of specialization.
Advanced Placements – Applicants eligible for advanced placement are those applicants to the University from other approved educational institutions who may be granted module exemptions for undergraduate and postgraduate courses of study. Students, who are accepted through the advanced placement method, will advance into Year 3 of the course.
In some cases, however, the applicants will be required to take necessary bridging courses to satisfy requirements for the degree.
At the interview, applicants will be required to indicate their areas of specialization and/ or minors. Students who were granted advanced placement from other institutions will enter the course in Year 3 and would have already declared their major at their previous institutions. They would be required to do one internship period only because they would have already completed two internship periods totaling 10 weeks.
Note that all students entering via advanced placement must complete 85% of their upper-level modules at UTech in order to gain an UTech degree.
ENTRY REQUIREMENTS
Before registering and beginning modules in the Hospitality and Tourism Management BSc. Degree candidates must have satisfied the following minimum requirements for entry to UTech:
a) Five (5) C.X.C. General Proficiency passes or equivalent at Grades I, II, or III (grade III is accepted from June 1998) or G.C.E. 'O' Levels, levels A, B & C in English Language, Mathematics and three (3) other subjects. (Preference will be given to applicants with a Foreign Language)
b) Pass an admissions interview.
EXPERIENTIAL LEARNING REQUIREMENTS:
Students in the BSc, Hospitality and Tourism Management course will be required to complete two summers of internship (10 weeks each summer) in an approved Hospitality or Tourism organization.
Successful completion of the internship is a pre-requisite for the award of the degree.
Last updated Nov 2018
About the School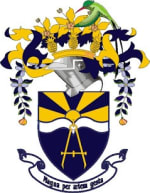 In 1959, the name was changed to the College of Arts, Science and Technology, and became incorporated under the College of Arts, Science and Technology (CAST) Scheme of 1959.
In 1959, the name was changed to the College of Arts, Science and Technology, and became incorporated under the College of Arts, Science and Technology (CAST) Scheme of 1959.
Read less