Bachelor Degrees in Computing
Home ›
BSc ›
Bachelor Degrees in Computing
Program Description
Computer systems of all types are now an important part of our lives, with well-engineered, reliable and usable systems crucial to the survival of most organizations. Personnel, who can design, implement and maintain these ever-evolving systems are in constant demand. Studying in the field of computing is challenging and enjoyable, and can lead to a rewarding career.
Computer Technology includes the following essential areas:
Using Computers in a variety of applications
Computer programming and software development
Hardware configuration, installation, and interfacing
Networks and systems administration
DEI College has a long-standing tradition in higher education providing top-quality programmes adapted to the changing needs of our community. The Computing Department provides a student-centered learning experience in a supportive academic environment. Our expert faculty members have commercial and professional background coupled with substantial experience in offering rigorous academic support to all students via upgraded technological resources.
The programmes available, under the academic direction of the respective University, are:
BSc in Information Systems and Management from the University of London International Programmes (Lead College: LSE)
BSc in Information Systems and Management is a degree with an international flavour set within a strong social science framework provides a thorough understanding of how organisations and societies use and exploit new information and communication technologies (ICT) develops critical skills for a wide range of real-world professional situations is an excellent preparation for a career in information systems management or management consultancy specialising in IT and IS
Students take twelve units, and complete the degree within three and eight years, choosing up to four new subjects each year.
The Lead College is the College whose staff develop the syllabuses, prepare the study materials, and are responsible for the assessment of International Programmes students.
The degree above:
Upon successful completion, students are awarded a University of London degree, diploma or certificate.
The standard of awards made to International Programmes students is maintained at the same level as the standard of awards made to students studying at a College of the University of London.
It is recognized by the Greek State according to law 3328 (article 4) which has been in effect since 1st of April 2005
BSc(Hons) Computing - University of Northampton
This degree is for you if you wish to:
study an up to date programme in the field of computing; relevant and responsive to the needs of industry and commerce
develop your interpersonal and problem-solving skills, together with the ability to undertake sustained academic activity both independently and in groups
develop your capacity for academic study and research, leading to the ability to evaluate, analyze and synthesize information
develop an in-depth knowledge of software and hardware aspects involved in contemporary computer systems engineering
Career Opportunities
Being a student is much more than just getting a degree, it's about understanding what you want to achieve with that degree and how you can use your knowledge to create real change in the world. Whether that's working in the public, private, or voluntary and community sectors, employers say they want students who possess the skills needed to solve complex problems, apply their learning in innovative ways, and articulate their passions in a way that means they stand out from the rest.
This degree would suit you if you are hoping to pursue a career in computing, software systems development, analysis and design, internet applications, network engineering, mobile computing and graphics and visualization or further academic study.
Programme Overview
This degree programme provides a broad range of computing ideas and develops innovative solutions to problems, using practical examples to reinforce your theoretical underpinning as well as utilizing our state of the art computer facilities. The computing industry is continually growing and is integral to people's daily lives and businesses. In this course, you will investigate the wide-reaching influences that computers and computing technology have on the world, as well as the contribution you may be able to make to future advances.
Programme Structure
The BSc degree consists of sixteen modules & a dissertation and it is naturally completed in 3 years.
You are expected to study Computer Communications, Computer Systems, Web Development, Software Engineering, Problem Solving & Programming, Databases 1, Operating Systems, Modern Networks, Group Project, Web Programming, Databases 2, Systems Design & Development, Media Technology, Cyber Security and Cryptography, Databases 3 and Artificial Intelligence Techniques.
Last updated Feb 2018
About the School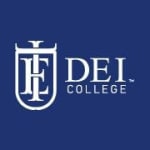 DEI College has been founded in 2009. However, it was operating as a liberal studies school from 1990 to 2009. It is also a part of a greater educational organization that was founded in 1967. Its gr ... Read More
DEI College has been founded in 2009. However, it was operating as a liberal studies school from 1990 to 2009. It is also a part of a greater educational organization that was founded in 1967. Its graduates are routinely employed by large Greek and International Companies.
Read less