Bachelor Degree in Business Administration with a Specialization in Entrepreneurship
Home ›
Bachelor ›
Bachelor Degree in Business Administration with a Specialization in Entrepreneurship
Program Description
Why Entrepreneurship?
Enterprise is a vital engine of economic expansion. Without enterprise and entrepreneurs, there would be little innovation, little productivity growth, and few new jobs. The average lifespan or an S&P 500 company has shrunk from 60 to 15 years since 1960. "Disruption" is commonplace in the market, and companies are seeking "intrapreneur" minded individuals to secure their survival.
Degree Overview
Whilst at AUS, students will acquire the necessary skills and knowledge to launch their careers in the modern business environment. Our professors are actively involved in entrepreneurial ventures whether as former start-up creators or through coaching start-ups in local and international accelerators. This real-time applied experience is in stark contrast to many university professors focused solely on theory or outdated methodologies.
The AUS Entrepreneurship program links theory to practical application through relevant, real-world business problems, providing students with the skills and understanding of critical issues that affect businesses on a day-to-day basis. The tailored course work and student-centric approach set the AUS entrepreneurship degree apart.
The curriculum links cutting-edge business theory to practical experience as students are guided to solve real-world challenges. This environment emphasizes collaboration and team building alongside the healthy competition. At AUS, top-tier internationally diverse classmates come together, share professional experiences, and form groups of team players where mutual commitment and joint accountability lead to highly effective teams. Beyond the depth and breadth of knowledge gained in the classroom, the life-long connections developed while attending AUS will be of immeasurable value.
To this end, we require and actively support internship placement, on-site company visits, and executive mentoring. With our vast network of contacts at nearby, world-renowned, corporate headquarters, students are sure to find opportunities tailored to meet their specific needs.
Degree Information
Type: Undergraduate Degree
Duration: 36 months
Start Date: September, January, April
Location: La Tour-de-Peilz, Switzerland
Study Mode: Full-time
Language: English
ECTS Credits: 180
CH Credits: 135
Tuition Fees Per Year: CHF 24,000
Hybrid Learning
Are you interested in getting ahead? Unsure about traveling to Switzerland? Don't put your education on hold with AUS Hybrid Learning.
The American University in Switzerland is continuously committed to delivering high-quality education to students around the globe. Given this commitment, AUS is adapting and tailoring its programs to support current and prospective students during Covid-19. Our new hybrid learning model will make it possible for students to study remotely if necessary at the start of the Fall 2020 term and travel to Switzerland to continue their education when possible. If you are interested in finding out more about our new hybrid learning model, contact a member of our team.
Modules
5 Foundation
Module Examples
Business Math
Principles of Marketing
Principles of Management
24 Core
Module Examples
Introduction to Business Planning
Future of Work
Entrepreneurship
12 Specialization
Module Examples
Decisions Making
Project Management
Leadership and Team Building
"For the seventh consecutive year, Switzerland has ranked second worldwide on the 2018 Global Entrepreneurship Index."
The degree starts with several foundation courses. These are followed by core business courses that give students a solid grasp of the fundamentals of business such as Finance, Economics, Marketing, and Entrepreneurship. Students will then dive further into their modules and learn the application of theory to their specialization ensuring a comprehensive understanding of the impact their knowledge can have.
Module Examples
Principles of Management
The managerial principles and techniques underlying the successful organization are examined. Emphasis is placed on the basic functions of planning for future organizational growth, organizing, and staffing for efficient operation. Effective leadership, motivational techniques, and practical methods of control.
Future of Work
The Future of Work course is set in the present of the ever-accelerating technology developments, changing needs for the skills and cognitive abilities employees and workers own and a growing concern about the impact of technology on jobs that people, businesses, and governments need to deal with. The course will be discussing the extent of this change that is shaping the employment market of today and tomorrow and help students identify the possible course of actions needed within the careers they are preparing to address this change. They will be guided to reflect on the impact of the future workplace change from the individual, group, and organizational perspective. Topics such as talent management, teamwork, artificial intelligence, employee engagement, entrepreneurship and intrapreneurship, workplace diversity, the gig economy, and life-long learning will be developed and discussed.
Entrepreneurship
The Cambridge dictionary defines entrepreneurship as the 'skill in starting new businesses, especially when this involves seeing new opportunities'. The course is tailored to meet the most pressing needs of entrepreneurs –under an extended definition of entrepreneurship- and introduces the start-up, project and/or acquisition feasibility problem. Topics discussed include all the critical questions that must be answered, in detail, prior to launching a new business. A successful entrepreneur must know what the market needs and how he/she can provide the solution, the existing and potential competition, the required human resources and funding as well as the potential risks. Discussions are applicable to both the creation of new business as well as the realization of a new project within an existing business.
Decision Making
In the business world, each organization is unique, with its own objectives, capabilities, and options – and that decision making is at the core of any successful business. The approach in this course concentrates on providing the necessary skills and expertise to be able to make good decisions which accepts that both quantitative and qualitative aspects are necessary for high-quality decision making.
Project Management
This module provides an introduction to project management tools and techniques in order to manage each stage of the project life cycle and deliver solutions respecting cost, schedule, and quality constraints. The learning outcomes will be: a) Define and schedule a project using adequate project management methodology and tools. b) Identify risk factors and estimate project times and costs. c) Measure and report cost and schedule variance.
Entrepreneurship in Switzerland
Ranked in 2020 as one of the most innovative countries in the world.
For the six consecutive years, Switzerland has ranked number 1 for Innovation Output Sub-Index, and number 1 in the Knowledge and Technology Outputs pillar by the Global Entrepreneurship and Development Institute.
Canton de Vaud Number 1 for Venture Capital in Switzerland.
More than half of the total invested flowed into this canton. Vaud-based start-ups generated more than CHF 460 million.
Internships and Placements
During their degree, students must undertake at least one internship. Students are supported by our dedicated careers team and faculty to ensure they can find an internship relevant to their career path. Students are also encouraged to undertake additional internships in other fundamental business areas in order to broader their experience and enhance their CV.
Career Opportunities
Along with technological advancements, the entrepreneurship and business landscape has changed considerably around the world. Entrepreneurship is designed to provide the tools necessary to start your own independent business or work in advisory roles to new venture start-ups, giving graduates the tools to work proactively in highly uncertain or risky market environments. Studying Entrepreneurship, you could progress into careers including:
Business Consultancy
Research and Development
Business Incubators and Accelerators
Start-Up and Small Business Development
Corporate Entrepreneurship/Intrapreneurship
Venture and Capital Fundraising
Why Switzerland?
Rated in the Top 2 Countries to Study Abroad in Europe, Switzerland is an exceptional location to live, study, and work. Its cultural diversity, magnificent landscape, and innovative environment offer first-class conditions for both personal well-being and career achievement. With its amazing cuisine, four national languages, horology eminence, and more than 1.5 million cows, Switzerland offers an international study experience like no other.
Among its many charms, Switzerland scenery tops it all. Stunning Lake Geneva lends itself to great boating and swimming, and of course, the mountains are there for memorable hiking. If you love to ski and snowboard, there is no better place than Switzerland. And if you don't know how to ski and snowboard, there is no better place to learn. From Zermatt to St. Moritz, Switzerland is a mecca for winter sports enthusiasts.
Why AUS?
The American University in Switzerland (AUS) is a private and fully accredited institution of Higher Education located near beautiful Lake Geneva. With a professor to student ratio of only 1 to 7 and a graduation rate of nearly 95%, students will experience the individual attention they deserve and obtain the career they desire.
At AUS, we recognize that business leaders today must not only master the hard skills needed to make data-driven decisions but also the soft skills needed to make them a better collaborator. To thrive in this field and to truly create value in an organization, leaders must acquire the management skills necessary to interface across the organization.
Recognizing the need for this skillset in the market, AUS has developed a holistic approach to educating tomorrow's leaders.
Last updated Jun 2020
About the School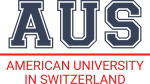 Preparing you for the modern business environment, the American University in Switzerland is one of Switzerland's leading international business universities, situated in La Tour-de-Peilz. Located on ... Read More
Preparing you for the modern business environment, the American University in Switzerland is one of Switzerland's leading international business universities, situated in La Tour-de-Peilz. Located on the shores of Lake Geneva, AUS is close to the Olympic Capital Lausanne, and Geneva, the center for diplomacy. Offering personalized education in an international and multicultural environment, with practical and relevant programs. AUS offers all its students a dynamic and ambitious culture, both in the classroom and outside of the school.
Read less