Program Description
At the T.J. Smull College of Engineering, you'll gain a solid foundation in all aspects of civil engineering, including environmental systems, geotechnical design, structural analysis, transportation, and water resources. You can pursue an area of interest – like urban planning or structural design – with a variety of upper-level elective courses. We've recently added an environmental engineering concentration for those who want to understand more about how to protect our precious environment.
Our academic program is rigorous. Expect to work hard and be challenged. But there's no need to stress, because we offer a supportive and collaborative environment. Your professors, fellow engineering students and ONU alumni will become your friends and family. They will help you succeed and open doors for you.
Upon graduation, you'll be ready for whatever the future holds, whether it's designing and supervising the construction of roadways for the Ohio Department of Transportation, solving water problems for a village in a developing nation, overseeing commercial projects for an engineering firm, or even starting your own company.
Real solutions to real problems
Your civil engineering education will blend challenging coursework with real-world learning. You'll work on team projects and solve engineering challenges for actual clients. You'll not only apply the knowledge you learn in class, but also have the opportunity to hone skills in leadership, teamwork, creativity, and entrepreneurship. These skills are essential to every successful engineer.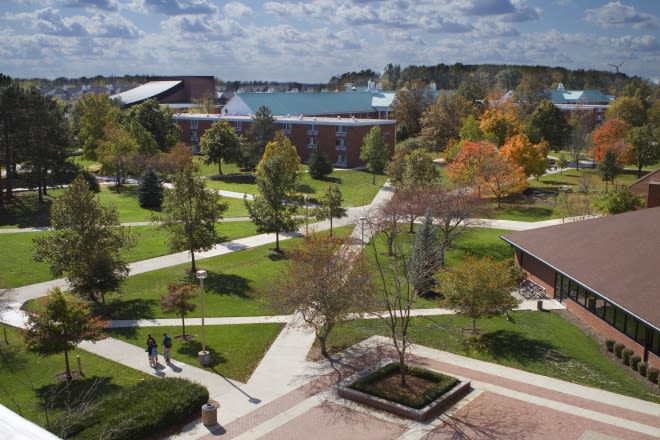 The Ultimate Learning Environment
We are overjoyed to open the brand new James Lehr Kennedy Engineering Building this fall. The 105,000-square-foot facility is able to accommodate 600 students and includes more than 10,000 square feet of a large-scale project and design space for capstone projects, competitive design projects, and other direct industry engagement. Further, it provides flexible space that can be adjusted to various projects and features more than 2,000 square feet for research labs that can exist on their own or can be combined into larger spaces for bigger projects.
Get A High-Impact Head Start
We boast a 100 percent placement rate for students in co-op employment opportunities, which begin in the second semester of the junior year and continue for one year. Our students' co-op at well-known companies like Marathon Petroleum and Kokosing Construction.
Over the last five years, an average of 91 percent of our civil engineering majors found full-time engineering jobs or enrolled in graduate school within six months of graduation.
Concrete canoes aren't an oxymoron
The Concrete Canoe Competition is one that goes back to the early 1970s. Students build and race boats built solely out of concrete – all for engineering glory. The competition is education, endurance test, and tradition all wrapped into one unforgettable experience. As a team member, you'll build on 50+ years of accumulated knowledge and compete against engineering students from top schools across the country. Concrete Canoe is just one of the Smull College of Engineering's many competitive design teams.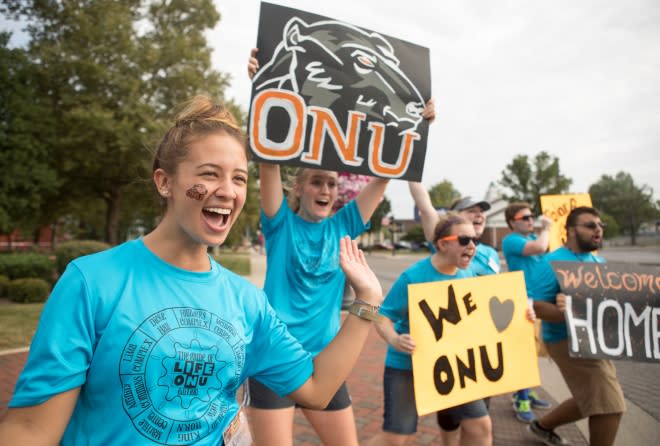 Learning Outcomes
Mission: The mission of the civil engineering department is to provide an overall scholarly, collegial and professional atmosphere of undergraduate education by which students are prepared for careers in civil engineering.
To accomplish the mission, the department will:
Provide a program that prepares students for entry-level professional employment or advanced studies at the graduate level by offering a curriculum based on a strong background in fundamentals of engineering, science, and mathematics structured for a breadth of coverage of civil engineering principles.
Provide for areas of concentration, minors and an opportunity for work experience through a cooperative education program.
Provide for a student body of appropriate quality and size that is active in the University community.
Provide faculty members who excel in undergraduate scholarship and who are active in their profession.
Provide state-of-the-practice physical facilities, including classrooms, laboratories, and support areas.
Provide for institutional commitment for support in the areas of administration, financial resources, and institutional facilities.
Program Educational Objectives: We expect the alumni of our civil engineering program to attain:
Advancement to a professional position within civil engineering by virtue of their knowledge, skills, and attitude.
Recognition for solving engineering problems and developing design solutions that consider aesthetics, safety, and sustainability.
A reputation for conducting professional endeavors in a responsible and ethical manner.
Professional development through a commitment to career-long learning.
Student Outcomes: By the time of graduation, students majoring in civil engineering will have:
An ability to identify, formulate, and solve complex engineering problems by applying principles of engineering, science, and mathematics
An ability to apply engineering design to produce solutions that meet specified needs with consideration of public health, safety, and welfare, as well as global, cultural, social, environmental, and economic factors
An ability to communicate effectively with a range of audiences
An ability to recognize ethical and professional responsibilities in engineering situations and make informed judgments, which must consider the impact of engineering solutions in global, economic, environmental, and societal contexts
An ability to function effectively on a team whose members together provide leadership, create a collaborative and inclusive environment, establish goals, plan tasks, and meet objectives
An ability to develop and conduct appropriate experimentation, analyze and interpret data, and use engineering judgment to draw conclusions
An ability to acquire and apply new knowledge as needed, using appropriate learning strategies.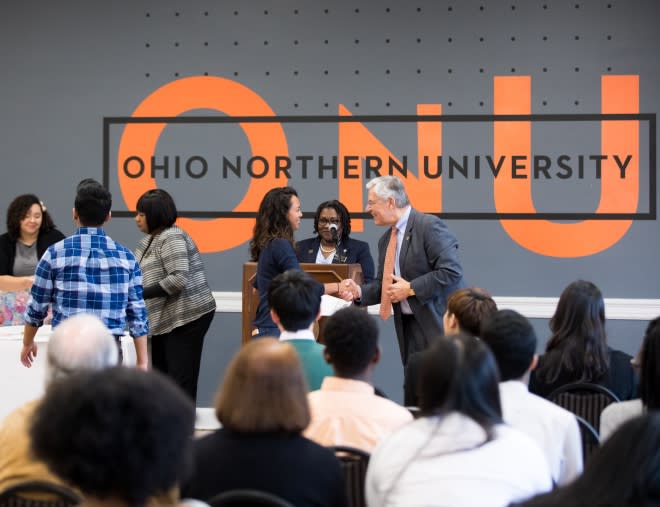 Student Organizations
In the College of Engineering, we have a variety of active and award-winning student organizations. Through participation in one or more of these groups, you'll have the opportunity to network, be a leader, make lifelong friends, gain knowledge about your chosen profession, volunteer, travel to regional and national conferences, and more.
Joint Engineering Council (JEC)
This group represents the study body of the College of Engineering. Members work closely with the dean of the College of Engineering, the faculty, and our student organizations. Its purpose is to cultivate greater cooperation and communication between all groups.
Innovators of Ohio Northern (ION)
This new group is for innovative students interested in physical space and design. The group's focus is on improving the physical environments in which students learn on campus.
American Society of Civil Engineers (ASCE)
ASCE is one of the oldest engineering societies in the U.S. It was founded in 1852. This professional group remains relevant and active today, seeking to enhance the quality of living throughout the world by advancing professional knowledge and improving civil engineering practice. ASCE hosts the Concrete Canoe and Steel Bridge competitions.
Society of Women Engineers (SWE)
This professional organization is open to male and female engineers who are dedicated to making known the need for more female engineers and for encouraging young women to consider majoring in engineering. ONU's chapter provides support for its female students and hosts social activities.
Phi Sigma Rho
This group is a social sorority for women in engineering or engineering technology. Sisters develop the highest standard of personal integrity, strive for academic excellence and build friendships that last a lifetime.
Theta Tau
Theta Tau is the oldest, largest and foremost coed fraternity for engineers. ONU's chapter helps members develop and maintain a high standard of professionalism while forming lasting friendships. All engineering majors are encouraged to join.
Curriculum
You'll need 128 credit hours to earn your Bachelor of Science in Civil Engineering (BSCE). We encourage you to use your elective hours to pursue a concentration or minor that will align with your interests and passions.

Our graduates make a difference all over the world.
Whether you enter the workforce right after graduation or continue your education in graduate school, the Smull College of Engineering prepares you for success. An ONU engineering degree arms you with a solid base for future learning that can open even more career options. You might impact public infrastructure and policy as a government engineer. You can develop innovative design solutions for a wide variety of clients as an engineering consultant. Or, you might transform engineering and architectural design drawings from paper to reality in the public sector.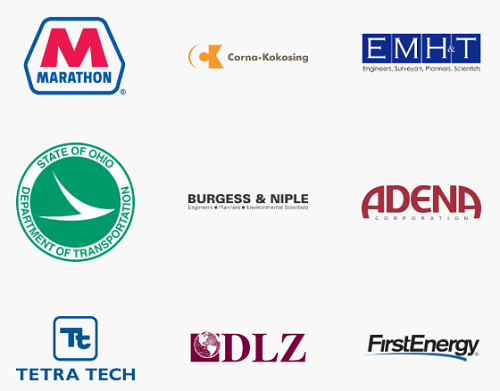 Think Success
Trevor Bert, Civil Engineering Major
"It may seem that a smaller school provides fewer opportunities, but the opposite is actually true. The fact that ONU is smaller gives you the chance to grow closer with your professors and peers. This is an experience that you won't get at larger schools, and it helps make ONU feel more like a family than just a school."
Last updated Nov 2019
About the School

Ohio Northern University is an independent, comprehensive University located in the scenic village of Ada, Ohio. The University comprises five colleges: Arts & Sciences, Business Administration, E ... Read More
Ohio Northern University is an independent, comprehensive University located in the scenic village of Ada, Ohio. The University comprises five colleges: Arts & Sciences, Business Administration, Engineering, Pharmacy and Law. Since our inception in 1871, we've been devoted to developing students who are ready to immerse themselves and progress to the next level? in everything they do.
Read less